Hilton Hotel Upgrades to Energy Independence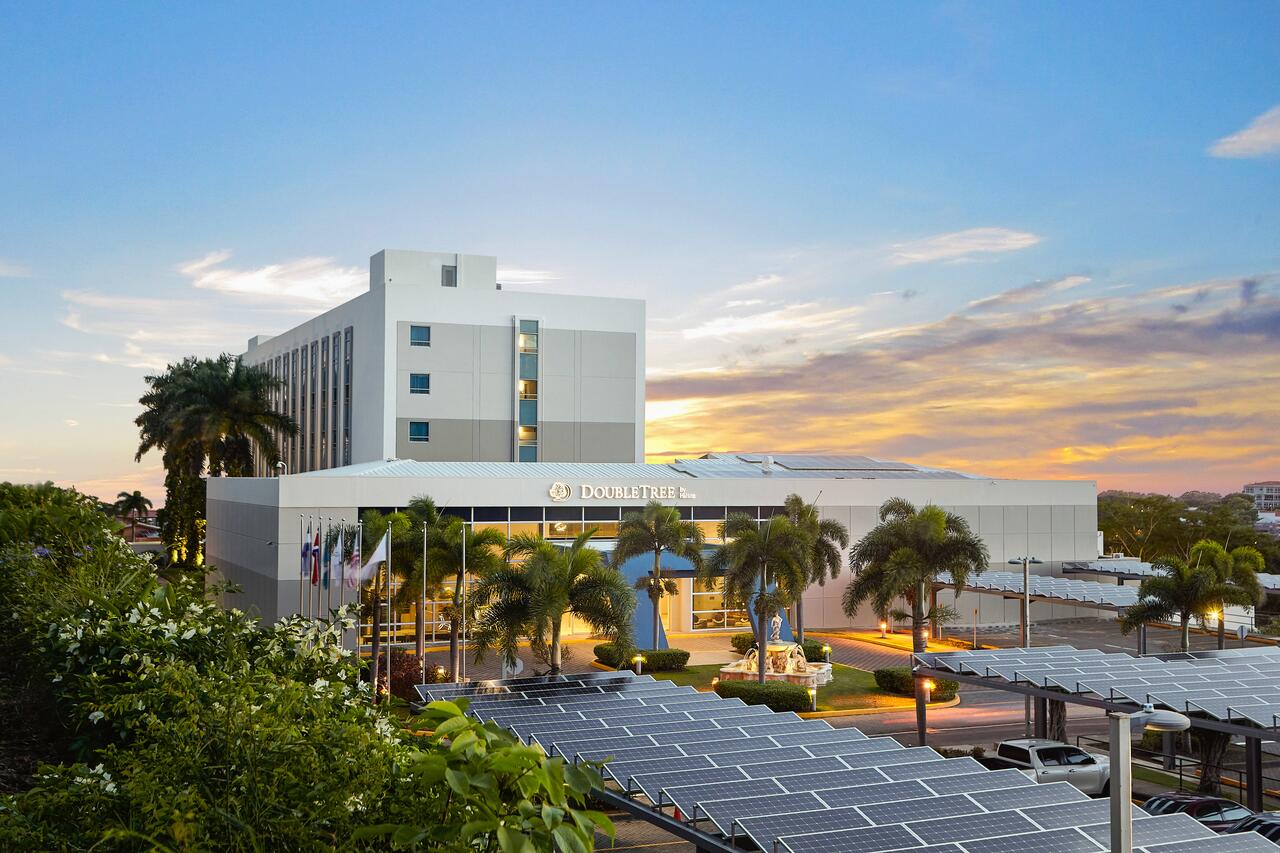 Nestled in the exclusive Villa Fontana area of Managua, Nicaragua, lies the modern DoubleTree by Hilton hotel. Guests have long relaxed in the spacious rooms featuring elegant décor and breathtaking views of Managua Lake. With the new solar installation, guests now also know they are supporting a business that isn't dependent on fossil fuels.
Installing solar panels made sense for the hotel—the panels not only saved energy but also reduced the hotel's carbon footprint. The solar powerplant was installed in three areas: one array on the hotel roof, one array on the casino roof and the last across the parking lot.
Tecnosol was hired to install the project, which includes 1,053 solar modules. They selected the Mono PERC panels, each of which produce 370Wp. This product was made in Italy by PEIMAR and features Mono PERC Technology. A Telehandler was used to install the solar panels, and SMA products were also a key part of the solar installation.
"We selected SMA products because of the reliability and the high-quality components," said Bladimir Delagneau Barquero, the chief executive officer of Tecnosol. "We were pleased with their service line agility and efficacy."
Tecnosol developed the power plant using the following SMA products:
Cumulatively, this package produces 389.61 kW DC and 376 kW AC power. Estimates project this solar project will produce an impressive 548,200-kilowatt hours annually to power the hotel year-round via the sun.
"Each guest room features natural colors inspired by the hotel's surroundings—from lakes and volcanoes, to islands and mountains," said Mr. Mario Alfaro, a hotel representative. "It made sense to incorporate power from the sun as another way to incorporate a local resource to energize our property."
The DoubleTree by Hilton property now has the largest PV plant installed in a hotel in all of Managua, giving the hotel an eco-friendly edge and energy independence that lets it shine above the competition.
Visit our gallery and enjoy more visuals!
https://www.sma-sunny.com/wp-content/uploads/2020/06/001.jpg
853
1280
Alexandra Alejandro
/wp-content/themes/enfold-child/images/SMA-LOGO-Color_s-1.png
Alexandra Alejandro
2020-06-10 11:46:41
2020-10-27 16:25:13
Hilton Hotel Upgrades to Energy Independence