Utility Company Looks to the Future with Micro Grid Project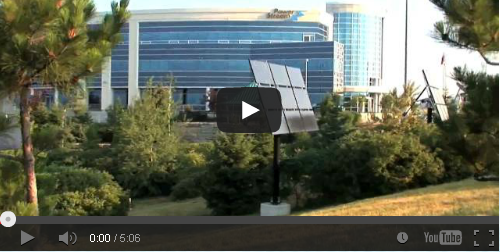 PowerStream, which provides power and related services to more than 360,000 residential and commercial customers in communities located immediately north of Toronto and in Central Ontario, is a community-owned energy company with vision. It aims to support smart grid development at the provincial level and raise awareness of the need to leverage innovative smart technologies in Ontario's electricity sector. One way it is accomplishing this goal is through its micro grid demonstration project located at its corporate headquarters in Vaughan, Ontario.
PowerStream Microgrid Demonstration Project
Micro grids are sustainable, reliable energy systems that generate electricity from multiple power sources and are capable of seamlessly operating on or off the electrical grid. Micro grids are also scalable, with the ability to service a single customer in a remote location, a load center such as a hospital, or an entire community with diverse supply needs. PowerStream, one of the first utilities of its size in North America to initiate a proof-of-concept trial involving this technology, is using its demonstration project to evaluate a micro grid's performance while connected to and disconnected from the power grid.
Project Details
PowerStream's micro grid demonstration project includes a 17 kW solar array, comprising 81 SunPower 210W  solar modules on dual axis trackers, three SMA Sunny Boy 6000-US inverters and three SMA Sunny Island 6048-US off-grid solar inverters. Additional power sources include a 1.8 kW downwind turbine by Southwest WindPower and a 35 kW Caterpillar Olympian natural gas generator, as well as a battery bank with a 23 kWh Surrette lead acid battery, 5 kWh China Aviation lithium ion battery and 12 kWh General Electric sodium nickel chloride battery. The micro grid provides power for several loads at PowerStream's main office building, including lighting, air conditioning and refrigeration, as well as for an electric vehicle charging station.
Micro Grids: Power of the Future
PowerStream believes that micro grids will be an integral part of Ontario's energy future, not only changing the way electricity is distributed, but also in providing an innovative solution to the challenge of asset renewal in large-scale electricity delivery systems and demonstrating how renewable energy can effectively help to address the growing demand for electricity.
According to PowerStream, as micro grid technology becomes more prevalent, these systems will improve the security of the larger electricity grid at a local or even regional level by helping to support the grid during major power failures. By incorporating green and sustainable power sources, the company also feels that micro grids will help customers reduce their carbon footprints while providing them with control options to manage their electricity supply.
"We believe that micro grid technology will help provide our customers with additional safe, sustainable and reliable choices for meeting their energy needs in the future," said Frank Scarpitti, PowerStream board chair and mayor of the City of Markham. "This is why PowerStream is on the forefront of testing the use of this technology."
Solar Spotlight aims to highlight SMA inverters in real-world situations. Email us with information about your SMA-powered PV projects at SocialMedia@SMA-America.com.
https://www.sma-sunny.com/wp-content/uploads/2020/10/PowerStream-Micro-Grid.png
252
500
Justin Dyke
/wp-content/themes/enfold-child/images/SMA-LOGO-Color_s-1.png
Justin Dyke
2014-01-22 11:06:19
2020-10-27 11:42:41
Utility Company Looks to the Future with Micro Grid Project