Navigating the Changing Requirements of PV Interconnection, Operations and Metering

The solar industry is changing rapidly; new policies, regulations and requirements are being implemented at all levels of governance. As PV penetration increases, the need for changes in regulation follows the need for grid safety, stability and increased PV expertise within utilities and grid managers. Examining these trends from a global, national, statewide and local perspective will be critical to understanding how to navigate future regulations in an effort to achieve grid stability and the continued growth of PV.
The following is based on the educational poster presented at Solar Power International by Josh Hickman, global product manager for SMA's residential solutions group. The poster is available here for download.
Global and national policy
Organizations such as the Institute of Electrical and Electronics Engineers (IEEE) are called upon to develop and define new code requirements in the interests of safety and best-practices. The independent safety science company, UL, and other third-party testing laboratories, work to ensure code compliance in new devices and technologies globally.
Standards set at this level trickle down throughout all subsequent levels of regulation and often carry the highest significance. The National Electric Code (NEC) sets standards for inspectors and installers throughout the country. New versions of the code are issued every three years to account for changes in technologies, but are adopted at differing schedules on a state-by-state basis.
Statewide and local impacts
NEC standards are often precedent-setting for codes enforced by statewide energy commissions, but can be amended or altered on a state-by-state basis. Public Utilities Commissions (PUCs) actively seek input from industry professionals regarding proposed changes. These are vital opportunities for PV professionals to be represented and heard by their governing bodies.
PV technology and product education levels vary across service areas and result in inconsistencies in code enforcement, creating unexpected delays in system commissioning. Understanding concerns within the jurisdictions served by a project or company, including the inspectors and their views on future regulatory changes, helps further educate and prepare all individuals, avoiding unanticipated job-site delays.
Current testing and policy changes
Hawaii has some of the highest levels of PV penetration in the U.S, with more than 75 percent of some areas powered by solar despite its outdated grid technology and immediate need for smart inverter functionality to increase stability system-wide and allow for the further deployment of PV.
Evolving interconnection requirements and increased PV density in California have led to the creation of Rule 21 and the state's Smart Inverter Working Group (SIWG), bringing together more than 50 organizations to ensure all policy set by the group achieves the state's grid stability goals. Rule 21's inverter regulations are being drafted in three highly-detailed phases by the SIWG: recommendations of autonomous inverter functionalities, communication technologies for inverter functions and additional advanced inverter functionalities.
Continuous Grid Stability
Ensuring long-term grid stability and safety is the top priority for regulators and utilities. The valuable role PV inverters play in ensuring grid integrity has established highly reliable grids in Europe, driving an increasing need to incorporate similar smart inverter functionalities in areas of the U.S. with high PV penetration.
The continuing growth of PV will depend on inverters with various grid stability functionalities. Grid support through autonomous and on-demand services, based on grid conditions or external communication, will ensure grid safety as the rate of PV penetration grows.
Inverter functions proven to increase grid stability, such as frequency-dependent active power reduction, on-demand active power reduction, reactive power supply and low/high voltage ride-through have been credited with Germany's recent grid stability accomplishments and can be easily deployed stateside.
Stakeholder Motivation
Stakeholders throughout the PV industry have been working with continually changing policy, regulation and interconnection requirements. The unique interests of each stakeholder should be considered throughout policy making, yet these individual concerns should not drive decisions in any one direction.
Understanding the goals and motivating factors of each group, and how they interact with the various aspects of today's changing regulatory environment, offers perspective and highlights the need for active engagement from all parties.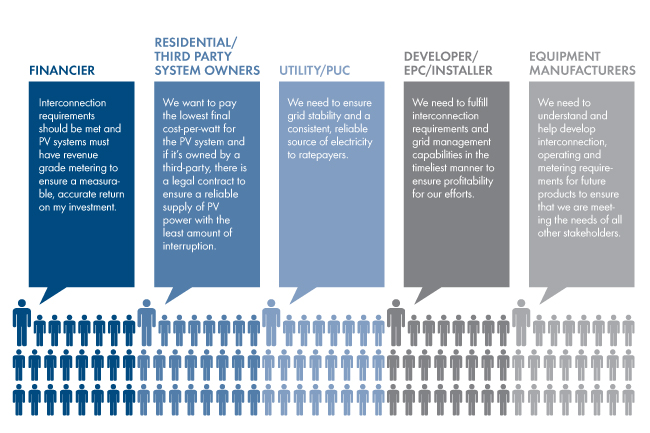 It's imperative for all involved parties to be aware and participate at the local, statewide and national levels whenever applicable. Your unique interests will not be addressed unless you're actively engaged in the policy development conversation.
Agility is also critical as regulations evolve; be prepared for fast-paced changes in the coming years. Consistent participation and selection of the right partners will greatly mitigate potential disruptions to your business as adaptions to the regulatory environment take effect.
The solar industry is changing and you won't want to be left in the dark.
https://www.sma-sunny.com/wp-content/uploads/2020/10/SPW_1-144610-HEADER2.jpg
136
448
Justin Dyke
/wp-content/themes/enfold-child/images/SMA-LOGO-Color_s-1.png
Justin Dyke
2015-01-06 08:27:36
2020-10-27 11:15:25
Navigating the Changing Requirements of PV Interconnection, Operations and Metering