Solar Farm at University of Arizona Propels Campus to Reaching its Renewable Energy Goals
Solar Farm at University of Arizona Propels Campus to Reaching its Renewable Energy Goals
The University of Arizona (UA) dual axis tracking solar farm, developed in partnership with the landowner and the local utility, is set to reach completion in June 2023. This 2.8MW solar farm is an essential project that propels UA closer to reaching its renewable energy goals. The solar farm consists of approximately 6,000 Canadian Solar modules and 34 SMA Sunny Tripower CORE1 inverters. The trackers used are custom-made dual axis trackers, designed specifically for this project. 
The project, implemented by SEC Group, has faced several challenges and obstacles since its inception in 2019.
" We encountered nearly every challenge possible throughout the life cycle of this project," said Principal Project Manager at SEC Construction Management, Jay Tourgoutian. "From labor shortages to navigating a global pandemic and managing severe supply-chain constraints of rails to the actual solar modules, our team remained committed to this project and ensuring its timely completion."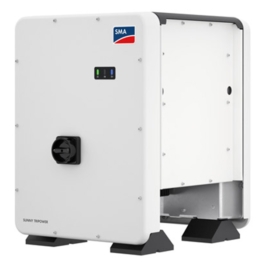 SEC selected the SMA Sunny Tripower CORE1 inverter because of the recognized reliability and proven technology backed by excellent customer service.
"SMA is a well-known and respected brand in the solar industry, with a reputation for high-quality products and excellent customer support," said Tourgoutian. "Custom-made dual-axis trackers will help maximize energy production and ensure that the solar farm operates at its peak efficiency."  
Despite all the challenges this project has faced, it continues to move forward and makes significant progress each day. Phase 3 of the project is set to be completed and commissioned by Q3 of 2023.  
 "One of the most exciting aspects of this solar farm is its high energy output because of the sun tracking mechanisms, optimizing energy generation. The dual-axis trackers allow the solar panels to follow the sun from sunrise to sunset, maximizing the energy output. Additionally, manually tilted panels are angled at 45 degrees, allowing them to absorb as much of the Southern Arizona sun as possible" Tourgoutian said.  
Over the next several years, the University of Arizona is committed to significantly reduce its carbon footprint, while becoming an overall more sustainable campus. This dual axis tracking solar farm has been the most significant step towards achieving this goal. With an estimated output of 6,000,000 kWh annually, the solar farm is expected to offset a significant amount of the university's energy consumption. 
Having a strong partnership with the local utility has also been a critical component to the project's success. By working together, the university and the utility can ensure that the solar farm is integrated seamlessly into the local energy grid. This partnership is an excellent example of how public and private entities can work together to achieve common goals.  
To say that the team at SEC Group is proud of their accomplishments and excited about the progress that has been made would be an understatement.
"This solar farm is an essential part of the University of Arizona's commitment to sustainability, and we are thrilled to be a part of it," said Tourgoutian. "By working together and embracing innovative solutions, we can create a better world for ourselves and future generations."
https://www.sma-sunny.com/wp-content/uploads/2023/07/Cover-UASTP.jpg
792
1000
Alexandra Alejandro
/wp-content/themes/enfold-child/images/SMA-LOGO-Color_s-1.png
Alexandra Alejandro
2023-07-17 20:35:05
2023-07-17 20:35:05
Solar Farm at University of Arizona Propels Campus to Reaching its Renewable Energy Goals