SMA's Commitment to Innovation is Spotlighted at Intersolar South America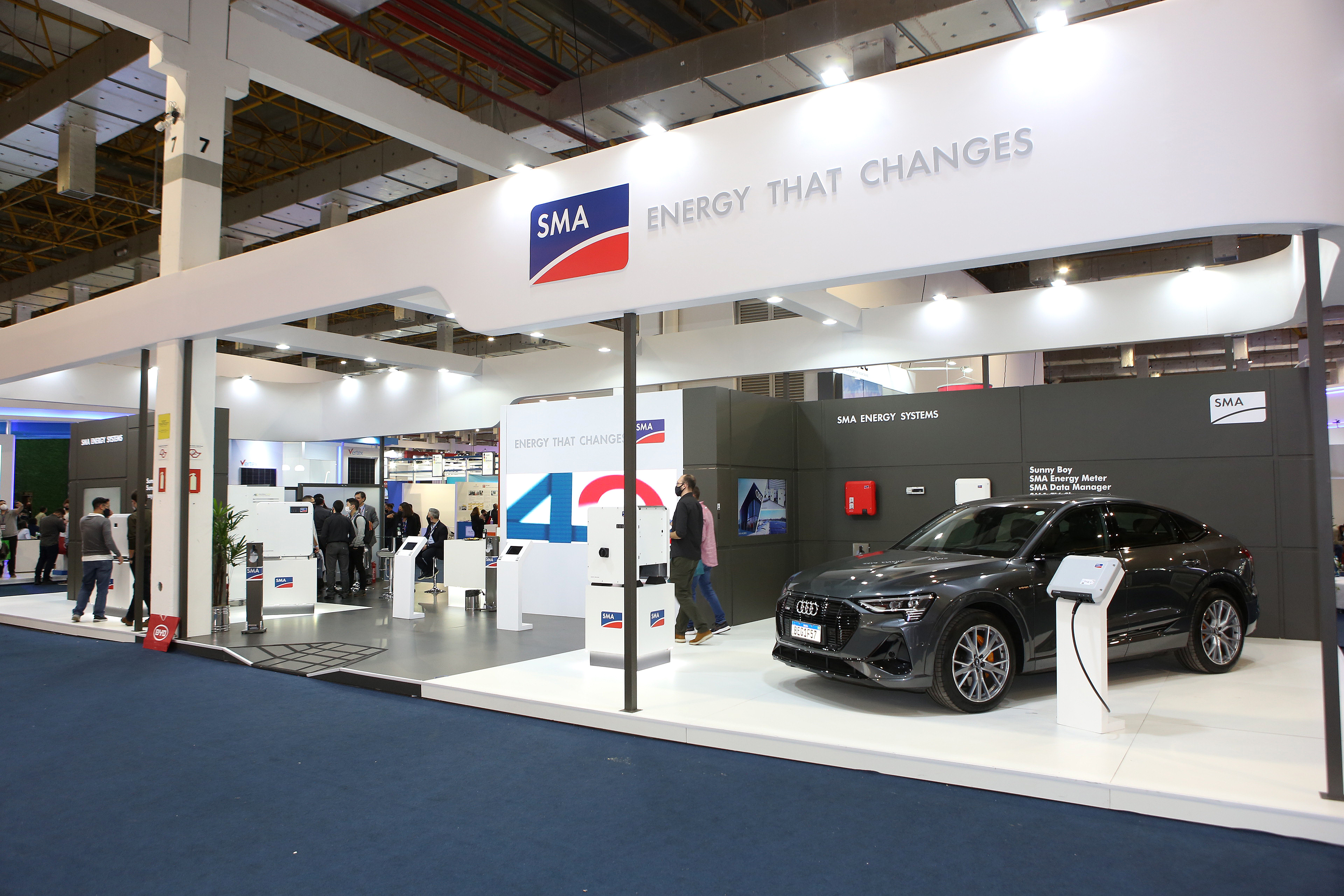 SMA returned to Intersolar South America this year with a slew of value-driven and sustainable solutions for clean energy applications. The timing is particularly exciting as SMA continues to thrive in the region, expanding its robust team and project portfolio. During the three-day tradeshow and conference, thousands of people visited the SMA booth, which also attracted press attention.
SMA projects strong growth for its operations in Brazil. The company is ready to expand with a portfolio of solutions to meet the demand for premium technology.
The conference focused on topics such as the electrification of vehicles and equipment for industries that are major CO2 emitters such as steel and fertilizers. The Internet of Things (IoT) and hybrid residential systems were also areas of focus.
According to Gellers, Intersolar 2021 proved to be an incredible time for the market.
"This moment of great demand for solar energy generation has been called Solar 2.0, which brings a whole range of solutions, technological innovations, new equipment, business models and financing options," said Gellers. "This is without a doubt a disruptive moment in solar energy."
While celebrating SMA's  40th anniversary, the company showcased new e-mobility innovations such electric vehicle charging, and grid storage technologies to support decarbonization efforts.
"There is great interest in the hydrogen economy. Green hydrogen is emerging and an important pillar in the energy transition to electrify heavy logistics. The steel and fertilizer industries can use renewable energies like hydrogen, which solves several challenges for major CO2 emitters," said Gellers.
SMA Innovations at Intersolar 2021
In partnership with Audi, SMA presented an electric vehicle charging system, featuring fleet charging management and the integration of onsite energy generation.
Within the IoT, efficient energy use is available via local and regional tariffs Customers can control energy loads in an optimized and automated way.
SMA also demonstrated the Hybrid Controller: a hybrid system which allows a diesel generator or a wind generator to mix power generation systems for more efficient energy production.
Solar technology remained an important focus, both for distributed generation and the residential markets. SMA debuted the first globally available inverter certified for 25 years of service life — the 150 kW Sunny Highpower PEAK3.
EV-Charger Vehicle Charger
The SMA EV-Charger is offered in different models to suit all audiences. Integrated with the Audi E-Tron, the EV-Charger has a Connect charging system that can be installed in smart homes.
Unlike a fixed charging station, the Connect charging system can be used on the go. Thanks to its standard network connection cable, the Audi E-Tron can be charged using conventional and three-phase household sockets.
Audi E-Tron
The Audi E-Tron, the brand's first 100% electric SUV, arrived in Brazil with impressive construction. The new model is equipped with two silent electric motors with a combined output of 408 hp and 664 Nm of torque. Force is distributed in 135 kW of power and 309 Nm of torque at the front, and 165 kW of power and 355 Nm in the rear engine. As a result of instantaneous torque, the Audi E-Tron accelerates from 0 to 100 km/h in 5.7 seconds, with an electronically limited top speed of 200 km/h.
The lithium-ion battery system weighs about 700 kg and is made up of 36 aluminum modules – making the Audi E-Tron's center of gravity like that of a sedan. In the WLTP cycle, the SUV has a range of up to 436 kilometers and the Sportback up to 446 kilometers, ideal for traveling long distances.
SMA Energy App
With the SMA Energy App, it's possible to access a home's data directly on the owner's cell phone screen – anytime, anywhere. SMA Energy's monitoring app optimizes the control of production and energy consumption of all devices, household items and even electric vehicles – increasing the user's independence from network consumption.
https://www.sma-sunny.com/wp-content/uploads/2021/12/4X7A5673.jpg
2560
3840
Alexandra Alejandro
/wp-content/themes/enfold-child/images/SMA-LOGO-Color_s-1.png
Alexandra Alejandro
2021-12-14 16:29:46
2021-12-14 16:29:46
SMA's Commitment to Innovation is Spotlighted at Intersolar South America