PV Diesel Hybrid Systems – 3 Popular Designs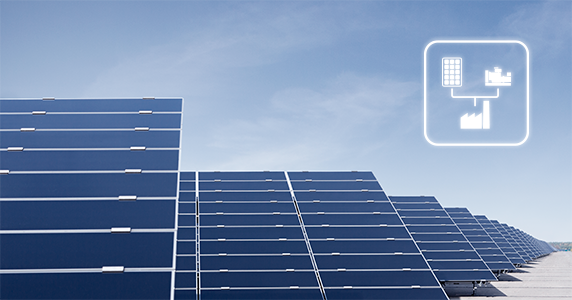 With SMA's Fuel Save Solution for large industrial applications, PV can be easily and efficiently integrated with diesel generation. The Sunny Tripower and Sunny Central inverters convert direct current from PV modules into alternating current and feed it into power supply systems. The SMA Fuel Save Controller intelligently manages the PV feed-in and diesel genset. The result: an achievement of up to 60 percent of PV-supplied electrical capacity compared to relying solely on an installed genset's capacity.
The SMA Fuel Save Controller is saving diesel fuel and bringing stable, renewable electricity to parts of the world that have never had it before. It's impact on the PV industry earned it recognition as a finalist for the highly coveted Photovoltaics award at this summer's Intersolar Europe in Munich.
Here is a closer look at the three examples of the most-common system designs featuring the SMA Fuel Save Solution.
1.     Grid and PV connected hybrid system including a genset backup supply: Cotton Mill, Palladam, India
Daily power outages, often lasting several hours, are commonplace in India's federal state Tamil Nadu. For this reason, the Alpine Knits cotton mill located in Palladam had been using diesel gensets to ensure a reliable power supply for their production site—simply accepting the exorbitant operation expenses resulting from the gensets' fuel consumption. When they decided to reduce their energy bills, mill operators invested in a PV diesel hybrid system with the photovoltaic system placed on the factory's rooftop.
Since June, 2012 the SMA Fuel Save Solution has ensured reliable operation, even during grid failures. As the intelligent interface between PV system and diesel gensets, the Fuel Save Controller ensures a highly efficient power supply. During peak production hours, the PV system provides approximately 60 percent of the total power demand of the mill – representing a considerable cost savings to the business.
2. Grid and PV connected hybrid system including a genset main supply: Mine, Thabazimbi, South Africa
Thabazimbi is a sparsely populated region in the South African province of Limpopo known for its mining. The power distribution grid is far away, grid connection is limited and transportation of diesel fuel is expensive. With a high amount of solar irradiation, the region is ideally suited for the use of PV energy. Since November 2012, a one megawatt PV system  has complemented the existing diesel energy main supply at a chrome ore mine. As the key component of the Fuel Save Solution, the SMA Fuel Save Controller manages the PV feed-in and controls the solar and diesel generators according to current load and generation profiles.

A Carbon War Room case study calling for a rise in hybrid PV-diesel systems for mining highlighted a South African mine that's integrated a 1 MW PV system to reduce diesel consumption by 24 percent, reducing carbon dioxide emissions by 1,200 tons annually. The system's exceptional payback period, less than four years, gives further reason why the advancing PV diesel hybrid system technology can revolutionize the mining industry.
3. Remote hybrid system with a genset backup supply: Island Electrification, Vava'u, Tonga
The Tongan island chain Vava'u is now benefiting from its perfect solar conditions—more than 1,500 hours of sunshine annually. A PV diesel hybrid system with the SMA Fuel Save Solution went into operation in November 2013 with the goal of saving diesel fuel and thereby minimizing costs and CO2 emissions. The 500 kW hybrid PV farm with 1,680 PV modules and 21 SMA Sunny Tripower inverters was fully integrated into the existing diesel network and provides almost 70 percent of Vava'u's energy demands at noon.
https://www.sma-sunny.com/wp-content/uploads/2020/10/Keyvisual.png
300
572
Stella Maria Pfeifer
/wp-content/themes/enfold-child/images/SMA-LOGO-Color_s-1.png
Stella Maria Pfeifer
2014-05-28 09:20:35
2020-10-27 11:30:40
PV Diesel Hybrid Systems – 3 Popular Designs