O&M Takes Center Stage: Reviewing Solar Asset Management 2016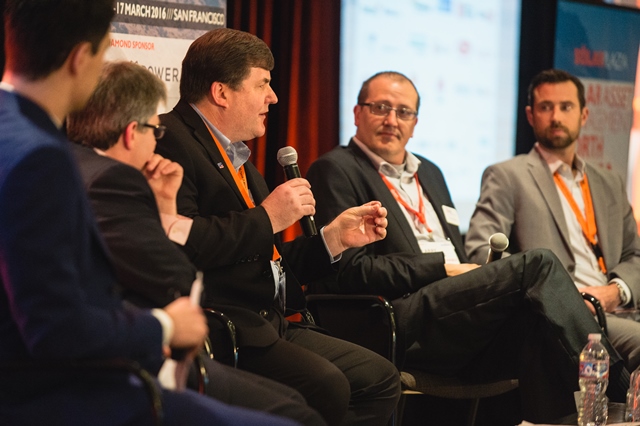 For the second year in a row, I've had the notable privilege to speak at Solar Asset Management North America—the most distinct conference for the solar service industry. Like last year, SMA sponsored the event and I was allowed the pleasure to be onstage with some very distinguished colleagues to discuss the key topic of understanding, controlling and driving down the true cost of O&M and Asset Management.
Sharing my thoughts onstage was just one part of the experience of Solar Asset Management North America. For me, one of the great benefits of participating is actively engaging with the other thought-leaders within the service facet of our industry. Recognition of service's role in a PV plant's lifecycle, particularly relating to O&M, is growing rapidly and as our sector of the market matures we are learning and improving our business models to better fit customers' needs.
One of the key takeaways from the event was how industry maturation is paving the way for top-tier players to emerge. In the latest Asset Management and O&M Mega-Watt Report from GTM Research, the top 25 O&M providers have captured approximately 47 percent market share (excluding Asia). SMA is now the fourth largest O&M maintenance provider considering Americas and EMEA. This type of market capture is a strong indicator of the growth potential seen by professional-grade service providers and the shift towards service playing an integral role in initial plant design and financing.
As the service market's maturation continues, we're also seeing key strategic partnerships developing between companies to provide professional-grade O&M. These relationships are evolving from single-occurrence to long-term partnerships, as seen with SMA and Siemens partnering to offer a leading O&M solution in Americas region that includes everything from the DC side to the AC substation.
With these partnerships and established service providers, the quality delivered by professional O&M teams is becoming evident and, most importantly, the financial backers and PV asset managers have taken notice of the value presented by O&M. As proven by SMA, best-in-class proactive O&M can increase cash flows by 15 to 20 percent over the lifetime of the system. As the rate of plant commissioning for megawatt-scale and above continues increasing, the importance of establishing proactive O&M from day one of design through system operation will continue to rise.
One exciting topic of discussion was the ITC extension, which all in attendance agreed will create significantly more O&M opportunities over the coming years. Buoyed by the ITC extension in the U.S., one megawatt plants and above are forecasted to grow to 90GW in the United States over the next five years, which represents significant incremental opportunity for PV developers and corresponding opportunity for O&M suppliers.
The changes in the O&M service industry year-over-year are tremendous. The advances from last year's Solar Asset Management conference show the fruits of our labor and the positive dialog surrounding increasing system value through proactive O&M is proof positive. Thank you to the more than 400 attendees and other speakers for putting on a tremendous conference. We'll see you next year!
For those that are interested, SMA also participated in a pre-conference webinar featuring our Senior O&M Manager, which can be viewed here.
https://www.sma-sunny.com/wp-content/uploads/2020/10/SAMNA_7.jpg
426
640
Justin Dyke
/wp-content/themes/enfold-child/images/SMA-LOGO-Color_s-1.png
Justin Dyke
2016-04-08 08:15:39
2020-12-22 15:10:38
O&M Takes Center Stage: Reviewing Solar Asset Management 2016