Easy, Reliable and Cost-Effective Rapid Shutdown Compliance Utilizing the SunSpec Standard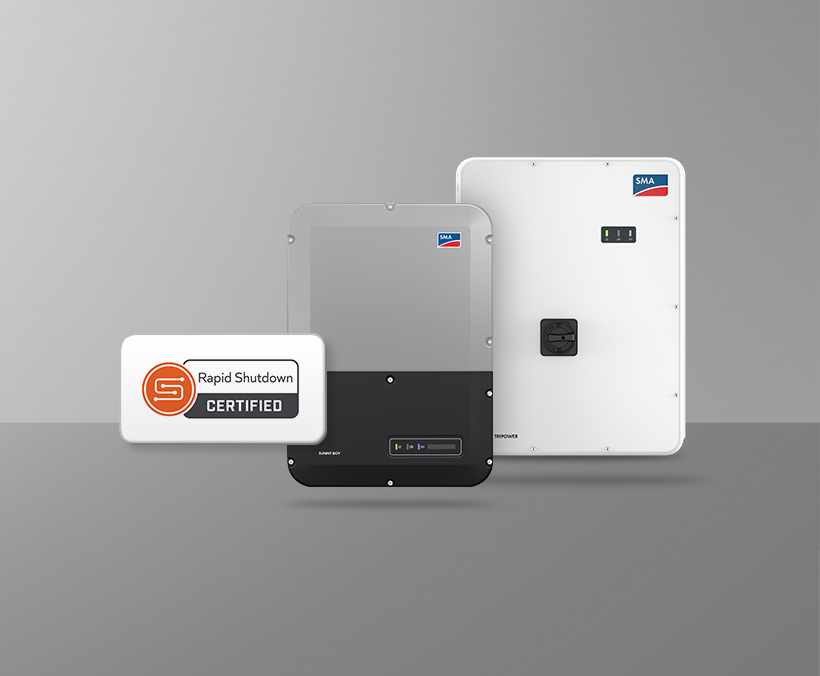 The requirements of 2017 and 2020 National Electric Code (NEC) section 690.12 – entitled Rapid Shutdown of PV Systems on Buildings – currently mean that module-level power electronic (MLPE) devices must be installed with PV systems installed on buildings, even if they are not appropriate for energy optimization reasons.  As microinverters and standard DC optimizers solutions are closed, proprietary solutions, their use locks installers into depending on a single source for equipment and replacements.
As discussed in the first blog post of this series, the SunSpec Alliance has the goal of creating industry-wide standards to resolve issues like compliance with Rapid Shutdown requirements. Their Rapid Shutdown standard allows for multiple vendors to certify equipment to an open, published standard – allowing installers to choose between interoperable devices and avoid being locked into a closed ecosystem to comply with code.
SMA has been a global leader in PV technology for almost 40 years.  SMA America will celebrate its 20th anniversary in September 2020 and has long been a technology leader: first with UL certified inverter-integrated AFCI as well as the first to achieve UL1741 SA smart inverter certification. SMA's success is based on ensuring that it delivers safe and reliable equipment that reduces the time installers must spend on a roof installing or servicing PV equipment.  With Rapid Shutdown now requiring module-level power electronics for rooftop PV systems, SMA faced a daunting challenge to provide a fully code-compliant solution that also minimizes reliability impacts, while ensuring optimal energy yields. The SunSpec rapid shutdown standard provided a perfect complement to SMA's ShadeFix optimized residential and commercial string inverters to achieve this goal.
The functioning of the SunSpec rapid shutdown process is very straightforward.  Two components are required – a transmitter and some number of receivers.  The transmitter is responsible for imparting the SunSpec rapid shutdown power-line signal onto the DC conductors that go between the array and the inverter.  The receivers are responsible for detecting the signal on those conductors.  While the signal is present, the receivers do nothing. When the signal disappears, the receivers are responsible for lowering the array voltage below the code limits within the code specified time after rapid shutdown is "initiated". They isolate their modules from the string they are part of, without breaking the string, and provide a low, "standby" voltage on their output conductors if the SunSpec signal is absent. This power-line communication signal is a "keep-alive" signal that does not require any additional wired or wireless communications channel between the array and inverter. It is important to highlight that the SunSpec certified receivers do not perform any power conditioning function or transmit information about the array operation, thereby allowing them to be very simple and robust devices.  This is important, as there may be many hundreds of these devices scattered throughout the harshest environmental conditions of a single large commercial rooftop installation. Time spent servicing failed MLPE devices is time not spent installing.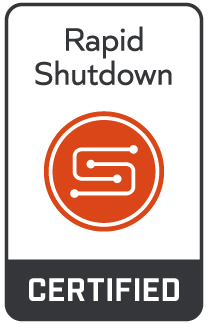 SMA America has integrated a transmitter certified to the SunSpec rapid shutdown standard into both our residential Sunny Boy US-41 and commercial CORE1 US-41 inverter lines. This transmitter, when enabled during commissioning, begins to impart onto the DC conductors connected to the array the SunSpec rapid shutdown "keep-alive" signal.
SMA's approved SunSpec certified rapid shutdown receiver can support most residential and commercial module choices, meaning only this part needs to be sourced when using either SMA's residential or commercial string inverters. This makes stocking and allocating inventory as easy as possible for installers and equipment distributors. Furthermore, SMA's string inverters do not require the SunSpec shutdown receiver units to function, so if the PV system does not require rapid shutdown (e.g. a ground mount) then the receivers are simply not installed. Commissioning with SunSpec shutdown is fast since there is no detection step required for these MLPE or a layout map creation step for module-level monitoring.
The SMA inverter-integrated SunSpec transmitters are configured to stop broadcasting the "keep-alive" signal whenever the inverter senses a loss of utility voltage and frequency on its AC terminals. A first responder will shut off utility power to a site as an initial step to fight a fire, so this means the rapid shutdown "initiator" – loss of AC power – is something that would be done even if that responder has no formal training on how to recognize and utilize rapid shutdown equipment on a PV system.
Finally, the existence of the SunSpec rapid shutdown open standard means that multiple vendors can provide receiver devices that mirror trends in the PV module market. More devices with a wider range of options and sizes are available to installers than SMA alone could reasonably provide, and module manufacturers can even build the receiver capability within their module's junction box directly. These devices (and the installer installing them) are not dependent on an SMA inverter to ensure rapid shutdown code compliance, simply another certified transmitter, inverter-integrated or stand-alone.
The existence of the SunSpec rapid shutdown standard has allowed SMA America to improve its ShadeFix optimized string inverters to provide the industry's fastest-to-install, most reliable and cost-effective solution for any PV system needing to achieve 2017 or 2020 NEC 690.12 compliance.
https://www.sma-sunny.com/wp-content/uploads/2020/10/SunSpecCore1_SB_Gray.jpg
676
820
Mike
/wp-content/themes/enfold-child/images/SMA-LOGO-Color_s-1.png
Mike
2020-09-16 18:54:16
2020-10-27 16:14:52
Easy, Reliable and Cost-Effective Rapid Shutdown Compliance Utilizing the SunSpec Standard