An Off-Grid Journey with Solar Legends Ezra and Melinda Auerbach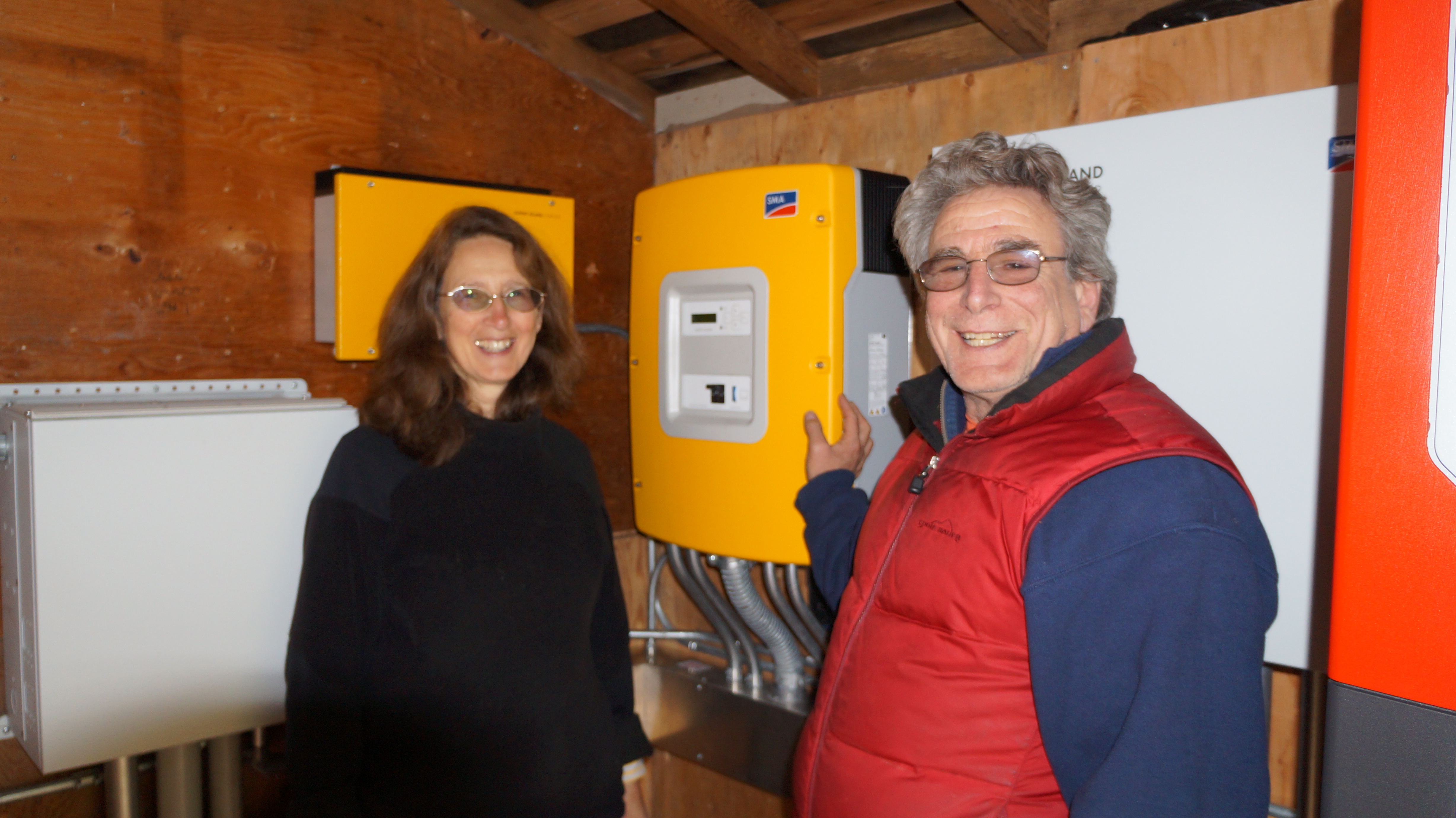 It is an early fall morning at the SMA America manufacturing facility located in Denver, Colorado. I have my personal belongings packed away in my car and am anxiously awaiting the arrival of my SMA America off-grid colleague and battery-based inverter expert, Roy Dyngen.
We are flying from Denver, Colorado, to Seattle, Washington, on one of the first flights of the early morning. My eyes are heavy from the lack of sleep but my mind is eager to arrive at our final destination. We are embarking on a journey toward the remote, rugged coast of British Columbia, Canada. Here we've been contracted by solar trailblazer and former executive director of NABCEP, Ezra Auerbach, to review his personal off-grid PV system installation and start commissioning. Once we have arrived in Seattle, Roy and I gather our belongings and head north via train along the picturesque Washington coast through the international border to Vancouver, Canada. Upon arrival into Vancouver, we join Ezra, a true off-grid pioneer. Excitement elevates as we talk tales of off-grid past, present and future with Ezra before heading off to the next leg of the journey. A brief slumber at a motel and we're off to the old south terminal of Vancouver airport for an early twin-prop plane departure to Vancouver Island.
Vancouver Island welcomes the brief flight with expected gray skies and a slight drizzle, and then it's on to the passenger ferry terminal for our final approach to the gridless island within the Strait of Georgia. Choppy seas and constant rain showers, both daily staples in the area, offer no slow-down to the schedule as we arrive at the ferry dock. At the ferry dock we are greeted by Ezra's wife, Melinda Auerbach. Melinda is the homestead manager, travel and logistics coordinator and an off-grid system adventurer as well. We head off for the final few gravel-ridden kilometers in a 4-wheel drive vehicle to the Auerbach home, finally arriving at our destination 36 hours after initial departure.
On location we are joined by the NABCEP-certified PV installer Will Andrews of Small Planet Energy, Inc., along with his installation team members. We quickly begin to survey the recently installed roof-mounted PV above the fossil-fuel based generator workshop, coupled with an SMA Sunny Boy inverter. Ezra notes the existing DC-coupled pole/house-integrated mount PV source. This array lays side-by-side with an additional flush-mounted PV source, an AC-coupled array — quite a unique application of diversified PV sources. We move across the site to the inverter and battery room, which offers 500 Ahr at 48 V DC of vented, lead-acid battery capacity along with SMA power electronics. This is home for batteries, additional AC and DC-coupled SMA electronics, the microgrid manager Sunny Island battery-based inverter, 120/240 V AC SMA Smartformer and WebBox communication/monitoring hardware. With installation work completed, system commissioning commences. Melinda, Ezra, Will, Roy and I run through the brief Sunny Island Quick Configuration Guide(QCG). Once we have completed the QCG we check the system programming, plant overview and monitoring.  Everything is working and producing as planned! Our work is finally finished, and there is just enough time for a celebratory pour of bubbly and a few moments of relaxation in an off-grid paradise before we start our long journey back home.
Update from the Owner: 
"The longer we have our "Sunnies" installed, the more we like them. In short, they make us smile. Our grins are due to the very apparent increased efficiency during the day, the very noticeable increase in efficiency through the Sunny Boy, the observable fact that our batteries are in better shape (SOC) than they were before the installation, and finally the very real observation that we are running our generator less than ever before at this time of year."  – Ezra Auerbach, Former Executive Director of NABCEP
Solar Spotlight aims to highlight SMA inverters in real-world situations. Email us with information about your SMA-powered PV projects at SocialMedia@SMA-America.com
https://www.sma-sunny.com/wp-content/uploads/2013/02/Ezra-107.jpg
2760
4912
Melissa Womack
/wp-content/themes/enfold-child/images/SMA-LOGO-Color_s-1.png
Melissa Womack
2013-02-19 12:41:28
2021-01-05 13:44:42
An Off-Grid Journey with Solar Legends Ezra and Melinda Auerbach