"SMA Storage Systems Adapt to All Changes"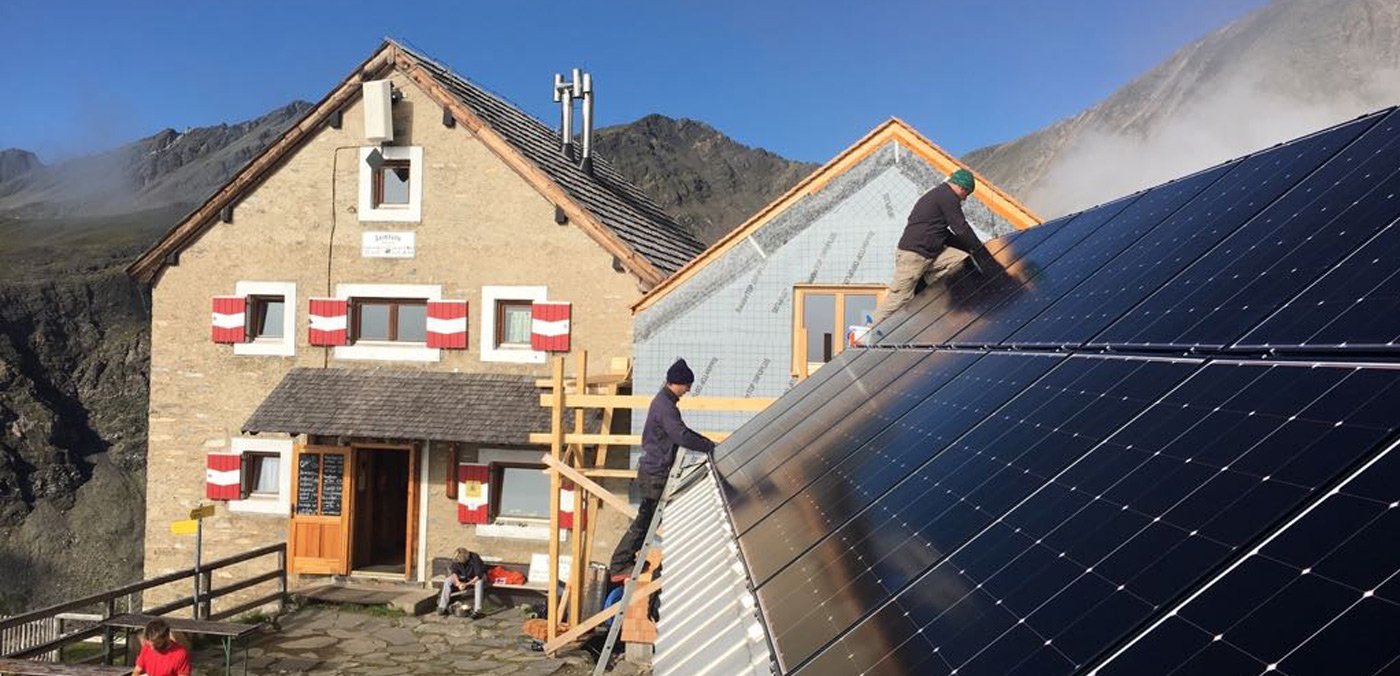 Solar power even in off-grid regions: Volker Wachenfeld and Martin Rothert have been working highly dedicated on this vision since 2001. With 1 gigawatt of installed battery power, their idea became a big seller by that time. We asked both SMA experts about market developments, opportunities and their personal highlights.   
Every other PV system is now equipped with a storage system. When will battery storage systems become an emerging technology that is suitable for the masses?
Volker: I don't think it is too far off. The success of home storage systems in conjunction with photovoltaic systems (PV) in the residential segment has laid an important foundation stone in that respect. The possibility of bringing about an individual purchase decision with manageable costs and benefits that can be communicated — you hardly need any political framework conditions for that. From a national economy perspective, larger storage systems at central points in the utility grid would of course be more efficient. However, there are still regulatory barriers to this in many countries — e.g., in Germany, storage systems are still both an electrical appliance and a generator.They must fulfill all requirements for both types of equipment. At the same time, operators also pay every conceivable kind of levy as a result.In my view, these barriers still need to disappear, then storage systems will catch on all over the world.
What does the perfect storage system look like?
Martin: The perfect storage system is modular and flexible, because it has to be tailored as closely as possible to the respective needs of our customers. It is very important to provide self-generated energy in line with consumption wherever electricity generation costs for PV systems are below the costs for electricity from the utility grid. That's why the system must be able to adapt to changes in consumption behavior at all times.However, consumption is highly individual and differs greatly. In terms of agricultural businesses, e.g., there are considerable differences between a pig farm and a dairy farm. There are also enormous differences in the private sphere with regard to power consumption and load profile. As PV storage systems are intended to last for a minimum of 10 years, but preferably 20 to 30, they must be able to adapt to all changes in consumption during this period. In 30 years, i.e., around 2050, more than 80% of our supply will have to be carbon-neutral, which means that electric heating and electric cars will be taken for granted as part of our everyday lives.
What is your personal storage system highlight?
Volker: For me, that's perfectly clear: reaching 1 GW of installed system output with SMA battery inverters. A few years ago, I still wouldn't have dared to make a prediction. The market was ripe and we had the right products — nevertheless, it still absolutely blows my mind. In the course of the major successes for PV technology with and after the Renewable Energy Sources Act (EEG), the storage systems were more of a delicate seedling that was able to grow as the most successful technology in the context of decentralized energy supply due to the breakthrough of PV. Without the volatility of solar generation, there would still be hardly any demand for storage systems today. Of course, not all our developments have been instant successes, but every one has been important in reaching our goal.
Martin: With estimated 70,000 storage systems which have been built with SMA battery inverters since 2001, and almost all of which are still in operation, this is not a simple question. For me, the most unusual installation to this day is indeed Eigg Island. Renewable electricity has accounted for over 95% of the Scottish island's supply for ten years now. The special thing here is the coupling of three different renewable generators: water, wind and solar power that were decentrally connected via a medium-voltage grid. It is controlled via a Sunny Island multicluster system with a battery that is quite small for this application. The existing diesel generator starts up on only the very rare occasions that neither water, wind nor solar energy is available. Day in, day out, this system shows that an extremely reliable, renewable electricity supply is already possible today. Due to the increasing power consumption on the island, the first battery is now to be replaced and the system expanded after ten years. This also shows once more the importance of the modular, flexible system technology.
The storage market is growing rapidly. Are there any solutions for reusing old batteries? What happens to used batteries?
Martin: More than 98% of lead-acid batteries are recycled today. The lead is actually used to make more lead-acid batteries.Things have not progressed quite as far with lithium-ion batteries, but there is also some very hard work going on to find solutions, primarily to enable recycling of the valuable metals.
What were the key product developments for SMA's 1 GW of storage capacity?
Martin: From my point of view, there have been three key product developments: First, the first Sunny Island 3300, which was launched in 2001. The revolutionary things there were the AC coupling and the modular system concept, which meant that three single-phase inverters could be wired up to form a three-phase current system for the first time, but could also be connected in parallel for single-phase and three-phase operation. Second, the Sunny Island 5048, which made the cost breakthrough for AC-coupled off-grid systems in 2006 and expanded the modular system concept to systems up to 300 kilowatts thanks to SMA multicluster technology. To this day, all Sunny Island inverters are based on this very successful platform, which now covers more than 100,000 devices. And third, the Sunny Boy Storage 2.5, with which SMA launched its first high-voltage battery inverter for AC-coupled on-grid systems in 2016. The inverter was specially tailored for lithium-ion batteries.
With the big brother of the little Sunny Island, the Sunny Central Storage, SMA took an enormous step forward in terms of power installed. What are the respective main areas of application?
Martin: Without the Sunny Central Storage, we would not have reached 1 GW of power for a few years yet. The Sunny Central Storage was possible because the requirements for a central battery inverter had already been taken into consideration in the development of the new Sunny Central, and we have over 20 years of experience in storage. That was a good combination. The Sunny Central Storage can now be used just as flexibly as a Sunny Island. It is used on the utility grid for grid services, such as frequency control and voltage support, or to supply an entire island. Thanks to the simple parallel connection, there is now virtually no upper power limit, including in the area of grid-forming.
St. Eustatius: 100 Percent Caribbean Solar Power
What will the greatest challenges concerning energy storage be in the future?
Volker: Battery storage systems will establish themselves on the market; demand on the utility grids and in commercial customer systems is huge, and technically there is hardly any alternative at the moment. However, stationary applications are in significant competition with e-mobility. The use of the same technology allows economies of scale, but also results in allocation and uncertainty in price development. In the short term, we will have to take a stagnating price level for the battery cells into account, but at least it is no longer falling so sharply. We are familiar with the effects from photovoltaics — fluctuating demand, project delays because people are waiting for price reductions, competitive pressure. We will need to make it through one or two lean periods.
If you were a SMA battery inverter

"I would be a Sunny Island in the basement at my house. The current Sunny Island embodies the experience gained from over 20 years of my professional life. I would be in my basement so that I could still be close to my family."

Martin Rothert
Your vision for 2025?
Volker: Recently, e.on announced in the United Kingdom that it is renaming its "Solar plus Storage" division to "Storage plus Solar." Why is that of interest? For use in single-family homes, storage will drive decisions on whether to purchase; PV systems are often bought only as an optional extra. Large-scale PV power plants without storage will also be a thing of the past in the "mature" markets; photovoltaics are becoming capable of covering base, medium and peak load demand through the combination of generation and storage. This should have been a reality for some time by 2025.
Martin: In the future, the generation of the energy will not play such a decisive role. It will be possible to do this very cost-efficiently through solar, wind, water and biomass. The crucial aspect will be the provision of energy in line with demand and the management of energy and this will be possible only by means of storage and the corresponding system technology. A self-sufficient, decentralized energy system can be compared with a human being as, from an energy perspective, a person is nothing other than a self-sufficient biomass power plant. The gastro-intestinal tract is the power plant that supplies the person with energy. The energy is stored in the fat and muscles and transported in the blood. However, the essential organ is the heart, which delivers the energy to all parts of the body in line with needs. These processes take place autonomously even without interaction with the brain. The brain is needed only for overarching and longer-term coordination such as when you feel hungry.When this is applied to a self-sufficient PV battery system, it means that the gastro-intestinal tract is the PV inverter, the fat cells represent the battery, the brain is the energy manager and the role of the circulatory system is played by the power cables. However, the decisive role belongs to the battery inverter that, like the heart, is responsible for ensuring that the right amount of energy always arrives at the right place and the right time.
Volker and Martin, thank you for the interview.
https://www.sma-sunny.com/wp-content/uploads/2018/06/Salmhuette_alpes-smasolar-1.jpg
676
1400
Anke Baars
/wp-content/themes/enfold-child/images/SMA-LOGO-Color_s-1.png
Anke Baars
2018-06-18 10:02:30
2019-10-31 16:18:33
"SMA Storage Systems Adapt to All Changes"