Storage Success Story: 1 Gigawatt of SMA Battery Inverter Power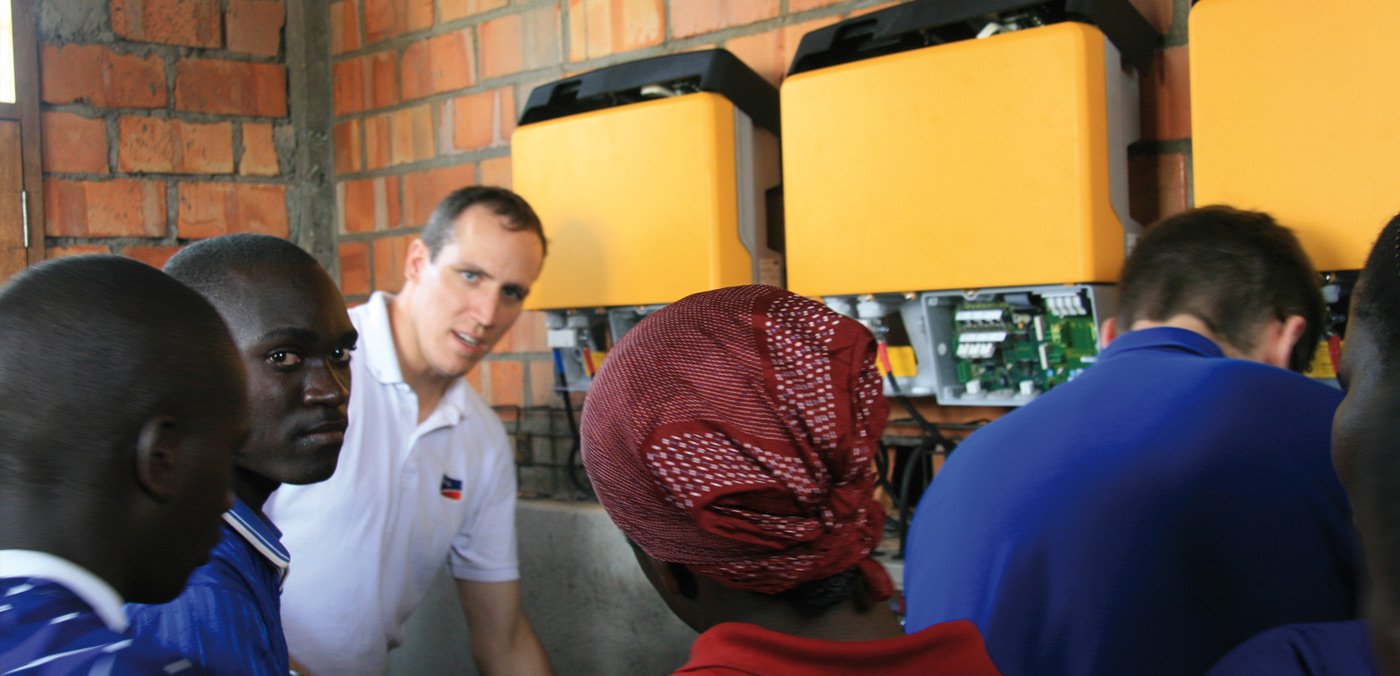 With the vision of "Generating energy where it is needed," SMA has been sending its battery inverters out into the world since 2001. Today, we have reached the milestone of one gigawatt of battery inverter power installed. As a result, SMA battery inverters have now replaced a mid-sized nuclear power plant. From the home storage system to the battery power plant, we will show you the major developments and the most extraordinary projects. 
The story of the battery storage system is definitely a successful one. Storage systems all over the world are now ensuring that the energy produced is available even when the sun is not shining or the wind is no longer blowing. The possible applications are extremely varied—and perhaps that very thing is the secret of their success: they simply fit in everywhere. Moreover, in combination with renewable energy sources such as the sun or wind, they are extremely reliable and cost-effective suppliers of electricity. That applies whether they are deep in the jungle, in the desert, on the highest mountain, on the most remote island or on the roofs of residential and commercial buildings.
Sustainable electricity supply for every need
The storage systems differ only in the benefits to their users. In rural regions in which the electricity supply is non-existent or unreliable, electricity is the basis for education and economic development. Here, in particular, storage systems with PV systems ensure an electricity supply in otherwise inhospitable areas.
For private homes in industrialized countries, on the other hand, it is a question of a sustainable energy supply. That means moving away from conventional energy carriers in favor of greater sustainability and lower energy costs.
For holiday homes, lodges or Alpine cabins in unspoilt areas, it is important to generate energy as environmentally friendly as possible. In commercial storage system applications, however, the main focus is on efficiency and a secure electricity supply. It is a question of balancing load and demand peaks and providing an emergency electricity supply in the event of grid failures.
In industry, meanwhile, storage systems are used to provide standby power and thus ensure grid stability. Large battery storage systems on the utility grid provide necessary grid services and thus avoid the need for expensive and complex grid expansion.
Grid-quality renewable energy
SMA engineers first developed the yellow Sunny Island battery inverter in 2001. The name said it all. In combination with the PV system, it supplies people in the most remote parts of the world with energy. Where there is either still no access to electricity whatsoever or the utility grid is unstable, the Sunny Island with the PV system and the batteries form a stand-alone grid. The quality of the electricity corresponds exactly to that of utility grids.
With the concept of the AC coupling for PV storage systems, SMA broke completely new ground at the time. All generators such as PV, wind or hydroelectric power plants with storage systems and all loads could be connected in parallel in an AC power grid. This technology offers other major benefits. The systems are freely scalable from a few kilowatts into the megawatt range, are easy to build, can be expanded with the addition of further modules at any time and can be combined with many different energy generators. They form an independent power supply system and can also be used on the utility grid as a means of grid support or to replace the grid in the event of power outages.
Integrated battery management with state-of-charge detection ensures that the batteries offer excellent electrical endurance. SMA battery inverters are compatible with numerous battery types from a wide range of manufacturers. This is a major unique selling proposition for SMA devices. Thanks to this flexibility and modularity SMA provides customized solutions for every application that can also be tailored as closely as possible to the needs of their users in the future.
The reliable all-purpose solutions: Sunny Island and Sunny Central Storage
Ten years later, SMA engineers refined the Sunny Island for grid-connected systems. As a result, it was also possible to expand PV systems connected to the utility grid simply by adding a storage system—a little bit more independence from the electric utility company and rising electricity costs.
In the spring of 2018, SMA sold its 100,000th Sunny Island—a milestone. Now, the battery inverter is ensuring that energy is available on demand in more than 70,000 systems around the world. It works in Siberia and at the South Pole, as well as in  Africa, in the far-flung South Pacific and in the Alps or in private homes with heat pumps and heating elements.
Demand for storage systems is rising steadily. Battery storage systems are interesting wherever solar energy or other renewable energies are already installed, or are going to be installed. Grid-connected large and small storage systems make it possible to integrate large amounts of intermittent renewable energies into utility grids while simultaneously keeping the utility grids stable. Solar energy and storage systems are therefore the driving forces behind the energy transition.
In recent months, demand for Sunny Central Storage battery inverters in particular has been very high. SMA delivered a total power output of more than 400 MW in projects to the United Kingdom, California, U.S., Germany, South Korea and the Caribbean.
Diesel-off mode as a milestone
For one project in the Caribbean, the SMA team went one step further. The local electric utility company on St. Eustatius, Stuco, was so delighted with the first expansion stage of the solar hybrid system that it was determined to expand on it, to the extent that the diesel generators could be completely turned off as much as possible during the day. In doing so, the SMA engineers transferred the grid-forming properties of the Sunny Island to its big brother and developed the Sunny Central Storage 22002750-EV.
Despite the somewhat higher initial investment costs, the solar hybrid systems pay for themselves within just a few years in comparison with the high operating costs of pure diesel systems. The costs for diesel fuel are minimized. Not to mention the transport costs for the fuel. After all, while it first takes substantial effort to organize transport from afar, the sun has long since done its job completely free of charge. Maintenance costs also fall considerably while service life increases. That is because, thanks to their low-maintenance parts, hybrid systems are far superior to diesel units in terms of service life.
The vision of "Generating energy where it is needed" from that time is more relevant than ever in the era of the global energy transition. Battery storage systems enable a decentralized and renewable energy supply worldwide. Here, SMA battery inverters stand out thanks to their particularly wide range of possible applications and customized solutions.
Whether South Pole or Far East: SMA storage systems are installed worldwide

Vocational school electricity supply in Uganda
"The electricity supply has made a lot of things easier here. For example, classes can continue for much longer. Because when the sun sets at 6 p.m. here, it is as if somebody turned out the light. Now we simply turn it back on again."

Julius Muganyizi, vocational student in "Electrics", responsible for the PV systems and operation of the water pumps
International Polar Foundation at the South Pole
"Thanks to the efforts of our technical partners, including SMA, we were able to deliver a Zero Emissions research Station – the Princess Elisabeth Antarctica.  This was the first Zero Emissions Station in Antarctica.  Using renewable energies in a pristine environment is doubly important – firstly because it reduces the environmental impact and secondly because it reduces the costs of operating and allows scientific achievements to be delivered at a lower operational cost by removing the ubiquitous use of fuel."

Alain Hubert, Chairman of the Board of the International Polar Foundation, and Station Commander Princess Elisabeth Antarctica
Increased self-consumption and independence in Southern Germany
"We expanded our PV system quite quickly with the addition of a storage system. This allowed us to reduce our purchased electricity by 70% and we are now also supplied with electricity in the event of short power outages. We fill up on solar power, do our laundry and wash our dishes using solar energy. Sustainability is important to us. Not only that, but we also really enjoy managing our home intelligently so that we become more and more independent of the utility company."

Daniela and Matthias Röschinger from Nuremburg, Germany, have been operating and expanding their system since 2012.  www.save-with-sun.de
Hybrid system for St. Eustatius, Special Municipality of the Netherlands, Caribbean
"On St. Eustatius, we created a 100% grid solution that is the only one of its kind in our industry to date. The hybrid system from SMA heralds the start of a new era in diesel-free electricity supply."

Fred Cuvalay, CEO St. Eustatius Utility Company STUCO 
The most northerly PV system in Batagay, Russia
"It is exciting to see that solar energy is useful even in such an extreme environment. In summer we have temperatures of up to +40 degrees here; in winter the temperatures drop to as low as -60 degrees. In the summer months, the solar yield provides a significant proportion of the electricity supply for the approximately 4,500 inhabitants of Batagay. Of course, in the winter months, the yield is then rather small due to the limited sunlight."

Jan Stottko, SMA Country Sales Manager, looks after the largest (1 MW), most northerly solar hybrid system in the world with the SMA Fuel Save Controller in Batagay, Russia. The system was installed and put into operation in 2014 by Helios Strategia of Dnipro, Ukraine.
Günther Cramer Solar Academy—independent of the electricity grid also in Germany
"The flagship Solar Academy project proves that even at our latitude, it is possible to provide yourself with self-generated solar energy and be completely independent of the electricity grid. Excess energy is stored in batteries for later use and can supply the building self-sufficiently for almost one day. The great thing is that you can see it. We make the generation and supply of energy visible to our customers and visitors and, as a result, they experience it too."

Matthias Schäpers, SMA Global Sustainability Manager, oversaw the construction of the Solar Academy 2009. Training sessions and other events are held there.
Do you also have a storage system including SMA solutions? If so, please write a comment. 
https://www.sma-sunny.com/wp-content/uploads/2018/06/sma-solar-battery-storage-systems-references-uganda.jpg
676
1400
Anke Baars
/wp-content/themes/enfold-child/images/SMA-LOGO-Color_s-1.png
Anke Baars
2018-06-19 15:41:00
2019-10-31 16:18:25
Storage Success Story: 1 Gigawatt of SMA Battery Inverter Power