Direct Data Exchange without Additional Devices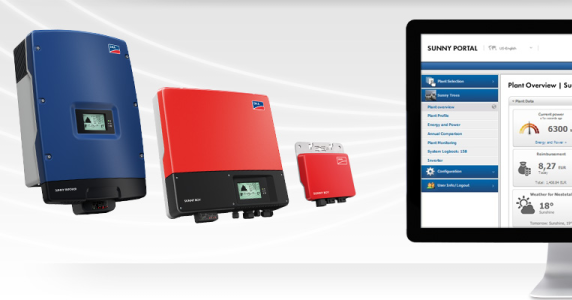 Worth waiting for: Webconnect makes additional data loggers a thing of the past. From now on, operators of residential PV systems with up to four inverters can monitor them directly online and access data directly via Sunny Portal if necessary. In short, direct data exchange is finally possible without additional devices.
This document answers the five main questions on Webconnect.
1. How do I install and commission it?
It's actually really easy. Instead of an additional data logger, the Webconnect function is now all you need to send data directly. It is either already integrated in the inverter or can be retrofitted as an optional interface. All system owners require for this type of monitoring is an Internet connection and the data module or the function already integrated in the inverter.
Falko Schmidt, Product Manager at SMA also emphasizes, "After wiring the inverter, the rest is plug & play. Virtually all you have to do to commission it is to plug it into your DSL router. After a quick registration process in Sunny Portal, the key system data can be accessed at any time or presented clearly."  The screens developed especially for home users are particularly impressive (see figure at left), as they give a simple overview of how well the system worked during the day without additional expertise or configuration work.
2. What about future updates?
Updates released in future are implemented automatically depending on the setting or activation to ensure that the device's firmware is updated in good time.
3. Can I access data on my mobile device?
Of course. Basic access to the Sunny Portal provides system operators online access*1 to their PV systems anywhere and any time. It allows them to access key information such as yield and power or the system logbook, via PCs or mobile devices. The best thing is that the Sunny Portal app is not only available for Apple's iPhone, iPad and iPod Touch, but now also for all Android smartphones for the first time.
4. What inverters are supported?
First of all, Webconnect is available for and can be used with a wide range of inverters. The only distinction is that some devices have the function integrated as standard and some inverters can be fitted with the optional data module. The following list provides a better overview. Inverters,  …
… equipped with the Webconnect functions as standard:
             – Sunny Tripower TL-20 (5-9 kW)
             – Sunny Boy 240 *2 (micro inverter)/Sunny Multigate
… for which Webconnect is available as an option:
– Sunny Tripower Economic Exellence 15000TL/20000TL
            – Sunny Tripower High Efficiency 15000TL/20000TL
            – Sunny Tripower 10000TL/12000TL/15000TL/17000TL
            – Sunny Boy 3000TL/3600TL/4000TL/5000TL-21
            – Sunny Boy TL Single Tracker 2500TL/3000TL
5. Does Webconnect replace the Sunny WebBox?
No, it does not. And that is not what it was designed for, as Webconnect is tailored for customers who primarily want to read their yields in Sunny Portal and receive notifications if errors occur. If you want answers to other questions, such as: Can Webconnect also display live data? Are there daily inverter comparisons? How often are event reports displayed? – please see our function matrix. It answers frequently asked questions – including comparisons with the Sunny WebBox and the Sunny Home Manager. If anything is still unclear, you can use the comment function to ask us at any time.
More links:
*1 A DSL broadband connection is required to use the Webconnect functions. Under these conditions, the continuous data exchange with Sunny Portal provides the ability to visualize the high-resolution data via the Sunny Portal-Live interface. A packet-based wireless data transmission (eg UMTS, HSPA, EDGE or GPRS) is only recommended with a corresponding flat rate including VoIP (Voice over IP) support by the mobile service provider. The use of a GSM router should be completely avoided when using the Webconnect functions due to the time-based billing.
*2 Market launch in 2013.
https://www.sma-sunny.com/wp-content/uploads/2012/12/webconnect_titel.png
300
572
Gerrit Naß
/wp-content/themes/enfold-child/images/SMA-LOGO-Color_s-1.png
Gerrit Naß
2012-12-04 15:21:30
2023-06-16 17:14:23
Direct Data Exchange without Additional Devices