A citizens' solar park for the holistic energy transition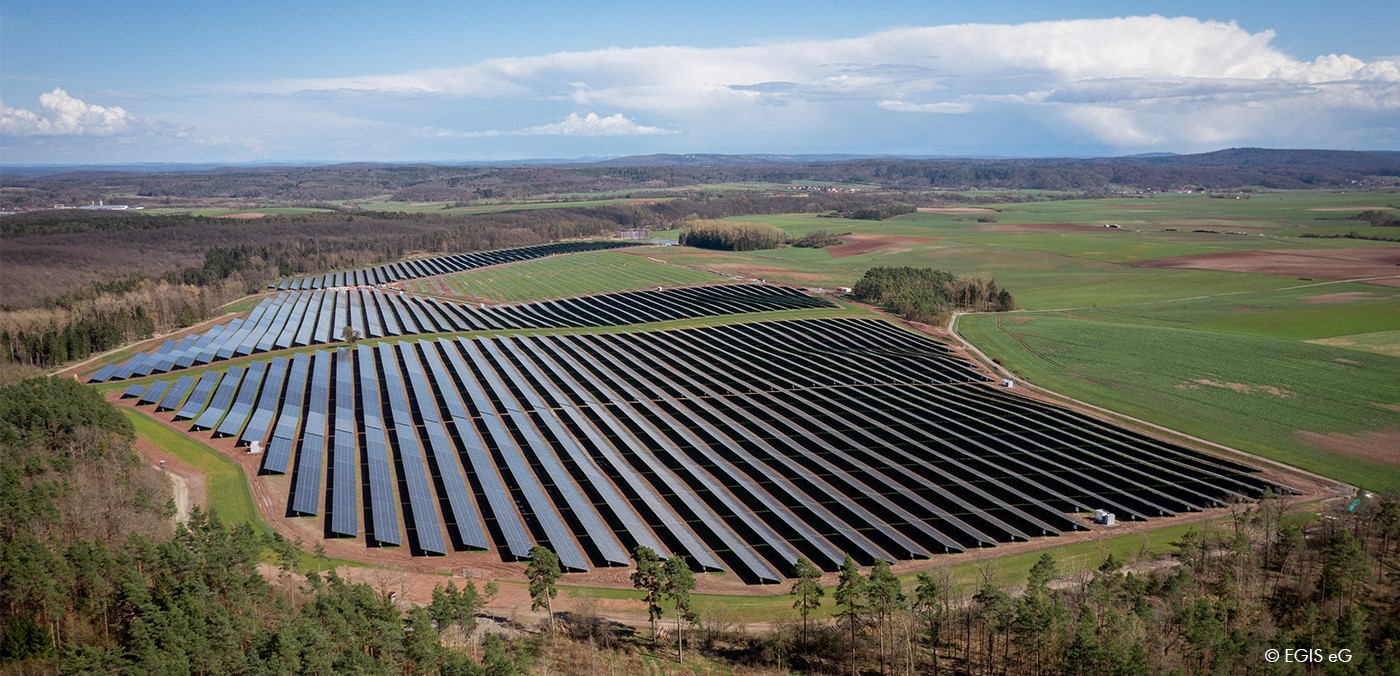 Interview with Pascal Lang,
CEO of EGIS eG
Electricity, heat and transportation: The citizens' solar park is transforming Bundorf in Lower Franconia into an energy community. Delivering 125 megawatts of peak power, the photovoltaic (PV) farm is one of the biggest in Germany – and more than 30 percent of it serves as a citizens' solar park. The primarily power-operated district heating network is unique, and the connected charging infrastructure is intended for supplying the local population with affordable solar power for their electric cars. In this interview, Pascal Lang – CEO of EGIS eG – talks about this project of superlatives, its pioneering role in a holistic energy transition and the legislative obstacles projects they still face.
In 2020, Bundorf embarked on its journey to become an energy community. What makes the Bundorf citizens' solar park a flagship project for the energy transition in Germany?
Covering 125 hectares and with a total output of 125 megawatt-peak, the Bundorf solar park is one of the biggest in Germany. The PV farm was originally planned to cover just 100 hectares and have a total output of 100 megawatt-peak, but the municipality wanted a clean visible edge for the project and so arranged for it to cover a larger area. By the way, this is all land that was no longer sufficiently fertile to be truly profitable as arable farmland. It's also important to know that annual average precipitation in the region is less than 500 millimeters, making it one of the driest regions in the whole of Germany. The impact of climate change can already be felt to the full here.
In addition, a special feature here is the holistic approach encompassing power generation, e-mobility and district heating. To support the district heating, we will transmit the PV power via a direct link between the PV park and on-site boiler house and feed the heat generated with electricity into a district heating network. This is unprecedented in Germany, so what we're doing here is truly pioneering.
Something else that we want to establish in Bundorf is energy-sharing, which will allow the local population to benefit from flexible electricity tariffs. But this is possible only if we are in a position to offer flexible electricity tariffs in the first place. European guidelines and specifications are already in place, but these first have to be converted to national legislation. This will enable electricity tariffs for energy generated in PV plants in Germany, too, and we can ensure that locally generated electricity is supplied to the people directly and not via some other, more circuitous route.
In many regions of Germany, we often see public protests against the planning and implementation of new, large-scale projects. How did you succeed in not only launching such a big project but also getting the people of Bundorf on board with it?
We organized three information events where we told the local population about our plan and outlined our holistic approach. There was little in the way of objection. In addition to the solar electricity supply, our district heating project was very well received. Many people immediately asked when they would be able to shut down their oil and gas heaters. The ecological upgrading of the land also played an important role. No trees or bushes had to be removed to make way for the facility. On the contrary, hundreds of trees and bushes were planted as an offset. We also created a corridor to allow wildlife to pass through the solar park. In addition, various conservation concepts – from sheep grazing through to semi-natural grassland – are in place across the land covered by the PV farm.
In addition to the energy and heat transition, EGIS eG and its project partners in Bundorf are also tackling the transportation turnaround. What exactly are your plans here?
We want to install charging terminals throughout the municipality and offer a local charging tariff. This will ensure that charging costs for local citizens will not exceed the cost of charging from home and so make charging terminals a more attractive proposition for many people. As things currently stand, people who use charging terminals pay a lot more, with the additional revenue being channeled straight to the electric utility companies. Thanks to a special charging card, we maintain complete control over the tariff.
How long did it take to obtain all the necessary permits for the solar park in Bundorf?
We received all the necessary permits within one year. This short period was possible because we work only with experts.
For example, we created ecological compensation areas within the Bundorf solar park itself. Had we not done this, compensation areas covering 150 hectares would have been needed. The area covered by the PV farm is home to a population of skylarks. By working with leading ornithologists right from the start, we found the perfect solution for the project and the skylarks alike.
We achieved a great deal before the start of the Ukraine crisis, which gave us a head start on connecting the substation this year, for example. Since then, interest rates have climbed and there are material bottlenecks. Thankfully, for Bundorf, everything went nice and smoothly.
According to the PV strategy elaborated by the Federal Ministry of Economy and Climate Protection, more projects like this are to be implemented in Germany over the coming years. Can solar parks like the one here in Bundorf be considered prototypes for the future?
Large-scale, ground-mounted PV systems work a little bit like big power plants. They are important guarantors of a nation's electricity supply and now count among the cheapest forms of energy supply. As of a certain size, each kilowatt hour becomes cheaper.
But if we want to put PV farms like this online more quickly, we need simplified approval procedures. The plant certificates needed for the grid connection have become incredibly complex. I'd also want to see more happening when it comes to energy-sharing. Only then can locally generated electricity be marketed in the local region too.
And how are you currently marketing PV projects like Bundorf?
As an energy cooperative, we offer participation through the purchase of cooperative shares. It is not possible to participate directly in individual projects like Bundorf. Members of cooperatives usually participate over the long term. The capital contributions of the cooperative members allow us to do our work and launch new projects. Members receive an annual dividend on their shares, which last year was 6.0 percent. We always strive for continuous and long-term growth for the benefit of our members.
Other project developers are also collaborating with local authorities to offer opportunities for local participation. How is cooperation with and membership of an energy cooperative different here?
In many local authorities today, investors and project developers offer subordinated loans as a way of enabling participation. But unlike participation via an energy cooperative, these are designed only for short periods of time. Our projects are designed for the long term. The lease agreement for Bundorf, for example, has a term of three decades. Since the cooperative includes not only individual members but also companies and local authorities, they also benefit from the projects. Many mayors today understand the difference between genuine public participation and participation through subordinated loans. Remember: Investors are not always especially keen on paying local business tax. But that is really important to us; indeed, in some places, we are even the primary business taxpayer. Since our projects have terms running into decades in length, we secure a long-term income for rural communities.
This is how projects like Bundorf benefit the local authorities. And what benefits do these projects bring for local people?
Thanks to this project, local tradespeople and handicraft enterprises are working at full capacity. We attach great importance to creating local added value. Local agriculture and nature enjoy direct benefits too. The grass on the land where the Bundorf solar park is constructed needs to be mowed on a regular basis. This land is not intensively farmed, however, and no pesticides or fertilizers are used here. This gives the soil at this low-yield location the chance to recover. The groundwater level also benefits because the ground-mounted PV systems protect against excessive drying-out by providing natural shade. This allows the local flora and fauna to recover, creating space for bio- and species diversity from which the people in and around Bundorf also benefit.
What next for EGIS eG?
We currently have lots of projects in the pipeline and are always operating according to market circumstances. Sometimes, we like to enter genuinely new territory and launch innovative projects with large battery-storage systems. Projects like this entail enormous challenges. High-quality partnerships are critical here. And remember: If it were easy, everyone would be doing it.
Many thanks for this interview, Pascal Lang!
https://www.sma-sunny.com/wp-content/uploads/2023/07/thumbnail_Egis_1400px.jpg
676
1400
Anke Baars
/wp-content/themes/enfold-child/images/SMA-LOGO-Color_s-1.png
Anke Baars
2023-07-13 12:55:06
2023-08-29 13:33:19
A citizens' solar park for the holistic energy transition