Introducing Alex: The Solar Academy's newest technical trainer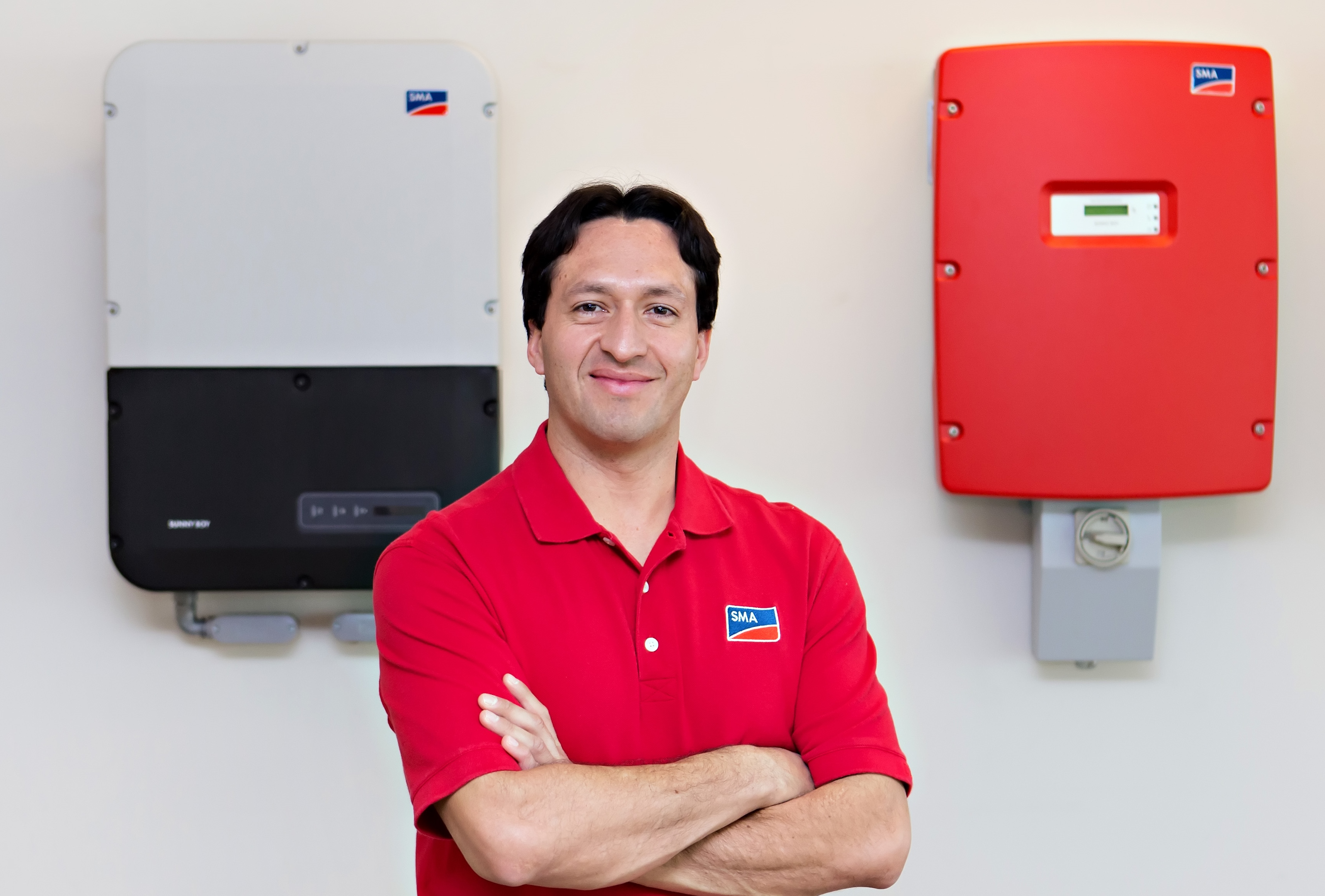 The SMA Solar Academy welcomes Alex, fully Alejandro Avellaneda, to the team! As a technical trainer with the Solar Academy, Alex will conduct seminars and webinars, in both English and Spanish, about SMA products, code compliance and installation best practices. Alex holds nearly a decade of experience in the energy industry, most recently a regional trainer and instructor for mechanized rig equipment commissioning, operation and maintenance in the oil and gas sector.
Alex holds a bachelor's degree in electronics engineering and we are very excited to have him as a new addition to the team and working in solar! To better introduce Alex to the SMA family, we sat down for a conversation with him.
First off, welcome to the team! How has the transition to solar been so far? What have been the most intriguing and challenging parts so far?
Thanks for the warm welcome. It has been a very interesting and exciting transition. After working for the oil and gas industry for so many years, switching to clean energy has been a big challenge. Not only because of the inherent differences between both sectors, but because of the perception that is held of our energy resources and how heavily we rely on fossil fuels. Working for the solar industry we become part of a movement committed to protecting the environment through new technologies and sustainability. It is a very rewarding experience to know that you are contributing to make this a better world; it is definitely the way of the future and I'm excited to contribute to it.
As you're learning about the SMA product line, which inverters have you most excited about solar?
I am very excited about our storage products like the Sunny Island and the forthcoming Sunny Boy Storage solution. I storage is ready to change the solar industry like never before by allowing to better harness unused solar power during the daytime, giving people an even greater alternative from traditional energy sources. I think that it is pretty exciting to know that you have the option to produce and easily store your own energy so that you can supply your own demand even when the sun is down.
We're thrilled to have a native-Spanish speaker on the team! What is your family origin and are there any places you're especially excited to travel and train solar professionals?
Coming from Colombia, I am very excited to work and support the Latin America region. Although there are great resources and a large potential for the solar industry, solar PV is currently an unregulated and a largely unexplored technology in most of those countries, so I would like to have the opportunity to help teach and train people on the benefits of renewable technologies by traveling and spreading solar knowledge throughout the whole region. My first training will be in Puerto Rico this May with Glenn International and Warren del Caribe; I'm really excited to start meeting with installers across the region.
Now, it's not just Spanish and English that you know. What other languages will you be using to spread the solar word?
My native language is Spanish, but I've had the opportunity to learn French and Portuguese also, which I believe will come in handy to spread the solar word across the region. I am especially looking forward to helping fellow Spanish-speaking solar professionals master the trade and how SMA's variety of solutions can fit with nearly any system design they can imagine.
Lastly, tell us a bit about yourself outside of work. What hobbies or family activities do you enjoy on the weekends?
I like sports and exercising, especially mountain biking. I also like nature and outdoors. Although I grew up in the city I always enjoyed traveling to the countryside over the weekends. I still enjoy it and living in Rocklin gives me the opportunity to do both and to share it with my family.
https://www.sma-sunny.com/wp-content/uploads/2016/04/Alex1.jpg
2320
3429
Justin Dyke
/wp-content/themes/enfold-child/images/SMA-LOGO-Color_s-1.png
Justin Dyke
2016-04-26 07:59:42
2020-12-22 15:08:28
Introducing Alex: The Solar Academy's newest technical trainer