Vision 2050: Renewable Energy for Everyone?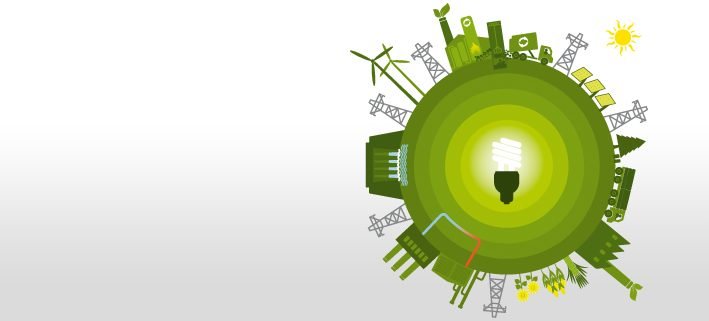 The energy transition. In the year 2050, it has become a reality. Our electricity and heat is produced exclusively from renewable sources. A crazy idea, or a realistic scenario? According to a current "Energy Revolution Report", a complete transition to renewable sources is possible – if, as Greenpeace writes, the groundwork is laid now.
We have asked four German energy bloggers to sketch their personal vision for 2050. PV modules and wind turbine systems are integrated in homes so that they are almost invisible, and the banking sector revolution makes investments in sustainable projects, such as geothermal energy, possible. But more conservative perspectives for bioenergy are also represented. Happy reading.
Solar Energy
In the heated debates on the costs of the energy transition which took place in the media and in public in 2012, solar energy was often presented as a cost driver. Today, it is one of the most cost-effective methods of power generation there is. Because photovoltaics were even competitive with German household electricity prices then, one trend has continued to the present day: the self-consumption of solar energy. In the meantime, not only are single and multiple family dwellings consuming the solar energy they generate, but industry is also using their buildings to inexpensively generate power for self-consumption. No wonder that at present, almost half of the electric current consumed in Germany comes from the sun.
Every Building Has Its Own PV Plant
PV plants are now so inexpensive that almost every building has PV modules. Installations are not only found on roofs, but also on facades and windows. Some are so well integrated in building envelopes that they are practically invisible. The complete package of house and PV plant is part of the standard program of many architects.
Furthermore, almost every household has its own energy management system that ensures the greatest degree of self-consumption. Systems learn at what time of the day energy is typically used and, based on weather forecasts, calculate photovoltaic production for the coming hours. On this basis, they are able to control the majority of household electronic devices to maximize the use of solar energy. Controllable devices include not only the "usual suspects" like washing machines and dishwashers, but also heat pumps and heating elements. Additionally handy little storage batteries help to ensure that PV energy can also be used at night. Batteries are part of the energy management system, as are the electric vehicles parked out front. Their batteries store energy at times of high power generation and low usage and release it later at times of peak load. This also helps reduce the load on the grid.
Industry Also Uses Solar Power
Increasing fossil fuel prices and sinking generation costs for solar power have made self-consumption increasingly interesting for industrial firms. In addition to rooftop PV plants and those on factory and office buildings facades, every industrial park has at least one PV farm. The farms are often operated by municipal energy suppliers as public solar farms – since today everyone wants to have a piece of the decentralized energy supply.
The Author
Susanne Henkel is Manager Corporate Press for SMA. In the Sunny Blog she writes about company topics and political developments affecting photovoltaics.
________________________________________________________________________
Wind Energy
While photovoltaics are the most important energy source, meeting about half of our electricity demand, wind energy has a 40% share of power generation in Germany. The remaining 10% are shared across bioenergy, geothermal energy and hydropower.
Almost half of the electricity production from wind energy takes place decentrally in the interior of Germany. Offshore wind farms in the North and Baltic Seas produce the other half.
Cleverly Integrated into Architecture
The technical development of wind turbine systems has taken several directions in the past decades. Installations have continued to grow larger and more powerful. The countryside is now home to fewer but larger installations, which produce more energy in sum than their antecedents. But diverse small wind installations have also been developed, which are now integrated into all modern buildings. Some are so cleverly part of the architecture that they can easily be overlooked.
Quieter, Lighter and More Flexible
The amount of material required for installations has been reduced so much in relation to their generating capacity that wind power has become competitive. The Renewable Energy Sources Act (EEG) feed-in compensation for wind energy has now been absent for twelve years.
The wind turbine systems of today are lighter and more flexible They are no longer rigid, but instead yield to the wind – like grain stalks, which bend but do not break. This flexibility is the result of both high-tech materials like new composites, as well as of intelligent installation controls. These register the wind as it approaches the installation and ensure the highest electricity production, while minimizing material stress. The flexibility of wind turbine systems also greatly reduces the noise they cause. They are nearly silent, even in strong wind.
Oh, yes, there was one more thing: Until about 20 years ago – before airplanes had intelligent controls – wind turbine systems were still equipped with navigation lights. It's hard to imagine the light pollution from back then…
The Author
Kathrin Hoffmann is responsible for online communication/social media for the Windwärts Energie GmbH. The core business of Windwärts is project development and financing, as well as construction and operation of wind energy and PV plants.
Web Links
________________________________________________________________________
Bioenergy
Our modern society at the start of the 21st century was largely dependent on oil as a fossil raw material. This entailed great risk, particularly for Germany, which after the World War II did not possess its own large petroleum sources in the Middle East, unlike the EU partner countries Great Britain or France. For this reason, a decision was made near the turn of the millennium for both the strategic reason of energy safety, as well as for reasons of climate protection, to increasingly rely on renewable bioenergy.
Alternatives to Petroleum
Gas, liquid and solid bioenergy were included as important types of renewable energy in the major undertaking that was the energy transition. Bioenergy sources were to be used primarily as an alternative to petroleum, but also to provide German agriculture more flexibility.
Tank or Plate Debate
With the start of the bioenergy renaissance, its expansion and development were strongly supported by the German government and lawmakers (Renewable Energy Sources Act (EEG)), which made fast progress possible. The negative consequences associated with the rapid success of biofuels (excessive corn production, tank or plate debate, tropical deforestation, etc.) led to an acrimonious dispute between environmentalists, companies and scientists. "Sustainability" was one of the buzzwords of the young century. The ideal path towards a balance of ecological, social and economic sustainability had to be developed through cooperation.
Sustainability Certification and Climate-Friendly Bio-Natural Gas
Biofuels in particular were frequent targets, blamed for many ills in this phase of the energy transition, causing the bioenergy industry to react. The introduction of sustainability certification for biofuels, the further development of next-generation bioenergy, or the refinement of particularly climate-friendly biogas to bio-natural gas were important measures which resulted from this heated time.
Successful Cooperation to the Present
An important aspect of the energy transition was that energy production in Germany again became more decentralized than it had been during the phase of the four large energy suppliers at the end of the 20th century. With the help of renewable energy, added value in energy production was again increasingly distributed to municipalities. This also marked the beginning of competition for the limited land area in Germany and an associated increase in rental prices. The remarkable result was that the renewable energy carrier industry (in particular solar energy, bioenergy and wind energy) quickly realized that more intense cooperation among themselves is necessary. Promising partnerships began, from which we are still profiting today.
The Author
Ron Kirchner is an environmental engineer, specialized journalist and energy blogger. He also runs the German BiomassMuse bioenergy blog.
________________________________________________________________________
Geothermal Energy
Today in Germany, geothermal energy is first and foremost used for heating in one and two family houses, apartment and office buildings. All of these use geothermal energy as their sole heating system, for supplemental heating, or via a geothermal local district heating system, which transports the energy from a deep well to the consumer. CO2 emissions, which by the beginning of the century had reached an alarming level, could be more than halved by its widespread use for heating. Today, imported gas, oil and coal is only required for small peak load power plants. The majority of electricity is produced using wind, biomass and solar. And this, although in 2012 things did not look promising for geothermal energy in Germany.
My Old Boiler Still Works
Despite continually increasing electricity and heating costs, not much happened at the start of the 21st century. Especially for heating applications, the dominant opinion is: "My boiler still works. Why should I buy a new heating system?" This attitude of homeowners particularly affected geothermal energy. Although in long-term comparisons, geothermal produced the lowest heating costs, most people did not want to invest very much money in their heating system. At least not as much as a geothermal heating system requires. For a single-family home with four geothermal energy wells, the expected cost runs to about € 30,000. This stands in contrast to heating oil savings of often € 2,000 to € 3,000. Spending so much money for an environmentally friendly heating system is, for many, simply too expensive. But not only price plays a role. Elaborate licensing and financing procedures make the purchase of a geothermal heating system a protracted and complex undertaking.
Politics Puts the Transition in the Energy Transition
The first true advances were therefore not made because of individual initiative, but rather as a result of legal decree: the Energy Saving Ordinance (EnEV), which prescribed energy saving design for new buildings, also first established geothermal heating as a serious alternative in the minds of most house and property owners. However, designs that increasingly developed into standard practice in new construction remained almost entirely ignored in existing buildings. Here, short-term cost considerations continue to rule. And public policy makers also felt unable to create rules or incentives for owners of existing buildings.
Money Rules the World
But in 2037, chance lent energy policy a helping hand. Because the global banking system was adjusted to maintain the sustainability of investments, German banks also had to go in search of new business models. First and foremost, these ought to represent lasting value for investors, and also be beneficial from an ethical and ecological perspective. Other (high-risk) investments were to be guaranteed by the respective country, which increased interest rates and reduced returns. Thus, German banks discovered geothermal heating as a suitable investment product and offered this with every conceivable form of financing. In turn, this made geothermal heating systems attractive for large property owners, as they not only made rents more attractive, but produced a higher return than other, speculative investments. The German Federal Government from 2037 was unable to foresee this development. However, they welcomed it and significantly expanded credit modalities for sustainable investments in the years that followed.
We are Smarter Now than Back Then
In 2050, the time has finally come. Every heating system uses geothermal energy. Affordable and environmentally friendly heating for everyone, everywhere. A surprisingly pleasing development that no one was counting on. In particular politicians. Ultimately, only the availability of money led to the revolution in the heating market. In retrospect, a sobering conclusion. Would it have been possible to shorten this development by rigorously pursuing sustainability and an affordable energy transition at the start of the 21st century? Probably not, because every radical change and every innovation is also determined by that which one cannot imagine, and is therefore hidden from the rational point of view. For this reason, radical change can only be recognized in hindsight. Or perhaps not?
The Author
Robert Doelling studied business administration at the University of Kiel and has worked on deep geothermal energy projects, among others. Today, Robert Doelling is in charge of the social media activities at Deutsche Auftragsagentur DAA GmbH in Hamburg. His activities include managing the portals www.solaranlagen-portal.com, www.heizungsfinder.de and the international portal www.solarcontact.com. Robert Doelling writes privately for the website www.energie-experten.org and actively blogs about energy for a decentralized and sustainable energy transition.
Many thanks to all people involved!
Attentive readers will have noticed that important types of energy such as hydropower, but also topics like energy efficiency, are absent. We look forward all the more to comments which create scenarios for these and other areas, and an exciting debate.
https://www.sma-sunny.com/wp-content/uploads/2012/12/Energien-Mix-2050.jpg
378
709
Leonie Blume
/wp-content/themes/enfold-child/images/SMA-LOGO-Color_s-1.png
Leonie Blume
2012-12-20 10:55:16
2012-12-20 10:55:16
Vision 2050: Renewable Energy for Everyone?