Top Solar Stories in April 2014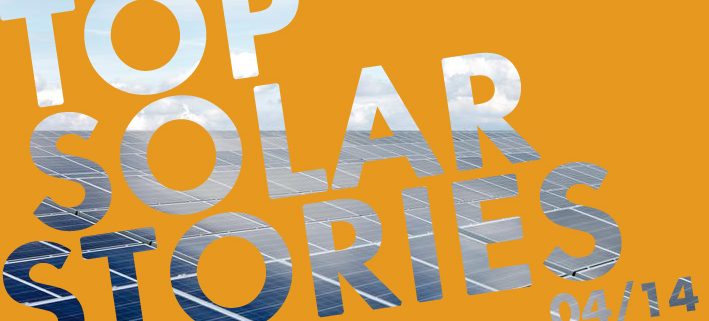 These are the top stories you can't miss in April:
1.      World Solar Capacity Up 35% in 2013
2013 was another big year for solar. Want proof? With about 37,007 megawatts (MW) of solar PV power installed in 2013, world solar PV power capacity increased about 35% to 136,697 MW. Whereas Europe had dominated annual growth for years up until 2013 (10 years, to be precise), solar PV growth was much more evenly split last year, and China actually topped the tables. Check out this great analysis by Zachary Shahan on Cleantechnica to find out who else is on the way to becoming a solar super power.
2.      Solar Storage Market Tipped to Boom in Germany
A study by research outfit EuPD, commissioned by investment body Germany Trade & Invest (GTI), has predicted a nationwide market of 100,000 units by 2018, up from 6,000 last year, citing falling PV prices as the "most significant reason" for this "monumental" commercial growth. Find out why storage are a logical investment on the way for 100% renewables in this article on RenewEconomy.
3.      Happy Birthday, Solar!
Sixty years ago on April 25, 1954, Bell Laboratories demonstrated to the world one of the most significant breakthroughs ever recorded in the history of solar energy and of electricity – the first solar cell capable of converting enough sunlight into electricity to generate useful amounts of power. Find out more about the history of solar in this great piece by John Perlin.
4.      100% Renewable Energy is only a Matter of Political Will
It's been three years since the Fukushima/Daiichi nuclear disaster. Almost everybody agrees that we need to make the shift from using hazardous nuclear and fossil energy sources and instead turn towards 100% renewable energy. But we are not there yet and still have to overcome many obstacles. That's why the Ambassadors of the Global 100% Renewable Energy Campaign call on policy makers around the world to take action as transitioning towards fossil-free societies is a matter of political will in this article by Anna Leidreiter from Go100RE.
5.      What is Energy Decentralization?
Many of you may have heard the term before, but do you all know what it really means? Thought so! That's why we recommend you watch this video clip by John Farrell from the Institude for Local self-reliance who summarizes the concept and explains why decentralizing is the key to climate change.
What is energy decentralization?
As renewables become an integral part of the energy mix around the world, you sometimes lose track of the global developments. Things change on a daily basis, articles are published almost every minute which is why we will recommend five stories you must read every month. They will vary from interesting comments to fascinating reports or images from the world of renewable energies.
https://www.sma-sunny.com/wp-content/uploads/2014/04/top-solar-stories_apr14.jpg
378
709
Jannis Rudzki-Weise
/wp-content/themes/enfold-child/images/SMA-LOGO-Color_s-1.png
Jannis Rudzki-Weise
2014-04-29 15:33:51
2014-04-29 15:33:51
Top Solar Stories in April 2014