Three Practical Solar Gadgets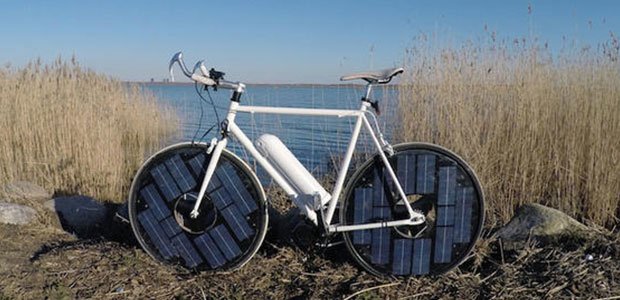 It is absolutely remarkable the level of creativity that some inventors and companies display when it comes to harnessing the power of the sun as an energy source for their products. Here is a continuation of items we have put together that are operated by solar energy and (can) have everyday practical uses.
1. Solar cooker
Camping, trekking, or hiking – if you're traveling outdoors and don't fancy eating bread on a stick over the campfire or ravioli from a tin from the gas cooker, you can simply use the sun's energy and the SunStofey GoSun solar cooker. According to the manufacturer, as long as there is sufficient sun and/or light, cooking takes no longer than 20 minutes. The exterior vacuum tube stays cool during cooking. But inside the temperature can reach as high as 290°C in full sun.
For €289, make this 3.6-kilogram solar cooker a new addition to your outdoor equipment.
There's also good news for the barbecue lovers among you. The manufacturer GoSun is also advertising a solar-powered barbecue in its shop. Barbecue your sausages without using any gas or coal – what a tasty prospect. 🙂
You can find more information on cooking using solar energy here.
2. Bike lock featuring solar modules
The Skylock bike lock is no ordinary U-lock used to secure bikes. Skylock is keyless and connected via Bluetooth to your smartphone, which you use to lock and unlock the bike. Energy is supplied by a battery integrated in the lock, which is charged by solar modules incorporated in the device. Twelve hours of sunlight provide a battery life of around six months. But Skylock can do even more: the owner will receive a warning message on their smartphone if somebody tries to steal the bike.
It is expected to be available from October 2016 for $199. It is already available to preorder.
3. Solar bike
Danish engineer Jesper Frausig has developed an electric bike that captures sunlight. The PV cells are stuck to the spokes of the wheels using foil, and the rechargeable battery is attached either underneath the luggage rack or at the front on the down tube. The battery charges when the solar bike is stationary. When it is in motion, the PV cells and the battery supply energy to the motor. The advantage over conventional e-bikes is that you don't have to charge it from an outlet. The battery can store enough energy for around 70 kilometers.Riders reach an average speed of 25 km/h, with a top speed of up to 50 km/h.
Many online media sources have reported on the solar bike. It is probably not yet in serial production because we haven't found it in any online shop. 🙁
Follow this link to read more about the solar bike.
I look forward to your feedback on your trial with one of the solar gadgets – please write your comments here.
https://www.sma-sunny.com/wp-content/uploads/2016/08/solarbike-1-1.jpg
300
620
Annika Linke
/wp-content/themes/enfold-child/images/SMA-LOGO-Color_s-1.png
Annika Linke
2016-08-11 11:56:40
2017-12-13 13:27:59
Three Practical Solar Gadgets