Sparking the Social Web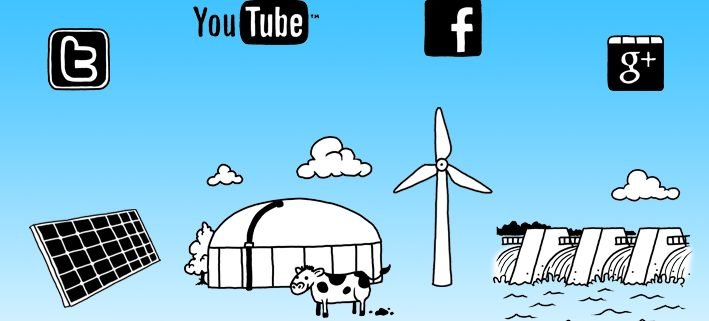 Jannis Rudzki-Weise wrote his bachelor's thesis on the potential of the social web for corporate communication in the renewable energy industry. He conducted interviews at four international companies in this sector for his thesis. Jannis shares his insights on the value of entering the social web, factors businesses should consider, and concrete recommendations for action. 
Jannis, why should companies in the renewable energy industry have a Web 2.0 presence?
One important reason is education, raising awareness. In order to advance the energy revolution, we need to shed light on the existing knowledge gaps, preconceptions, and political disputes that are impeding progress. Presenting information via the social web can help explain the facts and increase understanding as issues in the energy industry are often very complex. Companies in the renewable energy industry play an important role here.
Do you recommend this for every company, or would you advise against it in some instances?
Basically, social media is no longer just hype. Millions of people all over the world are used to interacting with others on social networks like Facebook and sharing information, videos, and experiences via YouTube, Twitter, and various blogs. I would suggest that every company take a good look at this phenomenon. In particular, given their orientation on sustainability, businesses in the renewable energy field have little to fear. However, another major factor is whether your target groups are active in social media and communicate via those channels. If your company does decide to join the social web, you have to recognize that it doesn't happen all on its own. You need to create relevant content on a weekly or even daily basis, in order to give your customers added value. Social media will work for your company only if you communicate openly and transparently and are prepared to engage in dialogue with your customers. This includes taking criticism. But there's no need to worry about that ahead of time. The social web offers an opportunity to raise your company's profile. Additionally, you can stay in closer contact with customers, and their feedback can help you improve your products and services.
What factors should a company consider before venturing into social media?
It's important to analyze whether and where your target groups are active in the social web, and what benefits that would yield for your company. That's the first step to determining whether it's worth the effort.
Could you be more specific?
For example, it might make sense to build a reputation as an expert in a special-interest forum. A company could make its own Facebook page to offer tips for end customers or report on the annual open house. For companies that develop content around certain topics, a blog in combination with Twitter could be the right choice. There's no one-size-fits-all solution. To communicate effectively in Web 2.0, you have to master certain fundamentals about how the various social media work. I recommend starting small. At first, a company might use just one or two platforms such as Twitter or Google+. You can always expand from there. At the same time, it doesn't look very good to delete profiles simply because they've become too much to handle.
In your opinion, what are the most important guidelines?
Unfortunately, as I mentioned early, there's no single formula for success on the social web. Depending on the situation, you have to respond to the needs and wants of your target groups. There are certain key aspects to keep in mind:
Communication must be open, honest, authentic, and transparent. Nobody wants to read glossy marketing content. That's already on every company's web pages.
Twitter, YouTube, Facebook, or blog. The channel isn't critical. To communicate via social media, go to where your customers are. Don't expect them to come to you.
Stress quality over quantity. It's better to post just a few relevant well-written messages than a flood of information that doesn't interest the reader.
Social media is not just for experts in marketing and communications. A solar power professional is in a much better position to answer customer questions effectively. So don't hesitate to venture into the social web. It's well worth it.
In the world of social media, even the self-proclaimed experts are still learning. Mistakes happen, and that's all right. There's no need to pretend; just be open and honest. Ultimately, authenticity is an important factor for success in Web 2.0.
Jannis, thanks very much for talking with me.
  Jannis Rudzki-Weise works at SMA as a student employee on the Social Media team. He is completing his master's degree in dialogue marketing and communications management at Kassel University.
https://www.sma-sunny.com/wp-content/uploads/2012/04/social-media-und-ee-1.jpg
378
709
Leonie Blume
/wp-content/themes/enfold-child/images/SMA-LOGO-Color_s-1.png
Leonie Blume
2012-04-27 14:04:13
2012-04-27 14:04:13
Sparking the Social Web