Solar Powered Hospital Project in South Sudan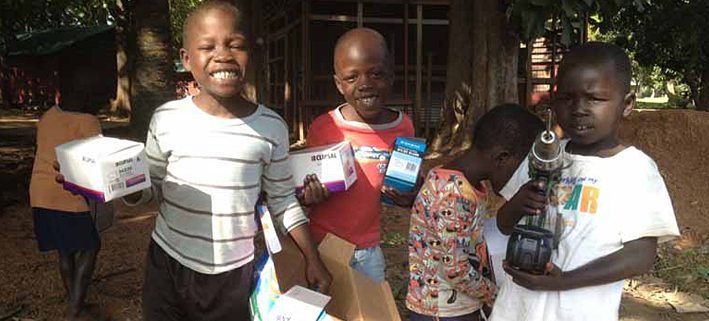 South Sudan's maternal mortality is the worst in the world, quoted as 2054 per 100 000 live births, in the 2006 Sudan Household Survey. This translates to at least 1 in 10 mothers dying as a result of pregnancy or childbirth. The infant and childhood mortality rates are quoted as 102 and 235 deaths per 1000 live births, respectively, in a 2008 WHO interim report. One in four children under the age of 5 are malnourished and only 10% are fully vaccinated.
Health services and health education for women and children
His House of Hope will be a Christian hospital, clinic, and health education centre located at the Harvesters compound near Yei, South Sudan. It will provide health services and community health education for the women and children of South Sudan. An American Family Physician, is the Medical Director, and arrived in Yei in July 2011. A team of Sudanese, Ugandan, Kenyan and Western staff is being developed. Local Launceston Doctor and his family (Graham and Linda Poole) recently moved to the site to form part of the team at the hospital. Construction of His House of Hope is now complete and the hospital is open and operating.
The aim of His House of Hope is to improve the health and well-being of women and children and to decrease pediatric and maternal mortality. This will be achieved by providing antenatal care; increasing the number of attended births, providing a safe birthing facility, providing pediatric outpatient, inpatient and rehabilitation services; training African birth attendant nurses, clinical officers, and other staff; and facilitating health education programs.
Solar energy: cost-effective and reliable
The provision of cost-effective and reliable 'round-the-clock' power for His House of Hope will be crucial to its operations. High diesel costs prompted Harvesters to seek alternative power generation systems. A Tasmanian electrical company (Mode Electrical) has been engaged to analyze the power needs of His House of Hope. Consideration has been given to estimated base and peak loads, estimated sun hour value of Sudan, minimizing ongoing maintenance and operating costs and provision for remote monitoring and control of the system to ensure optimal efficiency and reliability.
Standalone solar power system with diesel generator backup
Mode Electrical has proposed a Standalone solar power system, with diesel generator backup. This will involve an outlay of AUD$104 000 to pay for materials, with all design and labor donated. Solar panels are guaranteed for 25 years and batteries, of the quality recommended and if managed correctly, will last around 15 years. Ongoing running costs will be minimal.
The solar power system will "pay itself off" in just five years
The projected cost of the alternative diesel generator system is AUD$21 000 pa. The solar power system will "pay itself off" in just five years, dramatically reducing operating costs, and allowing ongoing donations to be directed primarily towards employment of local staff and provision of medical services.
The container safely reached the site in early October. Mode Electrical will be going to the site in November to install and commission the new solar system and to connect much needed clean renewable power to the hospital.
Project outcomes
Poverty alleviation – maternal and pediatric mortality indicators in South Sudan are some of the worst in the world. His House of Hope will contribute directly to the 4th and 5th Millennium Development Goals of reducing child mortality and improving maternal health
Community-level health, education, sanitation – His House of Hope will provide health services and health education to the Yei community. The Harvesters orphanage and primary school programs will continue to provide educational services to the Yei community and will be co-located with His House of Hope
Environmental sustainability – the primary source of power is cost-effective renewable solar energy, reducing operating costs, in the near and long term, and minimizing environmental impact
Basic human rights – antenatal care and safe birthing are basic human rights that are not available to many women and children in South Sudan
Rural development – despite having a large population, the community around Yei would be considered rural, and even remote, in terms of service provision
Gender equality – by reducing maternal mortality and morbidity, the opportunities for women to contribute to the re-building of South Sudan will dramatically increase
SMA Germany have supported the project by donating solar inverters and associated equipment. SMA Australia facilitated in sourcing the products from Germany.
https://www.sma-sunny.com/wp-content/uploads/2013/05/His-House-of-Hope-1.jpg
378
709
Leonie Blume
/wp-content/themes/enfold-child/images/SMA-LOGO-Color_s-1.png
Leonie Blume
2013-05-17 08:10:55
2013-05-17 08:10:55
Solar Powered Hospital Project in South Sudan