SMA to Part Ways with Windy Boy Inverters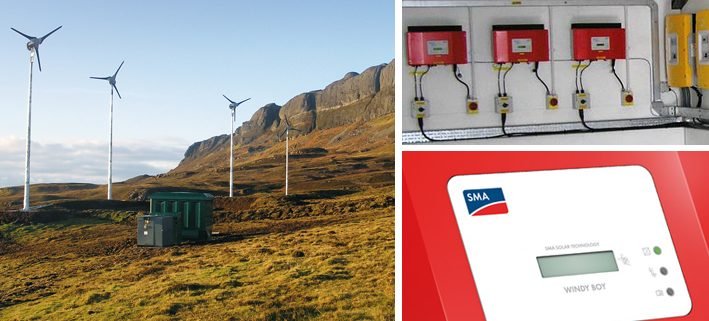 SMA will withdraw from the small wind turbine industry at the end of 2013 at which time production of the Windy Boy inverter will cease. We spoke to Volker Wachenfeld, Executive Vice President in the Hybrid Energy Solutions division, about the reasons and what the new markets of the future will be.
Volker, what are the reasons for withdrawing from the small wind turbine industry?
Volker: Unfortunately, changes to the political landscape in important sales markets have caused the market for small wind turbines to collapse. The UK government, for example, has cut funding for wind power plants below 1.5 kW – the size typically used in domestic applications – so unfortunately, in some cases, it is simply no longer worthwhile for the customer. In Denmark, the subsidy model has been modified to the point where it is no longer worth it to operate small-scale wind turbines. There has been a clear downturn since 2010 and for this reason, we made the decision to pull out of this business area and to discontinue the Windy Boy, Windy Tripower and Windy Boy Protection Box protects.
Windy Boy – the inverter for small wind turbine systems – was one of SMA's first products. Won't it hurt a bit to say goodbye to it?
This has not been an easy decision. As an engineer, I am probably even more affected than others by the withdrawal from this area as it is very interesting in terms of system technology. It is really enjoyable to tailor wind turbine systems to the specific wind conditions of a location. Nevertheless, the bottom line is that these markets must also be lucrative for a company like ours, particularly when times are as tough as they are now for the solar industry. As a result, it makes sense for us to concentrate on important topics for the future. This also means that we have to be resolute in stepping back from business segments that are less promising.
How does this change impact projects that have already been planned with Windy Boy? Depending on the particular site, the approval processes and certification for wind energy systems can take a very long time.
For this reason, we informed our customers right away that we would be phasing out the products gradually throughout the year. This gives our customers the opportunity to stockpile an appropriate supply of inverters and corresponding system technology. And we will of course continue to offer related services.
So the customers have already been informed, how did they react?
Of course, customers were not exactly thrilled. After all, we were the only supplier in this fragile market to offer products from large-scale production of PV technology that were tailored to the requirements of small wind turbine systems. The quality we offered was undoubtedly above average for the market segment. On the other hand, we noticed that this market was becoming increasingly fragmented with more and more smaller manufacturers offering very specialized systems, all with their own special requirements that needed to be met by inverter manufacturers. Even if the market volume trend in the segment we are interested in had declined in recent years, a shift toward more diversified system suppliers was evident. This type of supplier is also capable of operating successfully in a smaller market, whereas some of the larger plant manufacturers have reduced their involvement. This environment particularly tends to favor highly specialized electronic start-ups, which are a great deal better at fulfilling the customers' very specialized requirements than large-scale manufacturers like us.
You have addressed some important topics for the future. What is on SMA's agenda?
One of the really hot topics at the moment is energy management. In order to manage the energy transition, we need intelligent solutions that help us exploit renewable energies preferably on-the-spot. For the market here in Germany, we are developing system solutions for increased self-consumption. The aim is for photovoltaic systems operators to be able to use as much as possible of the solar energy generated on their roof for their own consumption. This will help them save on costs associated with buying electricity. And, on an international level, we see tremendous potential in the area of industrial photovoltaic diesel hybrid systems. By this, we mean the use of photovoltaics to supplement existing diesel systems. This will allow operators of large-scale industrial systems to save diesel costs and reduce CO2 emissions.
So how do photovoltaics and diesel systems fit together?
Actually, they complement each other perfectly. With the aid of solar energy, the power output from diesel systems can be reduced. And by the way, this topic is not all that new at SMA. Most conventional PV systems for rural electrification have an integrated diesel generator that takes over the energy supply when there is little sunlight. In large-scale industrial plants this situation is reversed. Instead of the diesel system being used to supplement photovoltaic output, photovoltaics supplement the diesel. This field combines our core competencies in the areas of off-grid electrification and large-scale PV power plants. The combination of rising diesel prices and falling prices for PV system technology means that this development is already a commercially attractive alternative for industrial large-scale consumers in off-grid but sun-rich regions. SMA's first system was installed at the end of 2012 in Thabazimbi, South Africa. Since then, we have been working on PV diesel hybrid projects all around the world – in South Africa, Australia and India. Two additional projects have already been sold. Out of approximately 500 gigawatts worldwide of installed power from diesel generators, there's a potential of approximately 50 gigawatts that could benefit from being supplemented with photovoltaics.
Volker, thanks a lot for the interview.
https://www.sma-sunny.com/wp-content/uploads/2013/05/Windy-Boy.jpg
378
709
Anke Baars
/wp-content/themes/enfold-child/images/SMA-LOGO-Color_s-1.png
Anke Baars
2013-05-03 11:43:39
2013-05-03 11:43:39
SMA to Part Ways with Windy Boy Inverters