SMA has turned 30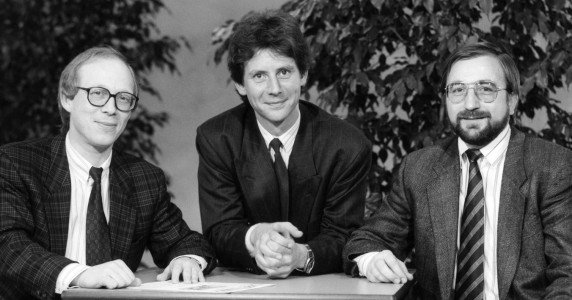 Viewed objectively, 30 years might not seem like a lot, but it is quite long time for a young industry like the photovoltaic market. SMA was founded in 1981 and we have grown from a small engineering firm for control systems into a world market and technology leader in PV inverters. I imagine that everyone has a different view of SMA's history. Here is mine:
My top five milestones
1. From offices in a former bakery to a position as a global player
Many internationally successful companies have started out in garages. SMA is not different. Procured by the founders in 1981, its first office space was a former bakery. We have been growing constantly since then. Now we are spread out across countless buildings, production halls and portable offices in Niestetal, Kassel and around the world, with subsidiaries in 19 countries. In 2009, SMA dedicated its 18,000 m2 inverter factory, which is as large as two-and-a-half soccer fields.
2. Development of the PV-WR 1500
In 1987, engineers at SMA, including former and current members of the Executive Board, developed the first photovoltaic transistor inverter. Legend has it that they sat at a couple of desks in the corner working on the product, while the rest of the company snickered. But today we know that their work was truly pioneering. Serial production of the PV-WR (a German acronym for a photovoltaic inverter) began in 1991, and in 1993 a separate business unit for solar technology was founded. The inverter with the blue enclosure was the precursor to our current Sunny Boy inverter whose success story continues around the world.
3. Welcome to Sunny Island
A unique product with an extraordinary vision. Even now, more than two billion people live without access to a power distribution grid. This cuts them off from education, clean water and economic development. We developed a solution to this pressing problem, the Sunny Island, which was launched in 2001. With Sunny Island, it is possible to set up your own grid anywhere accessing the power distribution grid is too expensive. Then it's simple integrating photovoltaics, wind power, and other energy sources. A key idea for achieving the global energy turnaround.
4. SMA employees everywhere you look
When I started in 2007, SMA had about 1,500 employees. My last employer had only 12, so 1,500 was a big leap. Now you can't go anywhere in Niestetal without running into people with little SMA ID cards attached to their waistbands.  It's no wonder, considering that we reached the impressive mark of 5,000 employees in 2010. That is astounding growth in just a short time. I also think it's something of a miracle that we have been able to keep our corporate culture in the process.
5. Great Place to Work
In 2011, SMA won first place in Germany's Great Place to Work® competition, showing that it is one of the best employers in Germany. SMA is also rated as one of the top ten employers in Europe. Both rankings serve as confirmation of our outstanding corporate culture. SMA is special because instead of everyone just talking about cooperating, here they actually do. In this spirit, every year employees can let the company know how things are going in an anonymous survey.
What do you think are the most important milestones in the first 30 years of SMA? We are excited to read your stories.
https://www.sma-sunny.com/wp-content/uploads/2011/10/Managing_board.jpg
300
572
Leonie Blume
/wp-content/themes/enfold-child/images/SMA-LOGO-Color_s-1.png
Leonie Blume
2011-09-09 11:45:31
2011-09-09 11:45:31
SMA has turned 30