Service Tip #5: Registering Sunny Home Manager Plants and Plants with SMA Webconnect in Sunny Portal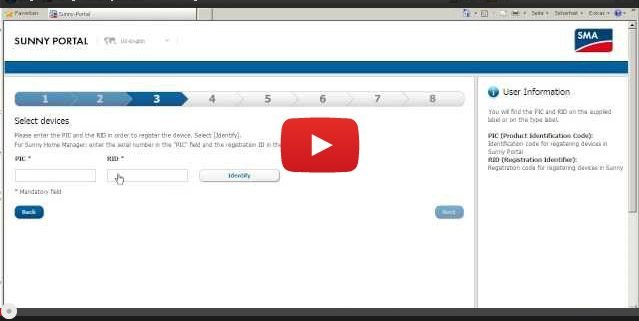 Registering Sunny Home Manager Plants
Recently, my colleagues at the SMA Service Line have been receiving more and more questions regarding the registration of Sunny Home Manager plants and the log-in of plants with the SMA Webconnect module. Some customers were unsure as to where exactly they were to find the Product Identification Code, (abbreviation: PIC) and Registration Identifier (abbreviation: RID) necessary for this or where to find the Serial Number and registration ID for the Sunny Home Manager.
For this reason we have produced a short video. In this video we also show how the devices are quickly and easily registered in Sunny Portal.
When is a PIC and RID (Webconnect module) or serial number and registration ID (Sunny Home Manager) necessary?
1. Fitting a plant with Webconnect function and registering in Sunny Portal:
The PIC and RID are to be found on a label that is included in the data module scope of delivery. These two keys must be entered into the Sunny Portal login screen. The label can either be affixed directly to the Webconnect module or to the inverter enclosure.
Important information: The Webconnect data module supports the following inverters as of firmware version 2.51:
Sunny Boy 2500TLST-21 / 3000TLST-21 / 3000TL-21 / 3600TL-21 / 4000TL-21 /5000TL-21/Sunny Tripower 8000TL-10 / 10000TL-10 / 12000TL-10 / 15000TL-10 / 17000TL-10 /15000TLEE-10 / 15000TLHE-10 / 20000TLEE-10 / 20000TLHE-10
2. Registering a new inverter (e.g. Sunny Tripower 5000TL-20/6000TL-20/7000TL-20/8000TL-20/9000TL-20) with integrated Webconnect module in Sunny Portal:
The label with the PIC and RID keys is to be found to the right next to the type label on the inverter. Registration in Sunny Portal is made as described in the video.
3. Registering Sunny Home Manager and associated inverters in Sunny Portal:
The registration process is the same as the registration of the Webconnect module. The following information is to be found on the label included in the scope of delivery:
Serial Number, e.g. 0157000000
The serial number must be entered in the PIC field (step 3) during registration in Sunny Portal.
Registration ID, e.g. 6LQ000
This registration ID must be entered in the "RID" field.
Further information
In order that the PIC and RID are not inadvertently swapped, the following rule of thumb applies:
The PIC consists only of numbers (e.g. 0016800000000000), the RID is always six characters long and consists of both numbers and letters (e.g. XD5JXX).
Important information on the Webconnect module is also available on our homepage
https://www.sma-sunny.com/wp-content/uploads/2013/07/Sunny-Portal_en.jpg
365
639
Sarah Römsch
/wp-content/themes/enfold-child/images/SMA-LOGO-Color_s-1.png
Sarah Römsch
2013-07-02 12:35:43
2022-08-30 09:54:20
Service Tip #5: Registering Sunny Home Manager Plants and Plants with SMA Webconnect in Sunny Portal