Saudi Arabia: The Largest PV Module-Covered Parking Lot in the World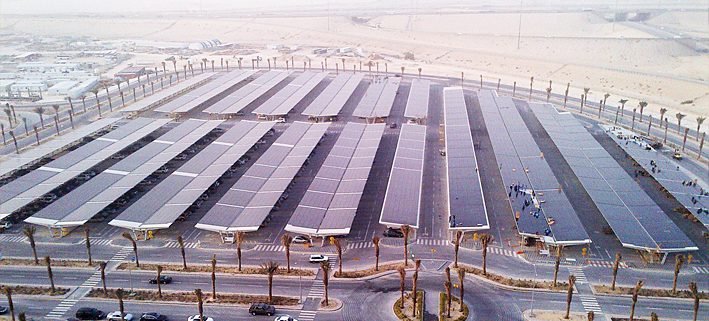 Saudi Arabia is a land of superlatives. Thanks to the kingdom's vast wealth of oil, new and impressive structures are built on a regular basis on the Arabian Peninsula situated between the Persian Gulf and the Red Sea. What is to become the tallest building in the world, a 1,000 meter skyscraper resembling a gigantic arrow, is currently being constructed near Jeddah. An entire subway system is planned for the desert city of Riyadh, with construction to begin in 2014.
Even Saudi Arabia's rate of about 3,000 hours of solar irradiation per year is possibly record-breaking. As such, Saudi Arabia offers the perfect conditions for photovoltaics with its immense stretches of open desert. The kingdom's heads of state are also increasingly starting to realize the importance of renewable energy, not least because of the benefit being that oil, which would otherwise be consumed in Saudi Arabia, can now be exported at a profit. Around 41 gigawatts of energy are projected to be generated in Saudi Arabia via solar power by 2032 – 16 GW from photovoltaics and 25 GW from solar thermal energy.
World's largest oil company supports PV projects
Administrator and dealer of the giant oil deposits on the Arabian Peninsula is the world's largest oil company and the kingdom's best tax payer, Saudi Aramco. The state-owned company is simultaneously the biggest implementer of PV projects to date. The 10 megawatt PV project installed on top of the covered parking lot belonging to the North Park Office Complex, Saudi Aramco's headquarters in Dhahran, is the largest PV project in the kingdom and makes the parking area the largest in the world to be covered with PV modules.
"Eighteen Sunny Central inverters are installed on-site in two air-conditioned buildings," Oussama Chehab, Vice President Emerging Markets and head of the team responsible for Saudi Arabia, describes the project. "This has been a regulation in Saudi Arabia up until now, primarily with the aim of facilitating easy maintenance."
The 16 to 18 hectare company parking lot is covered with about 120,000 CIS thin-film PV modules. In addition to providing approximately 5,000 cars with shelter from the sun, the rooftop PV project also ensures that the electricity demand of the entire North Park Office Complex is met on a daily basis.
SMA is the local market leader in Saudi Arabia when it comes to inverters and has already installed 16 MW in the kingdom itself and over 65 megawatts in the entire Gulf region. SMA is represented in the area by a local service company and offers on-site service, training sessions and continuing education opportunities as well as support with sales and technology issues from subsidiaries in Dubai and Abu Dhabi. Oussama Chehab and his Emerging Markets team are responsible for managing the Saudi Arabian market from Germany.
https://www.sma-sunny.com/wp-content/uploads/2013/09/SA-Parking-Lot-1.jpg
378
709
Dagmar Buth-Parvaresh
/wp-content/themes/enfold-child/images/SMA-LOGO-Color_s-1.png
Dagmar Buth-Parvaresh
2013-09-06 12:49:44
2023-06-23 10:37:13
Saudi Arabia: The Largest PV Module-Covered Parking Lot in the World