Sand and Dust: Sunny Central CP in a Stress Test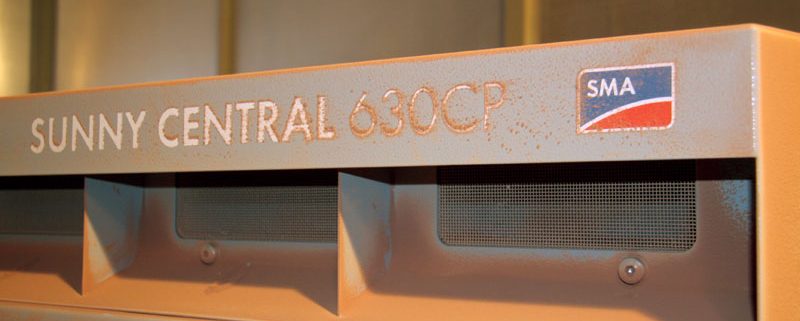 Fine, red dust swirls through the air. What begins as a gentle breeze grows into a storm. If we were outdoors, the first branches would snap; it would become hard to walk in a straight line. Of course the Sunny Central CP does not waver in the test chamber of the Swiss testing facility, but the purpose of the SMA sand and dust test is not to prove its stability. Rather, it is to demonstrate that the interior of the inverter remains free of debris.
Climatic challenges
I think this test is unbelievably exciting because it is so important for the future of photovoltaics. There is nowhere on Earth where the sun shines more than in the desert regions. The yield there can provide large towns and hundreds of thousands of people with energy. But desert sites also present great challenges. The requirements for all solar technology components are just as extreme as the climactic conditions. That is why regular quality tests on SMA inverters are required for their suitability for sites almost anywhere in the world.
Mathias Strippel, SMA product manager, explains what exactly is being tested with the sand and dust test and what the results are. "The tests are conducted at an independent test center in Switzerland. Two SMA engineers accompany the Sunny Central CP to there where it is then tested thoroughly over the course of several days.
A basic prerequisite for uninterrupted operation of central inverters and their use anywhere in the world is that no dust or sand becomes deposited in the interior of the device or its cooling system, restricting functionality of the electronics components. That is why the device is tested during operation, while the integrated OptiCool cooling system sucks up and tosses the dust-filled air.
During the three-day test, it is opened up several times following the direct dust attacks, partially dismantled, and every nook and cranny is put under the spotlight to be carefully examined. Of course, it turned out that the exterior of various seals and the enclosure were covered with sand. But the interior of the device, the heat sink and the fan that was removed were completely free of sand. The electronics components were also completely unimpaired."
Aside from the sand and dust test, SMA central inverters regularly undergo additional challenging tests to check their suitability for sites all over the world.
All of the tests in a webspecial: Sunny Central CP passes stress test
https://www.sma-sunny.com/wp-content/uploads/2012/02/staub_front-1.jpg
540
800
Dagmar Buth-Parvaresh
/wp-content/themes/enfold-child/images/SMA-LOGO-Color_s-1.png
Dagmar Buth-Parvaresh
2012-02-28 08:46:38
2017-12-13 15:55:12
Sand and Dust: Sunny Central CP in a Stress Test