Learning From Obama: How to Make the Energy Transition Happen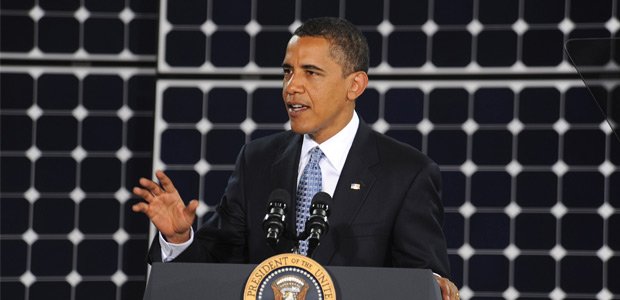 Solar energy is expensive and only available to the rich and the privileged – a prejudice that politicians love using again and again to justify thwarting photovoltaics. Not so for U.S. President Barack Obama who has just presented his "Clean Energy Savings for All" initiative. The initiative's goal is to install PV systems with a total of 1 gigawatt of power in low- to moderate-income households by 2020.
"President Obama is committed to ensuring that every American family can choose to go solar and to cut their energy bills – and that every American community has the tools they need to tackle local air pollution and global climate change," declared the Obama Administration when the program was announced. To achieve this goal, a partnership was founded between different governmental organizations. In close collaboration with private companies and social organizations, the aim of this partnership is to promote new financial models, provide technological support for states and municipalities, encourage innovation and start training initiatives for solar jobs. Not only are low-income citizens set to benefit from this by using solar energy themselves, they will also be able to gain qualifications for better jobs in this industry of the future. After all, as the government emphasized in its announcement, jobs in the solar industry are growing 12 times faster than those in other industries in the U.S. economy.
Solar jobs are booming
President Obama is just as proud of this as he is of the fact that 30 times more solar energy is generated in the U.S. today than at the start of his first term of office in 2009. In fact, just a few months before his term in office ends, the outcome of the Obama government regarding solar energy is really impressive. In 2009, 500 megawatts of photovoltaic power was installed in the U.S., this figure rose to over 7 gigawatts last year. This meant the U.S. was in third place globally in 2015 with regard to new construction. To guarantee the growth of photovoltaics even after his time in government has ended, last year Obama extended the successful tax incentive program (ITC – investment tax credit) to 2020. This will bridge the time until solar energy is completely competitive and will be the most cost-efficient power source in every region of the U.S., benefitting all Americans.
https://www.sma-sunny.com/wp-content/uploads/2016/08/President-Barack-Obama-at-the-Nellis-Solar-Power-Plant-in-2009.jpg
300
620
Susanne Henkel
/wp-content/themes/enfold-child/images/SMA-LOGO-Color_s-1.png
Susanne Henkel
2016-08-09 12:39:51
2017-12-13 13:28:06
Learning From Obama: How to Make the Energy Transition Happen