Five Reasons to Register Your System in Sunny Portal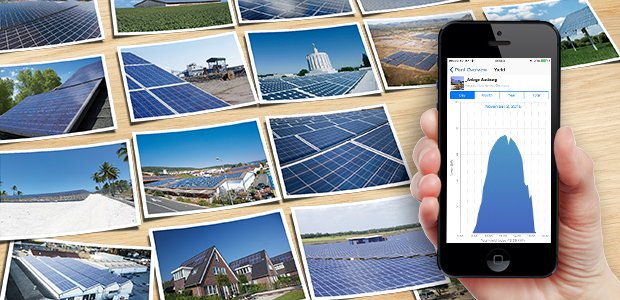 Sunny Portal offers PV system operators and installers the ability to monitor their systems online and is an essential component in intelligent energy management. Over 200,000 PV systems and over 400,000 users are already registered in Sunny Portal. Read about the advantages of Sunny Portal here.
1. The international number one
In the global comparative study "Global PV Monitoring: Technologies, Markets and Leading Players, 2014-2018" published in 2014 by GTM Research, Sunny Portal took first place out of 70 providers as the portal with which the most PV power is monitored throughout the world. Nearly 220,000 systems with more than 13.3 GW of monitored PV power from over 160 countries are now registered in Sunny Portal. As an installer or PV system operator, you can therefore rely on more than 10 years of experience, security and innovation in the field of online monitoring of PV systems.
2. Fitting solution for monitoring small residential to large commercial systems
Whether for residential systems or commercial PV systems, centralized management and monitoring of several PV systems saves time and money. In Sunny Portal, PV system operators and installers have access to key data at any time. As a user, you can choose between various views and define these yourself in accordance with your system type or target group. Sunny Portal features almost infinite options for analyzing measured values and visualizing yields, whether you need a data table or a diagram. Yields for every inverter in a system are compared automatically, and even the smallest deviations are detected. These powerful reporting functions also provide regular updates via e-mail to help ensure yields.
As of this year, Sunny Portal has even more functions for business customers in the EU for professional monitoring of commercial systems with the Sunny Portal Professional Package. We simplify monitoring of many systems with the clearly presented "Status Monitor." You can immediately see all the important status reports of a system and thus respond quickly to any errors. On the new "Analysis Pro" page, you can compare all important PV system data at a resolution of five minutes. Optimum linkage of measurement data, events, diagrams and visual status information helps you perform a faster and more efficient error analysis. To get a better idea, watch our video. The Sunny Portal Professional Package is available via the Online Store in Sunny Portal and can be tested as a demo version for four weeks.
3. Trailblazing role in intelligent energy management
Since the portal launched in 2004, its applications have changed. While it was initially the monitoring option that made the online tool attractive to system operators, these days intelligent energy management is becoming increasingly higher in priority. Sunny Portal supports PV system operators here by monitoring energy flows in real time and providing downloadable energy balances. Household appliances can be configured to use as much solar power as possible in order to save energy costs. Therefore, every system with the SMA Smart Home system solution automatically has access to Sunny Portal.
4. Close connection to SMA Service
If you have problems with your PV system, SMA Service can use Sunny Portal to access the inverters' relevant measurements and events and thus provide expert troubleshooting support. As a result, you receive fast assistance and avoid complicated on-site diagnoses, saving time and money.
5. Sunny Portal has given rise to a simpler community platform for private PV system operators too: Sunny Places
Sunny Places is the community portal for private PV system operators and everyone interested in solar power. You can use it to view your PV system's key data easily and clearly on one page, find other PV systems or compare your system with others, and communicate with other PV system operators and experts. On one page you can see how your system is currently performing; how much energy you have produced in total; how high your self-consumption is; what the weather will be like at the system's location; and how much CO2 you have already prevented with your system. Data from Sunny Portal can be transferred to Sunny Places with just a few clicks. Learn more about how this works by registering here.
Find more information about Sunny Portal and Sunny Places on our website.
https://www.sma-sunny.com/wp-content/uploads/2015/12/Visual-Sunny-Portal_EN-1.jpg
300
620
Anke Baars
/wp-content/themes/enfold-child/images/SMA-LOGO-Color_s-1.png
Anke Baars
2016-01-19 10:30:06
2016-01-19 10:30:06
Five Reasons to Register Your System in Sunny Portal