"Enormous Potential"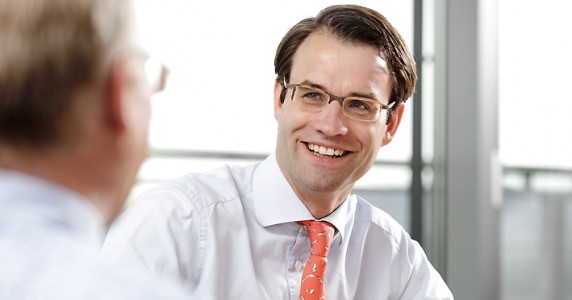 An interview with Pierre-Pascal Urbon, speaker of the Managing Board, discussing the state of the energy market, the potential of renewable energy sources and an independent household energy supply.
SMA is the global market leader for solar inverters. What national and international initiatives is the company working on?
Because the initial costs of solar electricity have greatly decreased not only nationally but also internationally, applications in which photovoltaics are the more cost-effective alternative to other methods of generating electricity are becoming ever more prominent.  Naturally, solar electricity is more cost-effective than electricity generated from fossil fuels in countries with abundant sunshine, and here management of solar diesel hybrid systems is a key issue for SMA moving forward.   Furthermore, it is important to note that currently solar energy is already competing successfully with household electricity rates in some European markets as well.  For this reason, issues such as energy management, optimization of self-consumption, and intermediate storage of solar electricity are becoming increasingly important.
What do you think power supply structures might look like in the future? What do you see as the market share and the potential of renewable energy sources in general, and photovoltaics in particular?
Clearly, the electricity supply will be decentralized and renewable in the future. Despite the extreme resistance of large electric utility companies, the change is already underway. In the meantime, with total installed power of about 30 gigawatts in Germany, photovoltaics has become an important source of energy that has also gained great social acceptance. The roof surfaces of commercial and industrial companies, which are still unused in many cases, present an enormous potential for photovoltaics growth.  Modern energy management systems combined with photovoltaics could make it possible to have an independent energy supply, thereby ensuring Germany's status as a place to do business over the long term. Germany has the opportunity to be on the vanguard of this kind of technological development.
Decentralization is a characteristic of renewable energy sources. What is the significance of this as we move towards a completely sustainable energy supply?
Photovoltaics exemplifies this characteristic of decentralization to a notable degree.  After all, a PV plant can be installed on a single or multiple-family home just as quickly and easily as on the roof of a large industrial facility or in open space alongside a freeway. However, the decisive advantage of a decentralized energy supply lies in the fact that the electricity can often be consumed right where it is produced. In addition, modern inverter technology makes it possible to reduce the load on the public electricity grids. With a larger proportion of photovoltaics, the absolutely necessary expansion of the electricity grid can therefore take place over a longer period of time.
Along with generating and supplying electricity, efficiency plays an important role with the key term being "intelligent grids."  Isn't smart grid technology also something SMA is doing?
SMA is an energy management company. For example, with our Sunny Home Manager, we have developed a solution for an independent energy supply for households, and in the process have clearly demonstrated our technological leadership.  This device analyzes and learns the consumption behavior of a household and combines this information with weather forecasts to make a prediction of solar electricity generation.  The Sunny Home Manager manages the electric devices in the household on this basis. In practical terms, this means that the washing machine and heat pump run when the photovoltaic system on the roof is producing electricity at the most favorable rate. Another important step is integration of decentralized batteries into the electricity grid of the future.  These are key steps towards supplying our entire energy needs from renewable sources.  SMA is actively working on developing an appropriate system technology.  In fact, in the coming year we will already be introducing to the market the first inverter with an integrated battery.  For the operators of PV plants, the use of this technology has a number of advantages not least of which is independence from rising electricity prices.
This interview first appeared in the "2012 Energy Revolution" supplement to the September 23, 2012 edition of the German newspaper, "Die Welt."
https://www.sma-sunny.com/wp-content/uploads/2012/10/Urbon_SMA-572x300.jpg
300
572
Susanne Henkel
/wp-content/themes/enfold-child/images/SMA-LOGO-Color_s-1.png
Susanne Henkel
2012-10-01 11:04:19
2012-10-01 11:04:19
"Enormous Potential"