Do Not Give Exclusion, Hate and Intolerance a Chance – Diversity Wins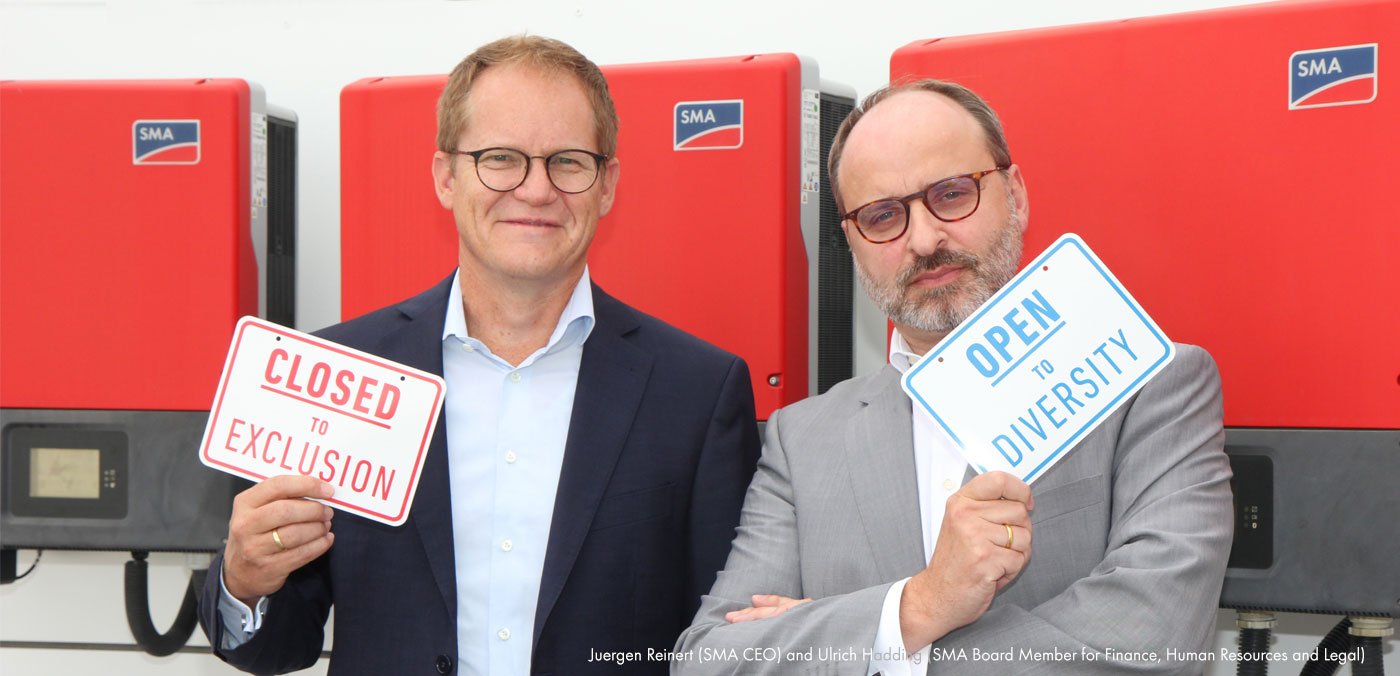 Hate, exclusion and racism are unfortunately on the rise again in large parts of the world. All social forces, including business enterprises, must take a clear stand against this. After all, diversity among people not only enriches society and strengthens democracy—diversity among suppliers, employees and customers is also what makes companies successful.
During my childhood and youth in Namibia and South Africa, I saw for myself what racism means. Over there, discrimination against people with dark skin was still part of everyday life back then. Fortunately, this is now largely a thing of the past. So I am all the more appalled that in many regions of the world resentment against people with another skin color, ideology, religion or sexual orientation—resentment that was thought to have been overcome long ago—is growing strongly again and in some cases is almost regarded as normal. At Kassel, Germany, where SMA headquarters are located, we even had to experience in June that district president Walter Lübcke was murdered by a suspected right-wing extremist perpetrator. This must never happen again. It is thus extremely important to me to take decisive action against discrimination, exclusion and nationalism.
Different backgrounds, views and experiences are an asset
SMA is a global company, with around 3,100 people ranging in age from 16 to 69 with 55 different nationalities working closely together in 18 countries. They all bring different backgrounds, views, experiences and skills to their work. In this way, they are the foundation for the company's success. The same applies to our strategic partners, suppliers and customers. They come from different industries and regions, and our inverters are used in PV systems in over 190 countries on all seven continents. I am proud of the open, respectful and tolerant way in which we interact with each other and with our external partners. At the same time, however, I am aware that this cannot be taken for granted. We need to work continuously on living by our values and further increasing diversity at the company. To this end, in spring, we launched the initiative "Diversity@SMA" to put the spotlight on diversity at SMA.
Social forces must work together to send a signal against exclusion
However, it is equally important to convey these values externally as a company with a high degree of social responsibility. Particularly at a time when uncertainty in the face of an increasingly complex world is leading many people to react in ways that range from votes for right-wing parties, to online hate posts and racist abuse, to violence against people who are "different." Together with other companies, associations and federations from northern Hesse, Germany, we are taking a decisive stand against such tendencies in the initiative "Open to Diversity—Closed to Exclusion." This initiative is very important not only for the region but also far beyond it. For example, the demonstration by around 8,000 people organized on July 20 in response to a march by a few neo-Nazis in Kassel was met with a lot of media interest throughout Germany. "Open for Diversity" can thus also serve as a model on a national level.
Everyone can do their part every day
I very much hope that many other initiatives like this will be launched—and that each of us will send a signal every day by practicing openness, tolerance and respect in everything that we do and speak up whenever we encounter the opposite.
https://www.sma-sunny.com/wp-content/uploads/2019/09/smaboard-diversity_blogpic.jpg
676
1400
Jürgen Reinert
/wp-content/themes/enfold-child/images/SMA-LOGO-Color_s-1.png
Jürgen Reinert
2019-09-09 10:55:08
2019-12-19 10:34:29
Do Not Give Exclusion, Hate and Intolerance a Chance - Diversity Wins