Commissioning of Large-scale PV Project Celebrated in Thailand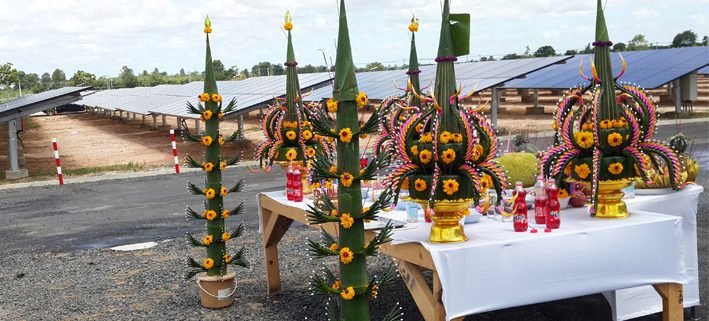 A large number of tourists have been aware for quite some time that sunshine is a guarantee in Thailand. This is true because the Kingdom is located in the Earth's Sunbelt, with the most solar irradiation located in the Northeast of the country. Therefore, it is no surprise that the company Solar Power set up 36 PV systems with a total output of 288 MW in Thailand—supplied with SMA inverters. This most recent PV system, with an output of 7.46 MW, was commissioned in the province of Surin and is aptly named "Surin2." In total, 670 Sunny Boy inverters were installed on a surface of 100 hectares and a contract on extended warranties of up to 20 years was concluded.
The PV power plant is part of the Adder Project, a government incentive program for renewable energy.   The traditional grand opening was honored by Mr. Numchai Lorwattanatrakul, governor of the state-owned power company PEA. PV large-scale projects of this kind are also of public interest, and as such both representatives of regional and national media outlets attended the ceremony.
Providing a stable network and new jobs
Surin is located in the Eastern part of the country, on the border of Cambodia and is one of Thailand's poorest regions. Livelihoods are agriculturally based with low incomes. For that reason, many people have to leave the country. Children from broken homes are hit the hardest. Many of them suffer from malnutrition and quite often are left alone. To provide additional support to the area, Solar Power also initiated a community outreach program that pays the tuition and educational material fees for low-income students. In this way, the PV system is not only providing a more stable network and jobs, but is also promoting more educational opportunities.
 Sacrificial ritual before the grand opening
In the early morning before the grand opening a sacrificial ritual still awaited the system (see picture above). During this ritual flowers, pork, chicken, red boiled sweets, boiled rice, among other items were offered to the gods. The ritual is performed to help the divine forces continue to keep happiness and fortune.
The Surin2 PV system makes not only a contribution to the stability of the national utility grid. In addition, the operator provides jobs in the region.
Read also this article about SMA Thailand:
Magic: A Sunny Central in many small parts
https://www.sma-sunny.com/wp-content/uploads/2014/07/Surin_Thailand_Ceremony.jpg
378
709
Leonie Blume
/wp-content/themes/enfold-child/images/SMA-LOGO-Color_s-1.png
Leonie Blume
2014-08-01 12:52:49
2014-08-01 12:52:49
Commissioning of Large-scale PV Project Celebrated in Thailand