Celebrating the Summer Solstice With Photovoltaics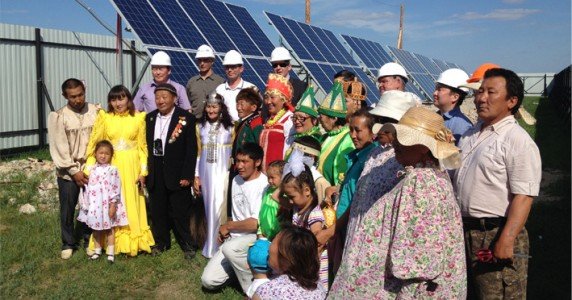 Our coworker Jan Stottko is always on the go. Recently he oversaw a very special project—and in the process, had the opportunity to attend a Yakutian New Year celebration.
Toyon-Ary is a rural locality (a selo) in Eastern Siberia with just over 100 inhabitants. Here, 120 kilometers south of Yakutsk, city and capital of Sakha republic (Yakutia), in far northeastern Russia, access to the utility grid is difficult. Yakutskenergo, the local electric utility company, therefore relies on diesel generators, which ensure the power supply of the indigenous population.
However, the price of diesel is rising in Russia as well, and transporting it to the remote parts of Siberia is cumbersome and expensive. For this reason, Yakutskenergo decided to upgrade its diesel system in Toyon-Ary—by combining it with photovoltaics.
To achieve this goal, the power company arranged for the installation of eighty solar modules with an output of 20 kW, which work together with three SMA Sunny Islands, an approximately 2000Ah battery and two 40-kW diesel generators, significantly lowering the consumption of diesel fuel.
Jan came to Toyon-Ary for the dedication ceremony
Jan Stottko, sales manager at SMA, was on-site at the official dedication of the hybrid system. "I was particularly impressed by the vast expanse of the country and by the people who live there," he recalled. "I was very pleased that ElectroConcept, the company responsible for the installation, did such good work and that the residents of Toyon-Ary are satisfied."
The system was officially commissioned on June 18, 2014, just in time for the summer solstice and the Yakutian New Year celebration. The longest day of the year has remained especially vivid in Jan's memory: "The traditional clothing in every imaginable color, and young and old coming together to celebrate the commissioning—I found that just fantastic!"
However, the commissioning wasn't the only thing that brought Jan to Eastern Siberia. In Yakutsk, he attended the Second International Conference on Renewable Energy in Isolated Systems of the Far East of Russia. At the conference, Jan gave a talk on the use of high performance battery inverters in grids, and about which of the various types of batteries are most suitable for the respective applications in combination with SMA inverters.
There are well over 300 other diesel generator stations in Yakutia. There is great potential for fuel savings through the integration of photovoltaics. Jan is already looking forward to future trips to the Russian Federation and to the many fascinating moments that await him there.
More articles on the topic:
What is a photovoltaic diesel hybrid system?
PV Diesel Hybrid Systems – 3 Designs
Five Steps to a Photovoltaic Diesel Hybrid System
https://www.sma-sunny.com/wp-content/uploads/2014/07/Keyvisual.jpg
300
572
Stella Maria Pfeifer
/wp-content/themes/enfold-child/images/SMA-LOGO-Color_s-1.png
Stella Maria Pfeifer
2014-07-25 13:22:10
2014-07-25 13:22:10
Celebrating the Summer Solstice With Photovoltaics