'Your mobile phone has all kinds of media. We'll see the same with PV'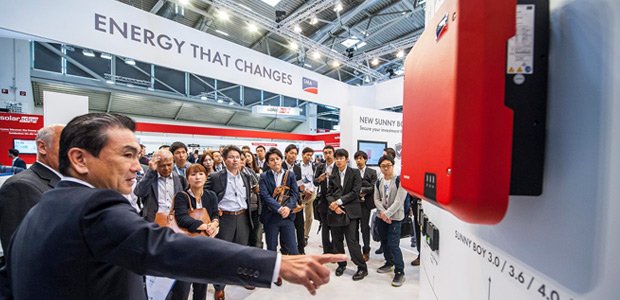 5 MINUTES with Pierre-Pascal Urbon of SMA Solar Technology. Pierre Pascal Urbon, chief executive at Europe's largest inverter maker, SMA Solar Technology, talked to Recharge at InterSolar Europe. The solar industry is increasingly embracing electric storage as an important growth market. Urbon stressed how the interconnectivity of PV with other energy sources and consumers is changing his company, and thinks an emphasis on cybersecurity is giving SMA a competitive advantage.
You said the future of the solar industry isn't that much any more in selling single products or gadgets, but in interconnectivity. 
Yes, that is right. We come into an environment that transforms into a kind of platform business. So it's all about the connectivity of the PV systems with other energy sources, with consumers. That will be the future. In the future, it is necessary that you create a network with others to create a higher value. It's not only about having a single inverter. You need to make sure that you can really deliver a greater value to the end customer. It's like the phone industry in the past. It's not only about communication. Now you have all kinds of media on your mobile phone, and that creates a much higher value. And we will see the same in the PV industry.
What kind of competitive advantage do you see for SMA in this new interconnectivity?
First of all, we have already found alliance partners. We partner with Tesla, with Daimler, with TenneT, with Stiebel Eltron and Bosch. That gives us a much greater reach. Secondly, our company is very transparent. We do not have undisclosed relationships to the government. Our servers stand in Germany, so we have high data security standards. That is not true for players out of Asia, for instance. That is a huge cyber risk. Just imagine someone will put in a spy software into your inverter and suddenly they just switch off the system. That could cripple a complete nation.
How important is cyber security?
I think cyber security becomes a key topic if we are more connected to entire systems and also to other appliances. Therefore, we pay great attention to have a safe infrastructure and to give that promise also to our customers.
You said revenue from storage will grow much more than in other solar sectors. But SMA isn't directly producing storage devices. How are you going to gain from storage?
We provide system technology to use storage. We have developed, for instance, Sunny Boy Storage that speaks perfectly with the Tesla Powerwall. Or our Sunny Island, it works perfectly with Mercedes Benz energy storage. We make that happen. What's important in our solution, it's scaleable. So if battery prices come down in the future, you just expand new batteries to that system, because it's an AC-coupled system, and that is really the key benefit of our solution for that subject.
The German cabinet has okayed an electric-vehicle incentive programme that is likely to get parliamentary approval. How important is that for take-off of the storage and solar sectors?
I think the key ingredient for success for batteries is that we come to economies of scale. So the more electric vehicles we sell, the better it is, because then we benefit from economies of scale. And therefore I very much support that idea from the government. I wish they would also support the PV industry and the transition towards decentralised power as well. Hopefully, that will change with a new government.
This article was published on Recharge by Bernd Radowitz in Munich Tuesday, June 21 2016. Thanks for the copyright. 
Image: New SMA Sunny Boy inverter at Intersolar Europe 2016.
https://www.sma-sunny.com/wp-content/uploads/2016/07/Intersolar2016SMASolar-1.jpg
300
620
Leonie Blume
/wp-content/themes/enfold-child/images/SMA-LOGO-Color_s-1.png
Leonie Blume
2016-07-12 11:58:01
2017-12-13 16:13:22
'Your mobile phone has all kinds of media. We'll see the same with PV'