Why maintenance of PV power plants is so important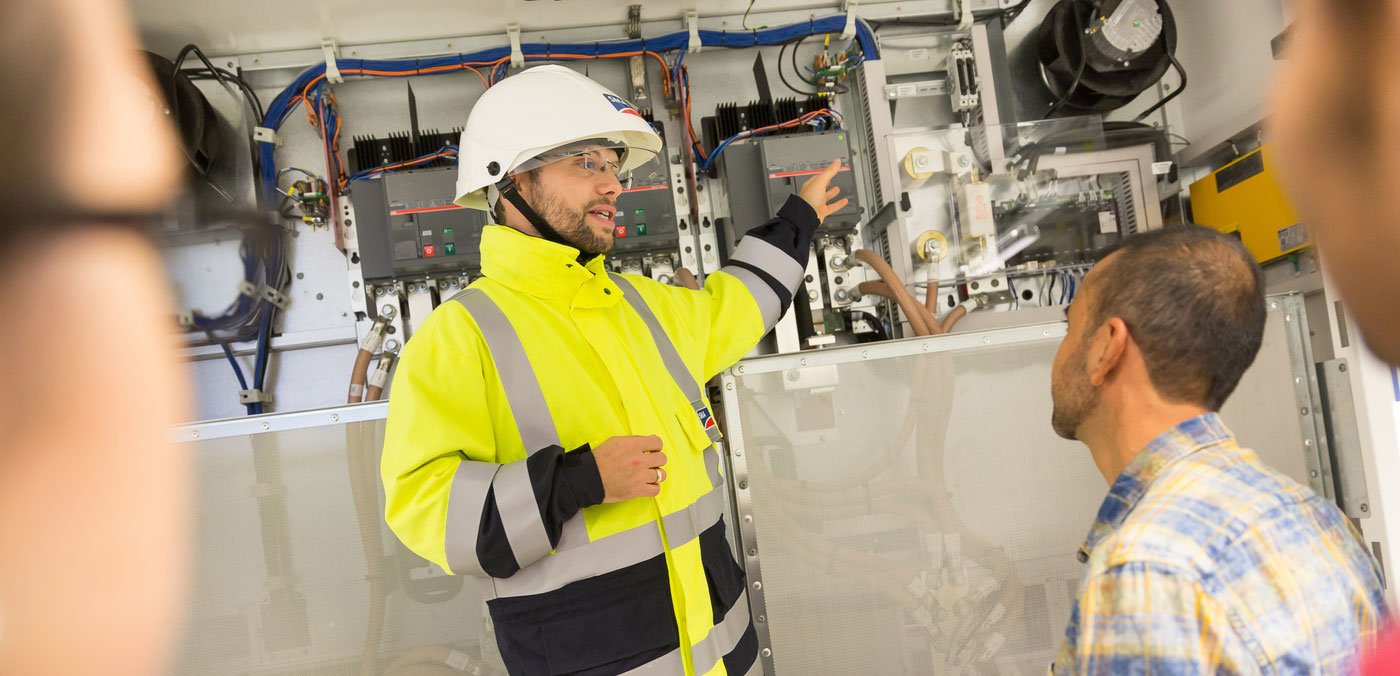 PV power plants have to reliably provide electrical energy over decades. If the components within the power plant do not work properly, the plant cannot provide maximum energy yield. That is why regular maintenance is indispensable. In regular trainings at SMA, electricians and plant owners can acquire the necessary knowledge.
"There are typical errors that occur time and again and seem hard to resolve at first sight", says Jan Rössler, trainer at the SMA Solar Academy. One of these typical errors is, for example, a connection problem with the grid, which is not reflected by an error code on the inverter. "In such cases, I recommend our customers to readout the build-in AC grid supply voltage measurement and check the operating state of the inverter. In most cases this kind of grid error is not caused by the inverter, but due to the fact that the measured grid voltage at the grid connection point is outside the normatively allowed scope. Getting in contact with the grid operator usually solves the problem quickly", states Jan Rössler.
But: You have to know all this. That is why SMA provides specialized trainings and workshops on inverters in PV power plants. With simulated error incidents at operating inverters, participants can learn about tips and tricks that contribute to an optimal performance of their power plant.
From high tech to pragmatic solutions
In the SMA trainings customers can see their Sunny Central inverters from a whole new perspective: On operating inverters they can follow the path of the sun's energy – starting at feed-in all the way to the transfer to the public grid. Along this path Jan Rössler explains the mode of operation of the inverter's parts and shows where preventative maintenance is advisable.
For this, he cooperates closely with the SMA Service team for centralized PV plants. Building on their experience from countless Service missions in the field, Jan Rössler knows exactly, which components deserve special attention when it comes to maintenance and which errors might cause a loss of production. And he enjoys sharing this knowledge in his English and German language trainings.
Putting knowledge to work
"Most of the participants are delighted to work directly on the inverter and are very successful in applying the maintenance procedures", says Jan Rössler. This sounds easy going – however, working at current-carrying inverters has to be absolutely precise and follow all relevant safety regulations. This is why the trainings may only be attended by electrically qualified persons and include extensive safety instructions. In the end, it is all about always working safely on the inverter. The risk of arc-flashesor electric shock has to be kept to a minimum.
After three days of training participants know very well, how the pre-charge circuit on a Sunny Central works. They also learn how seemingly easy tasks, like keeping the air circulation OptiCool free from dust and particles, help to secure maximum production permanently. Having attended the trainings, participants can carry out maintenance procedures on their own and know how to localize causes of losses of production.
Are you also interested in attending a training on maintenance of PV power plants?
This is where you can find a suitable training and more information.
About the Global Solar Academy

SMA Solar Academy provides expertise and advanced training tailored to participants on SMA products and photovoltaics. Competent and practice-oriented. Figured up on more than 600 days a year seminars and webinars on more than 25 topics and in 11 languages are provided worldwide. Until now more than 6500 installers, sales representatives and plant designers were trained.
What participants say
"Practical presentation of theoretical seminar contents"
"Great exchange among participants, competent and adequate teaching"
"Practical relevance, advice for service cases and failure search"
Visit our website for more information.
https://www.sma-sunny.com/wp-content/uploads/2018/10/sunny-central-maintenance-smasolar-academy-training.jpg
676
1400
Anke Baars
/wp-content/themes/enfold-child/images/SMA-LOGO-Color_s-1.png
Anke Baars
2018-10-17 16:36:07
2019-10-30 15:11:32
Why maintenance of PV power plants is so important