The New Sunny Island Generation Is Here!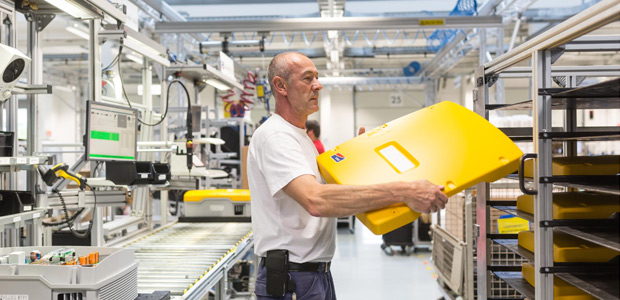 SMA will present its new Sunny Island generation at Intersolar Munich 2017. The new Sunny Island -12 may look like the old one on the outside but this one is more "communicative". 
What exactly are the differences between the old one and new one?
1. Bye-bye Sunny Remote Control, hello WLAN
We have said good-bye to the old Sunny Remote Control (SRC-20). Now we have WLAN and a web user interface, so with a computer, a tablet or a cellphone with WLAN you can sign in to the Sunny Island to set its parameters, or get information such as current status, events, warning messages and more.
2. New configuration
The new Sunny Island web user interface makes really easy to configure a system. Instead of  the old list of parameters, now there is a simple overview of important points (AC-site, DC-site, inverter and more) and we can set different possibilities under each point.
3. Easy system integration
Thanks to the new WLAN feature, we have made easy the system integration. You can connect directly the system into Sunny Places or Sunny Portal via WLAN or web user interface.
This means that an extra SMA communication device is no longer needed in systems with up to four devices, the Sunny Island can sign the router via WLAN and send its data directly to Sunny Portal/Sunny Places.
4. New extended data logging
An advantage for end-users and professionals. We can download detailed data from our system via web user interface, this data can be used for system analysis or in case of failure by SMA service as the new logging intervals goes from seconds to days! With the optional SD card it is possible to extend the monitoring period.
5. Now with a 10-year warranty
How about that? We know that we build the most reliable battery inverters of the market with IP54 and a unique overload capacity compared to other off-grid inverters, so we offer a free warranty extension. The customer just needs to register their product and the warranty automaticall increases from 5 to 10 years.
6. Up to 20% reduction in system costs
And on top of the new communication interface, the extended data logging and the warranty extension, we also offer up to a 17% reduction in system costs for SI 4.4M systems and up to 20% for SI 8.0H systems.
There is also a reduction in installation costs and a time saving wizard for configuration.
7. Exchange of circuit board in the field
Under defined conditions, we are able to exchange the circuit board in the field. If something happens in an installation, this is extremely helpful to the end customer because we do not need to replace the entire inverter if only the circuit board is broken. We can react faster and it is cheaper to replace one part versus the entire inverter.
One last bit of information
The electrical characteristics and chassis stay the same in the new Sunny Island -12 generation as in the -11 generation. The new Sunny Island version -12 will be available in the old 8.0H, 6.0H and 4.4M power classes. The Sunny Island 3.0M will be discontinued.
More Information
For more information visit us at Intersolar Europe or check our product website.
https://www.sma-sunny.com/wp-content/uploads/2017/05/Sunnyisland-offgrid-inverter-production.jpg
300
620
Christian Höhle
/wp-content/themes/enfold-child/images/SMA-LOGO-Color_s-1.png
Christian Höhle
2017-05-23 09:05:32
2018-02-12 12:11:13
The New Sunny Island Generation Is Here!