The Brazilian Photovoltaic Market: Poised for Rapid Growth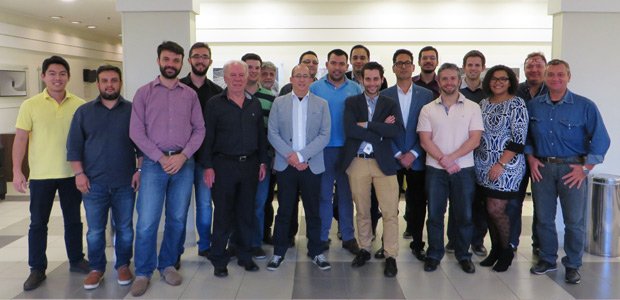 Brazil may be 20 times bigger than Germany, but it has just one-thousandth of the installed solar power —and this despite enjoying an average daytime solar irradiation of 5.5 kilowatt-hours per square meter, which is almost twice as high as in Germany. But is this potential being utilized? And, if so, is the know-how available to leverage it?
With its constant development of renewable energies, Brazil is among the fastest-growing photovoltaic markets worldwide. The country's energy consumption is increasing rapidly and residents pay high retail electricity prices, which is why generating solar power locally is an extremely attractive proposition, and one that is even more appealing due to the high levels of sunlight. Brazil is expected to reach 7 GW of installed PV power by 2020.
Establishing a presence and building the knowledge base
SMA does business in Brazil with its own service and sales company. From our base in São Paulo, we advise public utility companies as well as commercial and private customers and provide them with the systems they need. However, PV projects can be realized only if the required knowledge and expertise are available, which is why SMA Brasil—with employees from the Solar Academy in Germany — organized a seminar week.
Pedro Alves, the new office manager in Brazil, was delighted with the support: "We successfully shared technical knowledge with many of our customers and gave detailed presentations of our solutions. Solar Academy trainer César Villalta did a great job."
Future PV power plant experts trained
The around 30 engineers and business professionals from Brazil first received an overview of our system solutions, before taking advanced, two-day training sessions to strengthen their technical expert knowledge of PV power plants. The focus here was on decentralized solutions including the Sunny Tripower 60 and centralized PV power plants with the Medium-Voltage Power Station. "The participants were really satisfied with the training sessions and have confirmed that they received lots of useful information on structuring and dimensioning PV systems," said Alves about the success of the training week. Additional training sessions—in conjunction with the team from the SMA Solar Academy, of course—are planned for 2017.
Background: 419 photovoltaic projects in the pipeline

It definitely makes sense to train solar experts in Brazil – after all, Brazil is, alongside Mexico, the market harboring the biggest potential in Latin America for expansion of photovoltaics. This is also evident in the most recent publication of the tenders in response to the tendering of reserve energy output, which the energy research institute Empresa de Pesquisa Energética (EPE) recently completed. In these tender bids, the EPE—which is responsible for auctioning reserve energy output—registered a total of 419 photovoltaic projects with a total output of 13.4 gigawatt. Thanks to the training sessions, these projects can now be implemented more effectively by local experts.
https://www.sma-sunny.com/wp-content/uploads/2016/10/Partcipants-solartraining-SMABrazil-1.jpg
300
620
Viktoria Mai
/wp-content/themes/enfold-child/images/SMA-LOGO-Color_s-1.png
Viktoria Mai
2016-10-27 11:57:45
2017-12-13 13:26:41
The Brazilian Photovoltaic Market: Poised for Rapid Growth