String versus Micro – Which is the Right Choice?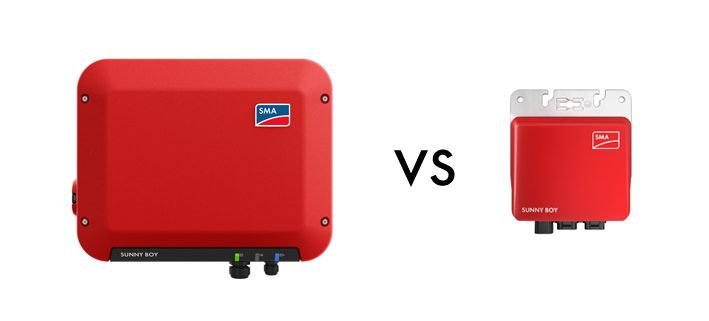 When it comes to making decisions about a PV system, one of the most common decisions a system owner has to make is whether to choose a micro inverter or a string inverter. As one of the only inverter manufacturers globally to offer a full range of micro, string and central inverters, SMA is best placed to understand the difference between each of these products and technologies, and provide the product best suited to each specific application. Below we discuss a number of factors related to PV systems and the relative advantages of both micro and string inverters to help make the right technology choice for each individual application.
Grid Support Functions & Install Flexibility
Where local grid operators require the PV system to have grid support functions such as reactive power, specific power factor correction set points, low voltage fault ride through or export control, string inverters are the best option. SMA's current model string inverters all have the ability to provide varying levels of grid support dependent upon the individual requirements of the system and grid operator. Micro inverters are not able to provide the same level of grid support, yet.
For system installs on tricky roof structures, or where sub-sections of a PV array need to be separated or installed on different orientations, a micro inverter can represent the simplest and lowest cost system. Since micro inverters are AC coupled and individually track their PV module's maximum power point, they are more flexible in how and where they can be installed compared to DC coupled PV panels and a string inverter.
PV Array Oversizing
Oversizing the PV array is a tool used by system designers and installers to improve the performance of a PV system while reducing the specific cost in $/W. It involves installing a DC rated capacity greater than the inverter's AC rating. It is possible to do this because under normal operating conditions, a PV array rarely achieves its rated output (mostly due to voltage dependant temperature de-rating). Oversizing the PV array makes better use of the inverter's rated capacity and increases the energy output from a PV system. String inverters are the simplest, most suitable and lowest cost option for oversizing, because all that is required is to either increase the length of the PV module strings, or increase the number of parallel strings.
It is also possible to take advantage of oversizing when using a micro inverter system, however, it will typically result in a much higher specific $/W investment. To oversize a PV array using micro inverters requires the use of higher power PV modules. Since these modules typically attract a premium price compared to standard power PV modules, the overall system cost will be higher for a similar performance benefit compared to an oversized array with a string inverter.
Performance & Shading
Under normal unshaded conditions, a string inverter will typically offer the lowest cost and greatest energy yield. For varying degrees of partial shading of the PV array, a micro inverter can offer slightly higher performance (~1 – 4%).
Under normal un-shaded conditions, a correctly sized string inverter system will typically outperform a correctly sized micro inverter system by ~0.5%. Micro inverters are able to reduce some very small losses such as DC cabling and any module mismatch, but they have a lower operating efficiency. Put together, this means string inverter systems will typically outperform micro inverter systems in normal un-shaded conditions.
Under permanent or partial shade conditions, the answer is more complicated. To help understand these complicated factors, SMA commissioned a US based independent PV research laboratory (PV Evolution Labs) to investigate the effect of shade on system performance. The study compared a variety of shading conditions on the performance of a:
SMA Transformerless string inverter with OptiTrac Global Peak;
SMA micro inverter;
Leading competitor's micro inverter;
Under all shading conditions, both micro inverters and the string inverter with OptiTrac Global Peak performed almost identically. Some of these results are summarised in the graphs below.

SMA's patented OptiTrac Global Peak maximum power point tracking algorithm significantly improves the performance of string inverters under shaded conditions. Under light shading (7.6 %), micro inverters only outperform a modern string inverter by ~1% (annual energy yield). While under heavy shading conditions (25.5%) the annual energy yield difference is ~4%. The value of this energy to the system owner needs to be considered when making a system decision, specifically whether a 1 – 4% energy yield increase from micro inverters offsets the higher $/W cost to install.


System Monitoring
String and micro inverter systems are able to connect to SMA's free online monitoring platform, Sunny Portal. There are differences in the monitoring and display capabilities within Sunny Portal for micro and string inverter systems.
For systems requiring PV panel level monitoring, a micro inverter system is a very simple option. PV panel level electronics allow the individual performance of each PV panel to be known and displayed. This information can be useful in situations where the system operator requires the individual operating performance of each PV panel.
Features available for both micro and string inverter systems registered on Sunny Portal include: live system performance, automated reporting functions for daily, monthly and yearly performance, fault and error reporting, remote service capability, local visualisation through smart devices, future energy predictions and automated load control.
Service & Reliability
Reliability of a PV system is essential to deliver energy and financial benefits to the system owner. Minimising the service risk of inverters is the largest factor affecting overall system reliability and economic performance. When deciding between micro or string inverters, two of the following questions need to be addressed.
1. How many failures is the system likely to experience during its lifetime?
Calculating failures in power electronics is directly related to the number of components in the collective devices, and the temperature and humidity at which those components are forced to operate. So if a system has a greater number of components or operates at higher temperature and humidity, statistically it is more likely to fail. SMA has developed its micro inverter to have the fewest number of components (less than 50 %) compared to competitor micro inverters on the market. And while a single micro inverter has fewer components than a single string inverter, the more micro inverters there are in a system, the more likely that system will statistically experience a failure.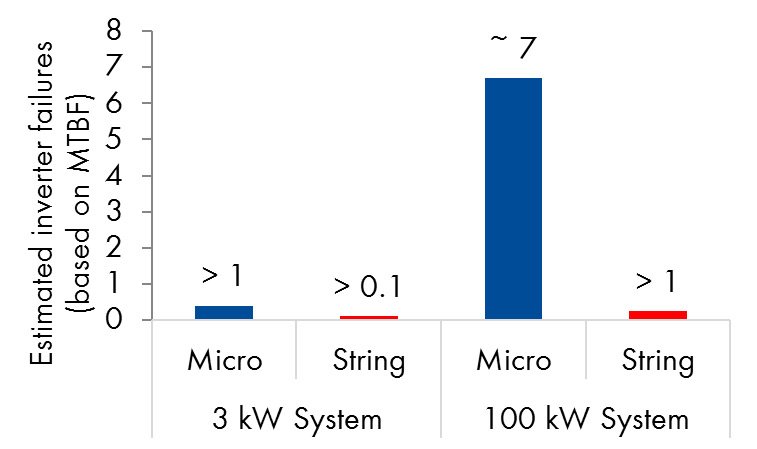 Mean time between failure (MTBF) is a statistical measure used to estimate likely inverter failures in a system over its warranty period. In the graph adjacent, an MTBF of ~300 years for micro inverters and ~150 years for string inverters has been assumed for the purpose of comparison (since SMA do not publicly quote MTBF statistics, values used are based on those commonly quoted by other inverter manufacturers). For a 3kW PV system, a micro and string inverter system are statistically likely to experience the same number of inverter failures during the warranty period (i.e. ≤ 1 failure). However if the same statistical process is applied to a 100kW PV system, a micro inverter system is statistically likely to experience a higher number of individual inverters failures compared to the string inverter system during the warranty period.
2. What will it cost to service or replace an inverter?
It is difficult to estimate the cost to service or replace a failed inverter as there are many important factors which need to be considered. From the inverter point of view, SMA provides replacement inverters where an inverter has not met its warranty obligation, and also provides a rebate to installers that perform warranty replacements. However the costs to service a micro inverter or string inverter may be different. Replacing string inverters will typically only require ground access to a site. Depending on the weight of the inverter and tools available, replacing a string inverter can typically be carried out by a single installer. Replacing micro inverters can be more difficult and time consuming. Replacing means access to the roof will always be required and accessing such spaces typically requires two people for safety reasons, and special equipment such as a roof harness. Additional costs associated with replacing micro inverters can include locating and accessing the failed inverter, removing the connected PV module, and replacing array framing earthing plates.
With regard to service and reliability, for a system size of ~3kW or less, both micro and string inverters are suitable solutions. For systems larger than 3kW, the lowest cost and most reliable solution is to use string inverters.
System Payback
Once a system exceeds ~3kW in size, a string inverter will typically deliver a shorter payback time compared to a micro inverter system.
Micro inverters are more expensive than string inverter on a $/W basis. However their use can remove the requirement for other system components (e.g. DC isolators, HD conduit, earth fault alarms, etc). This means for small PV systems, the total installed cost of a PV system can sometimes be cheaper using micro inverters rather than string inverters. However as systems get larger, the cost of these additional components required with string inverters can be amortised across a greater number of kW. This slowly tips the economics and shortest payback time in favour of a string inverter solution.
Another issue to consider is the relative benefit of installing a smaller micro system, or a larger string inverter system. For example, it is a lower cost option to install a 4 kW string inverter system than to install a 3 kW micro inverter system. In addition to the initial cost benefit, a 4 kW string inverter system would yield ~25% more energy compared to a 3kW micro inverter system. Some of these economics are presented in the graph following.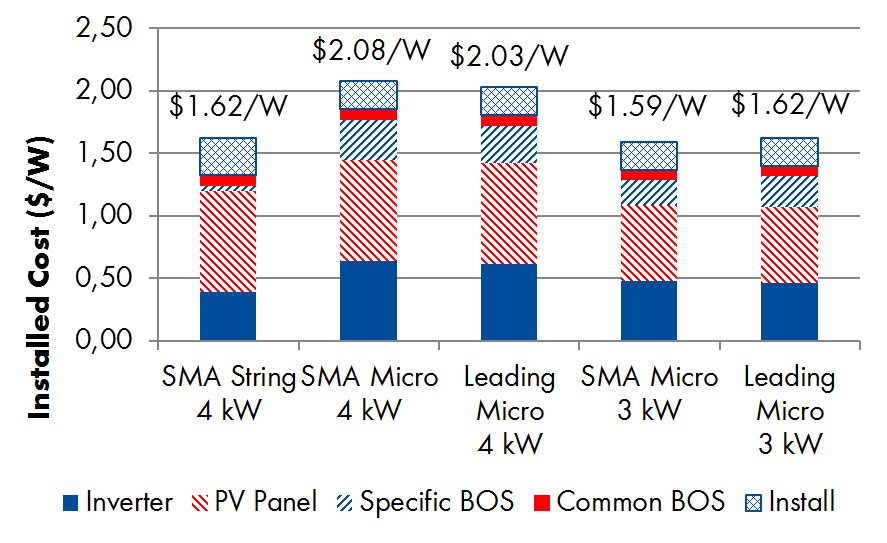 For PV systems greater than 3 kW, and for systems where there is capacity to install a larger array, the lowest cost option and shortest payback will be achieved using string inverters.
Conclusion
There are many factors which need to be considered when designing and installing PV systems. SMA is almost unique in the PV industry as manufacturers of the full range of inverter technologies (micro, string & central). SMA's main goal in this regard is to ensure systems are designed using the most appropriate inverter technology. Factors including feature requirements and installation flexibility, PV array oversizing, performance and shading, service and reliability, and payback time all impact the decision of whether to build a system using micro or string inverters. A simple guide is that for systems sizes up to 3 kW or for systems which require a great degree of flexibility installing on different roofs and array orientations, a micro inverter system can offer an optimal solution. In most other situations, the lowest cost, lowest risk option is to use string inverters.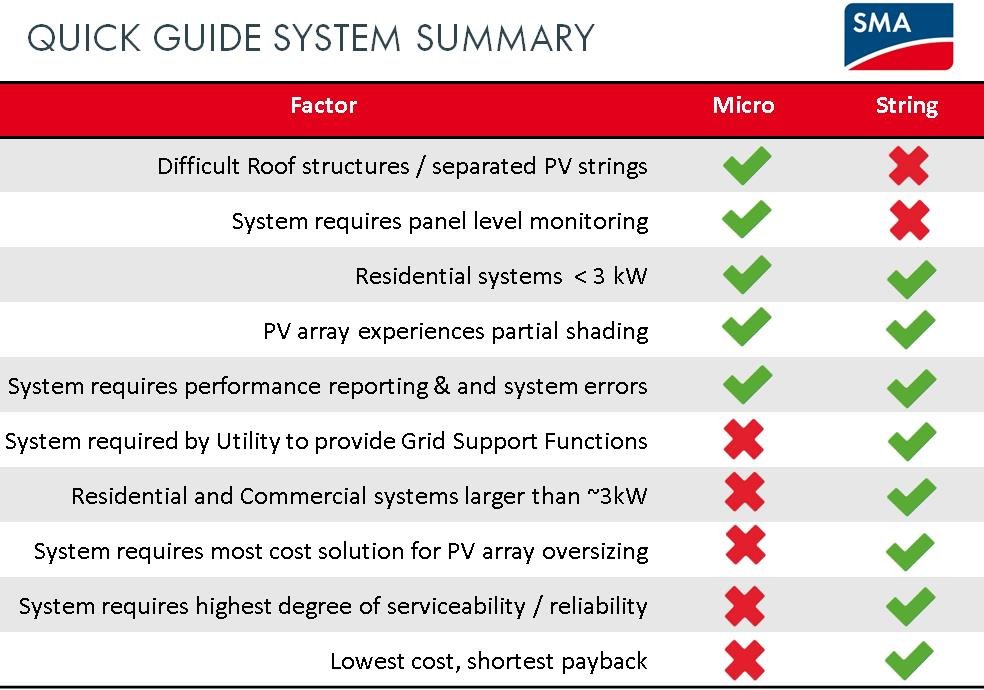 https://www.sma-sunny.com/wp-content/uploads/2015/10/KV-blank1.jpg
378
709
Scott Partlin
/wp-content/themes/enfold-child/images/SMA-LOGO-Color_s-1.png
Scott Partlin
2015-10-05 09:09:20
2017-12-13 16:09:45
String versus Micro – Which is the Right Choice?