Solar spotlight: PV in paradise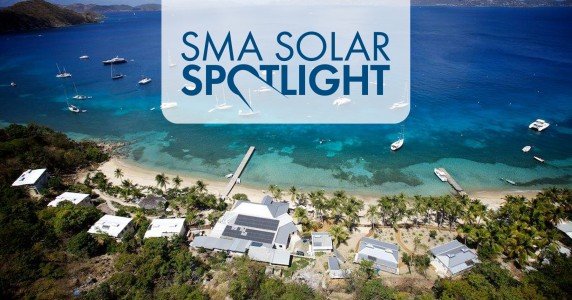 The British Virgin Islands, known for beautiful beaches and miles of serene coastline, are ideal for rest and relaxation. For travelers looking to escape big-city type noise, the diesel generators powering most vacation resorts wasn't a welcome sound. Generating electricity on remote Caribbean islands used to be a dirty job, until hybrid solar power systems started cleaning it up.
 Becoming eco-friendly
When the Cooper Island Beach Club changed ownership in 2008, the new owners wanted to develop and eco-friendly resort while improving guest amenities and services. The resort's ownership worked with Alternative Energy Systems of the BVI to design a hybrid energy system to reduce diesel fuel consumption and subsequent noise created by the generators.
The system, installed in phases to grow with the resort over four years, began with 90 Kyocera 210W modules, nine Sunny Island 5048 inverters, three Sunny Boy 7000-US inverters and 243 kWh of battery storage. Phases two and three saw the addition of 63 Kyocera 245W modules, three Sunny Island 5048 inverters and four Sunny Boy 4000-US inverters, plus an additional 198 kWh of battery storage. A Multicluster Box connects the system's 34 kW of PV, battery banks and generators to ensure simple and care-free operation.
"Choosing SMA for this project was simple," said Jacco Bos, professional engineer and managing director of AES. "SMA offered the full solution to meet our customer's fuel saving goals and made it easy to expand the system based on the resort's growth."
Results
A 70 percent reduction in fuel consumption was achieved after completion of the third phase. Generators now run between four and eight hours a day, at or near full capacity to handle peak energy demands. Prior to installing the PV-diesel hybrid system, the two 65 kVa generators ran near continuously, often inefficiently at idle to support minor loads. Reducing that idle operating time was the single-largest contributor to fuel savings.
The system was designed to run the generators during morning and evening load peaks and as-needed to charge the resort's battery banks. During non-peak hours, the resort is able to operate solely on power from the PV system and batter bank.
"After four years of operation, the most impressive aspect is the minimal maintenance required," said Bos. "The Sunny Islands have been operating for more than 30,000 hours and only need routine cleaning and electrical torques.  Compared to a diesel engine, which requires regular oil changes, rebuilds and replacement by this time, the SMA inverters are proving to be highly reliable."
Beyond Solar
For Cooper Island's new ownership, eco-friendly goes deeper than implementing renewable energy. The resort has begun an aggressive makeover to ensure sustainable operations are implemented whenever possible. To date, the resort has installed a solar hot water system, rainwater cisterns, LED lighting and drip irrigation systems.
To help sustain the reefs and oceans surrounding Cooper Island, biodegradable and reef-friendly cleaning products have become standard use. Recycling, composting and reuse of fryer oil for bio-diesel have also raised the resort's sustainability efforts without sacrificing guests' experience.
The Cooper Island Beach Club's dedication to renewable energy and sustainability has continued to grow with the resort's popularity. Plans for future expansion include additional renewable energy sources; we look forward to seeing the next phase of Cooper Island's success.
Solar Spotlight aims to highlight SMA inverters in real-world situations. Email us with information about your SMA-powered PV projects at SocialMedia@SMA-America.com.
https://www.sma-sunny.com/wp-content/uploads/2014/02/SMASOLARSPOTLIGHT_PV-in-Paradise.jpg
300
572
Justin Dyke
/wp-content/themes/enfold-child/images/SMA-LOGO-Color_s-1.png
Justin Dyke
2014-03-14 13:43:04
2017-12-13 16:02:50
Solar spotlight: PV in paradise