Solar-Powered Hot Water – How to Use Even More Solar Energy in Your Own Home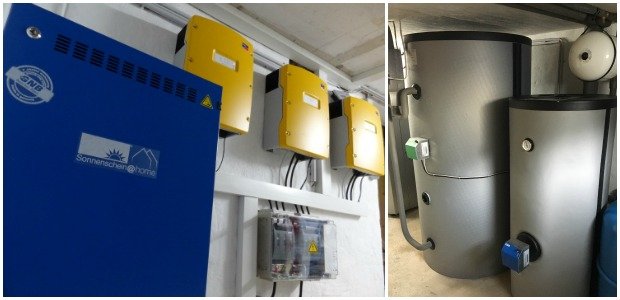 The more self-generated solar energy you use in your own home, the more efficient your PV system becomes. When self-consumption is high, grid feed-in goes down. If you combine a battery-storage system with an electric heating element, you can use as much of your solar power as possible for yourself. Thanks to electric water heating, our colleague Manuel März enjoys hot water essentially at zero cost, which means that his heat pump even gets some time off in the summer month.
For März, installing a PV system with a storage system in spring 2014 was the first step toward independence from rising electricity costs and his electric utility company. He is an expert in solar energy and has spent 10 years at SMA, where his responsibilities include off-grid electricity supply solutions. This includes energy self-sufficient mountain cabins and power supply systems for remote islands. The focus is always on generating energy precisely where it is needed.
He consistently pursues this goal in his personal life as well. Since spring 2015, he and his wife Rebecca have been realizing his dream of using electricity produced entirely from solar power. In addition to the PV system and heat pump, their energy supply is now equipped with two AC ELWA-E heating elements from my-PV. These help reduce electricity procurement costs and minimize the heating and hot water bill. The heating elements work like an immersion heater, efficiently converting the excess solar power from the hot water and heating tanks into heat in a continuous, grid-compatible process.
Generating hot water electrically and saving costs
Heating and hot water appliances account for as much as 75% of a household's energy needs. In Germany, the average daily consumption of drinking water is roughly 120 liters. Approximately a third of this is heated and generally referred to as hot water. On average, a typical home in Germany consumes 22 cubic meters of hot water per year at a cost of around €300. The cost of heating water varies considerably by the cubic meter and depending on the fuel used. However, if you heat your water with self-generated solar power instead, the costs are effectively zero.
The März family chose an east–west arrangement for their PV system, which means that it can be used to generate solar power from sunrise to sunset. This type of arrangement is currently very popular because people are now looking to maximize self-consumption rather than simply yield the best possible feed-in tariff with a south-facing configuration. This is precisely the purpose of a heating element that uses surplus solar energy from the PV system to heat water. Since 2016, the couple have been partially heating their water using the AC ELWA-E with solar power from the 10 kilowatt peak system in an old building that they renovated themselves. Initial concerns that the water would not be available quickly enough or in sufficient quantities proved to be unfounded. The elements are controlled by the Sunny Home Manager, which intelligently manages the household and automatically activates the heating elements, always at the right power level, when excess solar power is available. Self-consumption is optimized every single day of the year in this order:
1. Supplying home appliances: major domestic appliances such as washing machines and dishwashers can be programmed to run on solar power.
2. Charging the battery: the battery provides solar energy for evening and night hours. Regular charge and discharge cycles extend the battery's service life.
3. Activating the my-PV ELWA_006 heating element (summer) and generating hot water: the AC ELWA-E is activated when there is surplus energy and heats water for cooking, showering and washing hands.
4. Activating the my-PV ELWA_008 heating element (winter only) and generating hot water: the AC ELWA-E is supplied via solar energy and heats the water used to heat the house.
Protecting the heat pump and extending its service life
Although the ELWA has the lowest priority in the März household, it enables the air to water heat pump to be switched off entirely in the summer months. This extends the service life of the equipment—after all, if it's not running, it can't break down. The heating element itself is largely maintenance-free. Depending on the mineral content of the water, it may be advisable to use a filter cartridge to prevent the formation of limescale. This is because limescale, which forms deposits similar to those found in kettles, has an insulating effect and can hinder energy exchange by the heating element.
The renovated old building offers another special feature, which is that the house is heated using hot-water ceiling heating. This exceptionally energy-saving method of operation ideally complements the heat pump and enables a low flow temperature of 35°C, even in an old building. Mohrchen the cat is not the only one to enjoy the agreeable radiant heat—friends and relatives are also frequently pleasantly surprised. Another positive side effect of the space heating system is that there is no need for unsightly radiators, and dust bunnies are a thing of the past thanks to the absence of circulated air.
Incidentally, März doesn't buy into the claim that the heat pump requires a longer start-up time and thus more energy to heat up when it is switched on again. Protecting the pump is his top priority. If a little more energy than usual is indeed needed, he doesn't think it too much of a problem—after all, the energy comes from the PV system and doesn't cost anything.
Profile: the "solar heating system"

To boost self-consumption of their own solar power, the März family, from the town of Borken, added the my-PV AC ELWA-E heating element to their grid-connected storage system in spring 2016. The resulting hybrid storage system enables the self-generated solar power to be utilized in full. Only when all appliances have been supplied, the battery charged and the water electrically heated does the März family feed solar power into the utility grid.

The AC ELWA-E elements are incorporated via Ethernet into intelligent energy management with the Sunny Home Manager. They are infinitely variable from zero to three kilowatts and adjust their output every second

to the supply of electricity, and consume only 1.5 watts in standby mode.

The Sunny Home Manager manages the flow of energy such that self-consumption is covered first, then the battery is charged; the remaining solar power is used to heat the building and provide hot water. The buffer tank collects solar power from the roof in the form of thermal energy.

PV system: 10 kWp east–west arrangement, 62° roof pitch

Inverter: SMA Sunny Tripower STP8000TL-20, 3 x Sunny Island 4.4M-11 battery inverters

Battery: Exide SH48V16.0-B
Sealed lead-acid batteries with up to 3800 cycles at 50% DOD (depth of discharge)
Total capacity 330 Ah (equates to 16 KWh). Usable capacity: approximately 8 kWh

Controller: Sunny Home Manager, SMA Energy Meter, SMA Sunny Sensor Box

Heater: air to water heat pump for drinking and hot water; each drinking and hot water storage tank is fitted with an electric heater

Water heater: AC ELWA-E
https://www.sma-sunny.com/wp-content/uploads/2017/04/solarheating-1.jpg
300
620
Anke Baars
/wp-content/themes/enfold-child/images/SMA-LOGO-Color_s-1.png
Anke Baars
2017-04-21 14:26:35
2018-02-12 12:12:13
Solar-Powered Hot Water - How to Use Even More Solar Energy in Your Own Home