Solar Energy Changes People`s Life on Kutubdia Island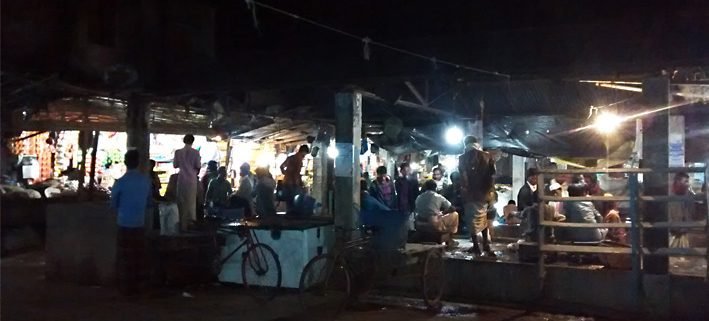 Kutubdia Island is an island near the coast of Bangladesh. It has 14,463 households and a total area of 215.8 square kilometers. The island is famous for having the only lighthouse, which was built by the British during their rule. Kutubdia is rich in salt and uses it to dry fish, which is locally known as 'Shutki.' In fact, most people are involved in salt cultivation or agriculture on Kutubdia. As Kutubdia is an upazila (sub-district) in the Bay of Bengal, it is isolated and not connected to the national power grid. In these rural areas of Bangladesh, every 2 out of 3 villagers have no access to electricity. A solar minigrid was installed to help make residents' daily lives more comfortable.
The region also achieved notoriety for increasingly rapid erosion and some of the fastest recorded sea-level rises in the world.  In the last 20 years, Kutubdia has halved in size to about 100 square kilometers. Some villages have been swamped and about 40,000 people have fled. However, most people who live here face these risks because of a lack of prospects and that their life is with the sea.
More fatal for their daily life they feel the remoteness of the island and the lack of electricity. Even during day much of the work that needs to be done, can't be, which makes the island a very unproductive part of Bangladesh. People often rely on inefficient and health-damaging kerosene lamps, environmentally harmful dry-cell batteries for radio and expensive services for charging mobiles. Smoke from oil lamps and the traditional cooktops are causing eye and respiratory tract diseases. "All my life, I've heard and seen the island of Kutubdia, and its people, dip into darkness after the sun goes down," said Abdul Karim, whom the locals call 'Karim Master' and a teacher at the religious school Koier Bill Dakhil Madrasha, where he has taught agriculture for almost 14 years. "The worst part is that the children here can't study at night, mothers finish their work as long as the sun allows them to, while fathers just become useless."
"It will help increase productivity, bring new job opportunities, and above all people will be inspired. Our village will not remain in the dark corner of the world." Abdul Karim
Shutdown after sunset
After sunset, most of the work such as repairing or cleaning fishing equipment can´t be finished because of the lack of electricity and light. Companies have to abandon production. The unstable diesel generator-based power supply network for lighting houses and marketplace is only available between 5:30 p.m. to 10:30 p.m., and companies have to save their emergency power supply to get through electrical power outages.
"Some people used diesel-powered generators. Those generators were not only expensive, but they produced smoke of burned diesel," Karim explained. "And there was the noise and smell. It was unbearable. And for most people the use of kerosene or diesel is too expensive. Life used to end after 10:30 p.m. when there is no electricity anymore. The complete island stays in dark. When I had to check exam papers all night long, I had to use a small lamp."
Solar minigrid for increasing productivity
The new solar minigrid helps Kutubdia Island to come out of the dark. It has changed people´s lives completely. Green Housing and Energy Limited (GHEL), a Bangladesh based company, started to build the solar minigrid plant on the Island. The 100 kW off-grid system now produces electricity and provides the power to participating households through collective distribution and centralized monitoring. Five hundred households can be provided with six hours of electricity per day. The system uses 12 SMA Battery inverter Sunny Island 8.0H, 6 SMA PV inverter Sunny Tripower 15000TLEE and the SMA Multicluster Box 12.
The infrastructure of the minigrid gives participating households the option to sell excess electricity to third party households within a proximity of 2-4 km from the plant. The idea of the system is simple: those who want to have electricity will become card-holding members. The card can be recharged to use electricity. "It is like recharging a mobile phone balance", Abdul explained. "I like this system because I can buy electricity in the amount I need. When I don't need electricity I just won't recharge. And on top of having electricity, it is a huge money saver."
For the people on Kutubdia the solar power is a great relief. Life is completely different now, and of course more healthy and silent because the diesel generators don't run anymore. All the lightbulbs connected to the solar system don't flicker anymore, but instead glow more brightly than before.
It is a small step into a future with less pollution that, of course won't stop climate change – "But it will help increase productivity, bring new job opportunities, and above all people will be inspired," Abdul stressed. "Our village will not remain in the dark corner of the world."
https://www.sma-sunny.com/wp-content/uploads/2015/03/Solar-Energy-for-Kutubdia-Island_SMA-Solar.jpg
378
709
Leonie Blume
/wp-content/themes/enfold-child/images/SMA-LOGO-Color_s-1.png
Leonie Blume
2015-03-18 11:45:52
2017-12-13 16:07:21
Solar Energy Changes People`s Life on Kutubdia Island