SMArt Hockey: On the Hunt for the Puck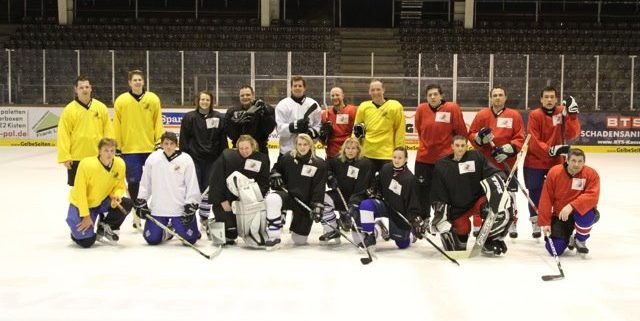 In Kassel, ice hockey reigns supreme. The ambience around the rink, the sheer speed on ice, and the players' passion are only some of the things that define the unique spirit of the fastest team sport in the world. No wonder, then, that many SMA members have also decided to put their own ice skates on and join the hunt for the puck that has taken place ever since 2009 at Eissporthalle Kassel, where all sorts of players, ranging from beginners to former pros, meet time and time again. There is, however, a little downside to this popularity: Time on the rink is hard to come by in Kassel, making it a precious commodity for everyone.
Match Against ERC Edersee
After working mostly on our technique and plays and holding short matches during our normal training sessions, we finally had the opportunity to see how we would measure up against another team. The date? 11/23/2012. The visiting team? ERC Edersee, a club that trains in Willingen and is made up of amateur athletes, just like ours. As soon as the game started, the rink turned into the backdrop for two spectacular offenses that fought for every single puck.

Both teams wanted to demonstrate their skill—especially in front of the opponents' goal—and turn it into a point on the old scoreboard. By the end of the second period, the score was tied, perfectly reflecting what everyone had seen on the rink. After that, ERC changed their goalie, and together with him came a reversal of fortune. By playing smartly with every single player, our opponents tied what up until then had been our leading score and then managed to deal a killing blow at the very last minute: a score of 8:9 would lose us the game. After our initial disappointment, we all had one thing in mind: revenge (the return match will take place on 03/09/2013 at the Eissporthalle Willingen), but even then, we talked shop with our opponents and discussed the future of ice hockey, an ever-present subject in Kassel, at length. Why would we do that, you ask? Well, the old rule of sportsmanship applies in hockey as in every other sport: After the game, you make up and leave the ice-cold enmity between you back where it belongs—in the rink.
On 02/22 we will be playing a friendly against Ural, a team from Beverungen, and will also participate at the Good Friday Tournament.
https://www.sma-sunny.com/wp-content/uploads/2013/02/training1.jpg
427
640
Leonie Blume
/wp-content/themes/enfold-child/images/SMA-LOGO-Color_s-1.png
Leonie Blume
2013-02-12 08:48:58
2013-02-12 08:48:58
SMArt Hockey: On the Hunt for the Puck