SMA Smart Connected – What are the Benefits for System Owners?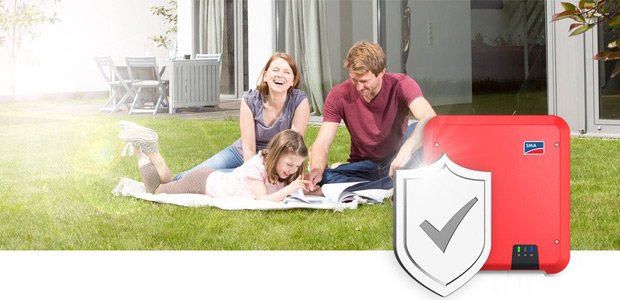 An inverter is the brains at the heart of every solar system. SMA Smart Connected is the new Service Offering from SMA being launched with the new Sunny Boy inverter that means the brains of your solar system just got smarter.
Compared to a traditional product warranty from either SMA or its competitors, Smart Connected is superior in a number of ways. There are a number of benefits for you, the system owner, such as continuous monitoring of the system by SMA, automatic alerts if performance drops unexpectedly and fast proactive response by SMA to correct performance issues related to the inverter. Best of all, this comes free to the system owner while also providing you with the ability to look at your system's live performance from anywhere in the world through the Sunny Portal App on your smartphone or tablet. Read on to discover more of the benefits you'll receive from a new Sunny Boy with Smart Connected.
Your system is monitored by the best!
The inverter is the most critical part of any solar system and no one knows your SMA inverter better than us. After producing the world's first commercial residential solar inverters over 25 years ago, SMA has been continually researching, monitoring, analysing, designing and manufacturing residential solar inverters. During that time SMA has been consistently recognised as the world's most popular inverter brand. There is more solar power around the world using SMA's inverters than any other manufacturer. All this experience is now being channelled into Smart Connected so that your system will be continuously monitored and analysed. Through being connected to Sunny Portal, Smart Connected will be able to know when a problem arises with your system related to the inverter. With SMA's experience and smart system analytics, the problem will be automatically diagnosed, in most cases, before you are even aware there is an issue with your system. When the most critical part of your solar system is your inverter, you want to make sure it's monitored. Smart Connected means your inverter is monitored by the organisation who have more experience with solar inverters and systems than anyone else. Smart Connected means your system is being monitored by the best!
Service Re-defined – Better than a traditional warranty

Typical warranty and service models in many different industries and from many different manufacturers will often require the owner to be aware of an issue with the product and to raise the issue with the manufacturer before it is corrected and the product replaced. For a typical solar system, in the past this has meant that a system owner has had to regularly check their system is working, often contact their original installer to diagnose the issue and only after their installer has contacted the manufacturer does the corrective action or warranty replacement process begin. This means days or weeks with your system potentially not working, costing you time and money to resolve it. SMA Smart Connected is re-defining this service model and is superior to these traditional warranty offerings. Rather than being the last to know of an issue, Smart Connected means SMA will now be the first. Since your system will be connected to Sunny Portal, SMA will be able to remotely diagnose the issue rather than waiting for an installer to attend your system to perform diagnostic checks. Once the problem is understood and the corrective action identified, SMA will contact you and your original installer who can then make contact with you and organise a time to perform the corrective action. All this happens without you needing to check your system, call an installer, or spend your time at home waiting for testing and diagnosis to be completed. The service experience from Smart Connected gives you 100% Ease and Comfort.
Your system will produce more energy for longer, securing your investment
When you invest in a solar system, you are making an investment in your future, helping to control you own energy costs and protect yourself from rising grid electricity prices. So the last thing you want is to have to start paying for grid electricity because your system isn't operating to its full potential. Smart Connected will help ensure your system is operating at its maximum potential, for the longest possible time and keeping any system downtime to a minimum. Smart Connected means your system will generate you more energy over its lifetime than from other suppliers, helping to secure the investment you've made in solar. Smart Connected also comes with a guaranteed maximum delivery time for an inverter needing to be replaced. This means that if SMA takes longer than agreed to deliver an inverter for replacement, you are entitled to compensation to cover the costs of any grid supplied electricity you might need to purchase as a result of any downtime. Outcome; with minimised downtime and compensation, your investment is secured.
Your system in your pocket, where ever you go
Part of Smart Connected is the connection of your system to SMA's online monitoring platform, Sunny Portal. Once your system is on Sunny Portal, you can access it on any internet connected smartphone or tablet, anywhere in the world. Through accessing either the mobile website, or via the Android or iPhone apps, you can check:
live performance values of your system like energy and power,
look at graphs and data of historical performance by day, month or year since installation
Review important information at a glance like total and daily energy yield plus financial and CO2 savings.
You can also check the status of your system via the system log, so that if you receive an email alert you can quickly get the information to explain what's going on with your system. Of course you could also use the information for other important purposes like showing your friends and family your shiny new solar system, how much money you're saving and the small part you are playing to help modernise the world's electricity system and reduce greenhouse gas emission.
How is Smart Connected activated?
Smart Connected is automatically activated with your new Sunny Boy inverter when it is registered in SMA's online monitoring platform Sunny Portal within the required time period. This can be done simply, cheaply and quickly thanks to the inverter's future proofed communication interfaces and WiFi capability. During the process of registering the system on Sunny Portal you will be prompted to fill out some information about your system which will include:
Solar System / Owner's Address
Your Installer's Contact Details / Address
Some other basic contact information
The process should not take more than a few minutes and the information will only be used as part of the Smart Connected process if any problems arise with system (your information will remain private according to the Data Protection Declaration in Sunny Portal).
Once Smart Connected is activated, the only things you need to do keep the service active is:
Ensure the system remains connected to Sunny Portal
Update any contact details if they happen to change
Fill out online claims for reimbursement (where applicable)
So apart from ensuring the system is able to be connected to the internet and updating details if they happen to change, there is nothing else you'll need to do to enjoy the benefits of Smart Connected for the duration of the factory warranty period.
Conclusion
SMA's new free service offering Smart Connected can better guarantee your solar system's performance and is superior to a traditional warranty offered by SMA or its competitors. Through Sunny Portal and SMA's smart system analytics, the brains of your solar system just got smarter with real time monitoring and pro-active service, minimising system downtime and maximising investment return. You also have the added benefit of being able to walk around with your system in your pocket through your smartphone and the system's connection to Sunny Portal. Smart Connected with the new Sunny Boy is simply peace of mind and security of your investment in clean solar energy.
For more information please visit our website.
https://www.sma-sunny.com/wp-content/uploads/2017/01/SMASmartConnected.jpg
300
620
Scott Partlin
/wp-content/themes/enfold-child/images/SMA-LOGO-Color_s-1.png
Scott Partlin
2017-01-27 15:29:07
2018-02-12 12:14:13
SMA Smart Connected – What are the Benefits for System Owners?