SMA Latest News April/May 2015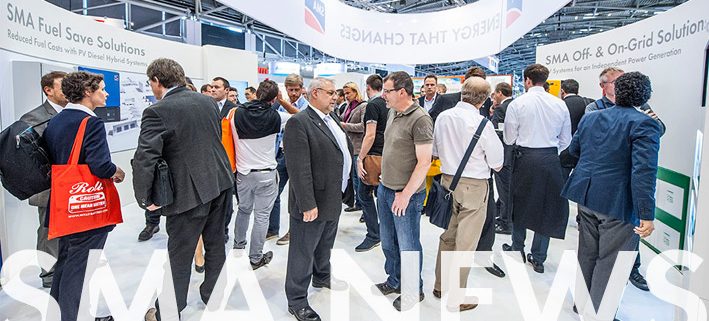 Here are some latest news from SMA. We hope this is helpful for you. Please tell us your questions and let us know what you think in the comment section.
SMA at this year's Intersolar Europe
SMA will be presenting innovations for all areas of application in photovoltaics at this year's Intersolar Europe in Munich from June 10 to June 12, 2015. The key focus will be on comprehensive system solutions for greater independence in the use of energy. In addition to the completely newly developed Sunny Boy 1.5/2.5 for high self-consumption with small PV systems, SMA will also show new developments in domestic energy management with SMA Smart Home.
For commercial businesses, the new system solutions based on the Sunny Tripower and Sunny Island offer greater independence even in the event of grid failure. For large-scale PV power plants, SMA will be demonstrating a new type of container solution at Intersolar Europe for the first time. This combines a 2.5 MW central inverter, a medium-voltage transformer and medium-voltage switchgear as a turnkey solution in a standard container.
More information in our press area
High market share in the UK following March ROC deadline
SMA Solar UK estimates to have reached at least 35% market share in the UK, after successfully commissioning a massive number of UK PV plants, enabling its customers' to meet the ROC (Renewable Obligation Certificate) deadline. Backed by a comprehensive service offering, including highly trained professionals from the Western European Region (UK, Benelux and France), SMA was able to offer quick installation and grid connection, even for the largest PV plants.
Sunny Tripower 25000TL-JP soon available for the Japanese market
The new solar inverter Sunny Tripower 25000Tl-JP will be available starting in June 2015. The inverter is based on the well-known Sunny Tripower platform and already fully meets FRT (Fault Ride-Through) requirements in accordance with JEAC9701-2012 (chapters 3-4), due to take effect in Japan in March 2017. This means additional planning security for PV system operators. The Sunny Tripower 25000Tl-JP is suitable for use in larger, decentralized medium-voltage PV plants in Japan.
The Sunny Tripower 20000TL/25000TL ready for use in Romania
Certified in accordance with the Romanian requirements "Official Gazette of Romania, Part I, No. 312/30.05.2013 (ANRE30/NT30)," the Sunny Tripower can be used in large-scale PV power plants starting at 400 kVA in Romania, effective immediately.
The serial devices are equipped at the factory with the necessary firmware version 2.82. from April on. Existing devices can be updated by downloading the free firmware update.
Find more information in this manufacturer's declaration (pdf)
More information?
For more information please subscribe to our newsletter. If you have any questions concerning the newsletter please contact Christiane Keim via sunnynews@SMA.de
https://www.sma-sunny.com/wp-content/uploads/2015/05/smanews_05_15.jpg
378
709
Leonie Blume
/wp-content/themes/enfold-child/images/SMA-LOGO-Color_s-1.png
Leonie Blume
2015-05-12 13:55:57
2015-05-12 13:55:57
SMA Latest News April/May 2015