SMA India: Celebration of victory of good over Evil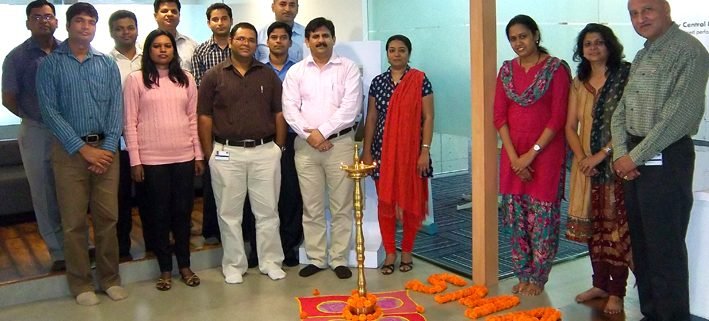 Dussehra, a ten day long festival is celebrated throughout India with great religious beliefs. According to the Hindu calendar this important festival of the Hindus falls in the second fortnight of the month of 'Ashwyn'. It is the festival of victory and triumph, the victory of good over evil. We from SMA India joined in celebrated this highest hinduistic feast.
Celebration at SMA India
The ten days of Durga Puja began on Tuesday 16th Oct — the sixth day of the full moon that follows Mahalaya and ends with the Vijaya Dashami on 24th Oct. On this auspicious day we SMA India employees joined the celebration of triumph of good over evil with pomp and splendour — blending seamlessly into the local colors of Navratri celebrations and organized a puja, where we seeked blessings of the Goddess Durga to equip ourselves to fight all bad in the world and carry out good work all over. Started with decoration of office with Rangoli and Toran on the entrance with yellow flowers and tilak (holy mark of god) on machineries and equipments. Preparing Puja thali (prayer plate) containing lamp, with flowers, chandan (holy color), offered dhoop and diya to our tools and machinery on which we work daily , distributed sweets and different Indian eatables like Samosas, Dhoklas, Jalebi, Rasagullas–significant ingredients of add up happiness and joy in life.
 Importance of the day: Victory of God Rama over Ravana
On this day in the Treta Yug, Rama, also called Shri Ram, the seventh avatar of Vishnu, killed the great demon Ravana who had abducted Rama's wife Sita to his kingdom of Lanka. Rama, his brother Lakshmana, their follower Hanuman and an army of monkeys fought a great battle to rescue Sita. The entire narrative is recorded in the epic Ramayana, a Hindu scripture.
Rama performed "Chandi Homa" and invoked the blessings of Durga, who blessed Rama with secret knowledge of the way to kill Ravana. On the day of Ashvin Shukla Dashami, Rama's party found Sita and defeated Ravana. Thus it is termed as Vijaya Dashami.
 Celebration across India
There are many customs followed to this feat, that are believed all across India.
In Northern India, the life of Lord Rama is enacted as Ramlila for nine nights and on the tenth day the effigies of Ravana along with his brother Kumbhakarna and son Meghnad are burnt with a lot of fanfare. It is believed that in order to conquer Ravana, Rama had prayed to Goddess Durga for nine days and on the tenth, he succeeded in slaying Ravana. Tools, weapons, cattle and books, which represent knowledge and learning, are worshipped.
In North-East huge decorated idols of Goddess Durga are worshipped for nine days and immersed into the sea or river on the tenth day amidst religious chants. A variety of cultural programs are also presented in the public pandals where Durga Pooja is held.
In the West Goddess Saraswati is also worshipped along with Goddess Durga. Navratri is celebrated with nine nights of Ras and Garba dancing. On Dussehra day, the leaves of the 'shami' tree, referred to as gold, are presented to friends and relatives.
In Southern India, a wonderful display of dolls is the manner of celebrating Dussehra. A small pot known as 'Kalash' which symbolizes the Goddess of strength and fertility is worshipped.
In big cities, however, all these rituals, customs and traditions have got mingled as everybody has a good time celebrating the festival in their own way. Even in this happy mix the importance of the festival remains and reminds the people that good shall always prevail over evil.
Other Guest Authors
Vishal Kedar is a Service Engineer (PPS, MPS & OGS) for SMA India. He has been with SMA since November 2011. Vishal likes playing cricket and going on long drive.
Samprit Srivastava is a Service Engineer (Transformer Lead, PPS & MPS) for SMA India. He has been with SMA since March 2012. Samprit likes reading Books and hearing Music.
https://www.sma-sunny.com/wp-content/uploads/2012/10/Dussehra.jpg
378
709
Leonie Blume
/wp-content/themes/enfold-child/images/SMA-LOGO-Color_s-1.png
Leonie Blume
2012-11-13 12:35:09
2012-11-13 12:35:09
SMA India: Celebration of victory of good over Evil