The SMA Export Limitation System Or: How to Reduce Costs with Commercial PV Plants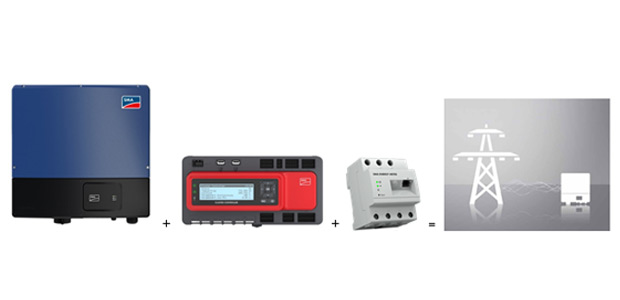 You can now install all the PV you need, without extra costs to reinforce the connection to the electricity grid. How? With an SMA Export Limitation System.

Export limitation is controlling the amount of power from a PV installation that is exported to the electricity grid. It is especially useful for companies who have a high power demand during certain times. When the power demand is lower, the system will limit the amount of generated power so it does not flow to the grid.
SMA Export Limitation system
The SMA Export Limitation system is a sophisticated yet simple to implement way of managing the amount of exported power. The system requires the SMA Cluster Controller, the SMA Energy Meter and compatible SMA inverters. The Cluster Controller controls the export power based on data received from the SMA Energy Meter and the inverter(s). When necessary, the Cluster Controller can tell the inverters to limit their production. The system meets all requirements for performance and safety.
The benefits
With the SMA Export Limitation system, owners can reduce electricity costs without extra investments to reinforce the connection to the electricity grid. They can install the full capacity of PV that their location can support, without exceeding the Distribution Network Operator's (DNO) limitation. The PV installation will never export more than the allowed power onto the grid so there are no extra costs for upgrading the grid infrastructure and the DNO does not have to worry about an extra burden on the grid. The SMA export limitation system has been extensively tested and has proved that it meets all requirements for safety and performance. Besides being technically advanced and reliable, the system is easy to use as well. The installation and set-up are basically plug-and-play.
First installation a success
In October 2015 the SMA Export Limitation system was put to the test for the first time in the UK. Regilbury Farm, a dairy farm near Bristol, required a PV installation with export limitation. They wanted to place an installation of 50 kWp, while the grid was limited to 11 KVA. As SMA has solutions for both, we were very happy to work together with SolarSense and the DNO for the installation and witness test of the system. Both the end user and the installer were very pleased with the results. So was the DNO, they had extensive demands for export limitation and the SMA system met them all.
Find out more about the SMA Export Limitation system and test case on our website
https://www.sma-sunny.com/wp-content/uploads/2016/01/SMASolar_Export_Limitation-1.jpg
300
620
Dagmar Buth-Parvaresh
/wp-content/themes/enfold-child/images/SMA-LOGO-Color_s-1.png
Dagmar Buth-Parvaresh
2016-01-27 12:55:19
2017-12-13 16:12:43
The SMA Export Limitation System Or: How to Reduce Costs with Commercial PV Plants