SMA Exhibiting at Intersolar 2017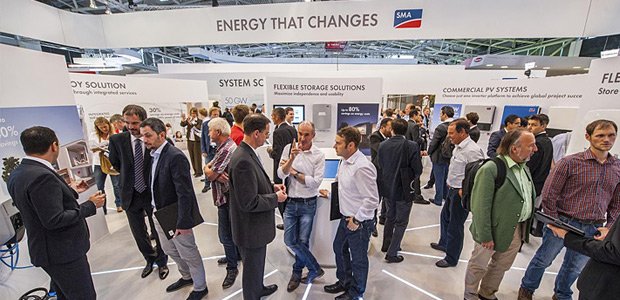 Intersolar began in Pforzheim in 1991 as a small but dignified exhibition with a total of five (!) exhibitors, moved to Freiburg in 2000 and has been held in Munich since 2007. The leading international trade fair for the solar industry, with offshoots in North and South America, India and the Middle East, attracts tens of thousands of visitors annually. It will open its doors in Munich again this year on May 31 with the latest trends, exciting developments and pioneering technologies. Over the three days, more than 40,000 visitors are expected to visit approximately 1,200 exhibitors to learn about photovoltaics, energy storage and renewable heating, as well as products and solutions from the field of smart renewable energy.
SMA will be meeting them at booth B3.210 in hall 3. Our product managers will introduce you to a few of the exhibition's highlights. Further you'll get a first impression of the new SMA Energy Solutions.
Seven selected highlights of SMA
1. Sunny Tripower Storage
Load flow optimization – for lower electricity supply costs
"As a three-phase battery inverter, the Sunny Tripower Storage is perfectly suited to worldwide use in commercial and industrial systems with high-voltage batteries. With the bidirectional device our customers can implement system solutions up to the megawatt class. Thanks to the integrated energy management, the Sunny Tripower Storage supports a variety of grid management services and thereby opens up new business models."
2. Sunny Tripower CORE1
Reduces installation costs – stands on its own
"With the new Sunny Tripower CORE1, SMA is proving its leadership in innovation once again. With this 50 kW inverter for commercial systems, we are setting new standards in installations on flat roofs and ground surfaces. The freestanding inverter allows a commercial system to be installed up to 60% more quickly and simultaneously reduces the total cost of ownership considerably. Therefore, the CORE1 has also been nominated for the Intersolar Award."
3. Sunny Highpower PEAK1
Combined benefits – central installation with string inverters
"This inverter is the successor to the Sunny Tripower 60 and is based on the system concept featuring the central installation of string inverters in large industrial and ground-based PV systems. With 75 kW of power, the Sunny Highpower Peak1 is ideal for use in PV power plants. Thanks to this system concept, customers have maximum flexibility in system design – combined with significant cost savings."
4. MVPS 5500SC-EV
For PV power plants worldwide – because complete is simply a good thing
"The 5500SC-EV Medium Voltage Power Station is a fully integrated, turnkey solution in ideal block size for large-scale PV power plants. Building on the tried and tested MVPS container technology, SMA has now developed the optimal solution for large-scale PV power plants, in a compact, 40-foot format with all components in one container. Inverter, medium-voltage transformer and switchgear are perfectly matched and type-tested for maximum system safety at minimal cost."
5. Sunny Boy Storage 3.7/5.0/6.0
Battery power times three – ideal for all PV storage systems in the residential sector
"With the new multi-string battery inverters, it is possible for the first time to connect up to three different high-voltage batteries. For connecting larger batteries, the three DC inputs can also be connected in parallel. Uniquely, all new Sunny Boy Storage inverters offer integrated emergency power. In addition, the system can be expanded to supply the entire household with fully automated automatic grid transfer switch. Thanks to AC coupling with proven qualities, the new Sunny Boy Storage is ideally suited to new and retrofit systems, for all households with annual electricity consumption of 3,000 to 12,000 kWh and for PV systems from 3 to 12 kWp."
6. Sunny Island 4.4M/6.0H/8.0H
For off-grid and on-grid – with internet-based user interface
"The motto of our new Sunny Island is: TRIED AND TESTED is now even better. The battery inverter is a reliable all-rounder and suitable for flexible use in off-grid and on-grid systems. It enables easy communication and commissioning as a result of integrated WLAN. The new Sunny Island now always has a ten-year warranty and a significantly lower price!"
7. Sunny Central Storage 2200/2500-EV
The storage system for power plants – ensuring network stability
"The new large-scale Sunny Central Storage is the flagship of all SMA battery inverters. As the central component of the SMA system solution for large storage systems, the new Sunny Central Storage 2200/2500-EV battery inverter allows integration of a high level of renewable energies into utility grids with maximum grid stability. With its new properties for grid-forming and black starts, it can be used worldwide in all utility grids."
Last but not least
In addition to the new products, SMA will be unveiling an entirely new cross-segment energy management platform in Munich. With this solution, SMA aims to offer users Energy Solutions to get the most out of renewable energies. What exactly does this mean? Come and see for yourself at our booth.
A free ticket to Intersolar
Do you want to get a free ticket to Intersolar Europe? If yes, you should answer the question below:
Which SMA product is nominated for the Intersolar AWARD 2017?
Send your response to SocialMedia@SMA.de. If you are lucky, you will receive tickets via e-mail. You'll find the SMA booth in Hall 03, Booth 210.
https://www.sma-sunny.com/wp-content/uploads/2017/04/SMASolarIntersolar2017-1.jpg
300
620
Dagmar Buth-Parvaresh
/wp-content/themes/enfold-child/images/SMA-LOGO-Color_s-1.png
Dagmar Buth-Parvaresh
2017-05-03 12:18:17
2018-02-12 12:11:57
SMA Exhibiting at Intersolar 2017