Season's Greetings and a Sunny 2014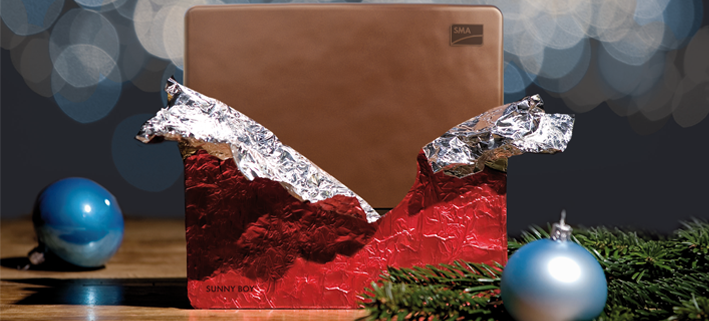 A turbulent year is drawing to a close. The solar industry experienced highs and lows, as it does every year. We had the pleasure to work on a lot of great projects, and saw how using photovoltaic diesel hybrid systems is gaining importance in remote regions of the world.
As the year ends, we are taking stock of the last 12 months, and also looking ahead
We asked a few SMA employees what they wish for in 2014. Here are their answers:
"I would love it if the numerous new photovoltaic markets such as Turkey, Saudi Arabia and Chile started to gain momentum."
"I look forward to the opportunity to expand our fuel saving business in North African countries like Egypt and Libya."
"Among other things I wish that the EU would agree on a photovoltaics and energy transition directive with common goals and regulations for all member states."
"I wish for less ideology and more objectivity in the discussion surrounding the energy transition. That would benefit everyone."
"I wish that photovoltaic growth worldwide would echo what we've seen in Germany over the last two years."
"I hope that in 2014, Africa, as the world's poorest continent – and the one with the most to gain from photovoltaics – will benefit from the PV boom. And I'm also hoping that no new nuclear power plants will be built."
"Fair competition, people continuing to welcome and demand renewable energies, and new solutions that make using photovoltaics even easier."
"My wish is for the next United Nations Climate Change Conference to set the goal of 100 percent renewable energy by 2025. And for us to set up tons of diesel power plants with our Fuel Save solutions."
"May this Christmas wrap up the year on a cheerful note and make way for a Sunny New Year filled with new opportunities. Wishing you and your family a happy 2014 filled with peace, health, happiness and prosperity!"
What's on your wish list? We'd love to hear from you.
We wish you a restorative holiday season and a happy New Year. We will be back again on January 06 with new and exciting topics.
Wishing you all the best,
Your SMA Social Media Team
https://www.sma-sunny.com/wp-content/uploads/2013/12/xmas2013-1.png
378
709
Leonie Blume
/wp-content/themes/enfold-child/images/SMA-LOGO-Color_s-1.png
Leonie Blume
2013-12-18 14:07:56
2013-12-18 14:07:56
Season's Greetings and a Sunny 2014