Repowering makes PV Power Plants fit for the Future
SMA Repowering for large scale PV power plants
Invest and keep operating, or dismantle it? Ideally, this is a question that operators of PV power plants only have to ask when a plant is nearing the end of its planned productivity period. But decreasing yields, faulty components or a lack of data security may be reasons to start thinking about modernizing a PV power plant before the estimated end of its lifetime. So which measures can be used to restore and even increase the efficiency of a PV power plant?
Repowering – the modernization of PV power plants – plays a particularly major role in places where high capacities were installed several years ago. For example in Germany, where around nine gigawatts of PV power plant capacity had been installed by the end of 2014; throughout Europe, it was almost as much as 30 gigawatts. In addition to Germany, the markets with the most installed PV power plant capacity at the right age for repowering include Italy, Spain, the UK, France and the U.S. Asian countries, particularly China, will also play an important role for this market segment in the future.
Higher availability, new sources of income, falling repair costs
In contrast to the wind power sector, where the term "repowering" has long been commonly used, in the PV sector it is not about replacing a small, now inefficient plant with a newer and bigger one but primarily about replacing old modules and/or inverters, which often no longer satisfy all the demands of modern and future-proof energy generation due to the rapid development of technology in this area.
Of course, not all PV systems that have been built to date need to be modernized. But in many cases, the yield can be increased by using modernization measures to achieve higher system availability and better efficiency of the system components. In addition, operators can tap into new sources of income, for example, by providing grid management services or storage systems. Another advantage of repowering is that it reduces ongoing maintenance and repair costs. Thanks to new devices, the system is less susceptible to failures and does not require as much repair work. Furthermore, new components also mean new factory warranties and the option to conclude new extended warranty contracts with more favorable conditions.
There are many different reasons for repowering a PV power plant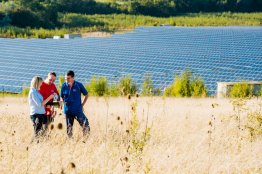 The plant is not performing as expected, and the yields that were actually planned are not or no longer being achieved. This may be due to sudden damage or increased susceptibility to failures as a result of the plant's age or the failure of components.
The quality and equipment of a PV power plant no longer satisfy the requirements originally planned. This effect, which often only becomes noticeable years later, is mainly seen in markets where there was a high level of PV installation within a short space of time.
Inverter efficiency is too low. Particularly in power plants that are more than twelve years old, the degree of efficiency is often up to two percent lower than of modern inverters.
Poor availability of replacement parts
Manufacturers withdrawing from PV business, resulting in the loss of long-term maintenance contracts, replacement part contracts and warranty services.
 Power level must remain the same
The need for a repowering measure is usually based on underperformance by a PV power plant. If the reasons for this are to do with the inverters, then the challenge is to change as little as possible of the power plant's original design and keep using as many components as possible. Changes in the DC-side cabling and replacement of medium-voltage transformers should be avoided for cost reasons. This means that important criteria such as DC voltage and AC voltage are already predefined. The power level is also determined by the existing system structure. Generally, a plant's nominal/feed-in power also must not be changed as a result of modernization.
Project-specific customizing required
Due to the rapid developments in system technology, particularly in terms of the typical operating voltages of a PV power plant and the typical power of a central inverter, a one-to-one inverter replacement is not usually possible. Instead, project-specific adjustments need to be made to the new devices to customize them.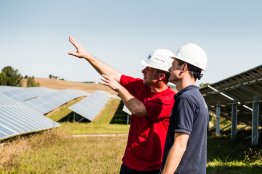 One common customization measure is to limit the inverter power in order to comply with the contractually agreed connected load. Although this reduction results in an increase in the specific inverter price (ct/W), this effect is mitigated by the fall in prices for inverters. Inverter prices have fallen dramatically in recent years – by more than 75% between 2010 and 2017, for example. Checking for compatibility between the existing components and the new ones is another key aspect of repowering. All process steps, from the root cause analysis to the design of a project-specific solution, are offered by SMA Solar Technology AG as part of its new "Engineering Services" service product.
Step-by-step repowering
In view of the total investment required to modernize a power plant, step-by-step repowering represents an attractive approach for power plant operators. This means that the inverters are not all swapped over at the same time, by instead are replaced gradually. The replaced devices can be used as a spare parts pool for old devices in operation in the portfolio. This helps ease any shortages in the spare parts supply, thereby reducing risks for the operator.
Certification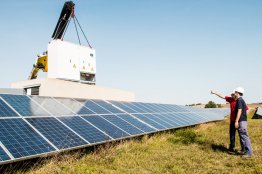 Another important aspect of system modernization is the different forms of certification, as the applicable legal conditions depend on when and where the PV power plant is installed. Certification aspects may affect both connection approval and feed-in approval as well as the feed-in tariff. In Germany, the feed-in tariff is primarily connected with the PV module under the Renewable Energy Sources Act (EEG) and has nothing to do with the inverter – at least directly. However, the inverter is a key component of the plant certificate that has been obligatory since 2010. For this reason, if a relevant change is implemented at a plant with a plant certificate, then usually the plant certificate also needs to be updated. When the national implementations of the European network code "Requirements for Generators" (RfG) come into force shortly, this will give rise to new and additional requirements that must be taken into account.
Grid operators generally look favorably on modernization plans. After all, inverters have evolved considerably over the past ten years, particularly with regard to grid interference and grid management services such as dynamic grid support and frequency-dependent feed-in. This is also confirmed by the discussions with certifiers and grid operators that SMA Solar Technology AG holds.
Author

Andreas Steets
Product Manager for Repowering Utility at SMA
https://www.sma-sunny.com/wp-content/uploads/2019/06/Repowering_Blogpic.jpg
676
1400
Leonie Blume
/wp-content/themes/enfold-child/images/SMA-LOGO-Color_s-1.png
Leonie Blume
2019-06-10 10:00:52
2019-06-07 10:03:07
Repowering makes PV Power Plants fit for the Future