Renewable Electricity Supply for Nigeria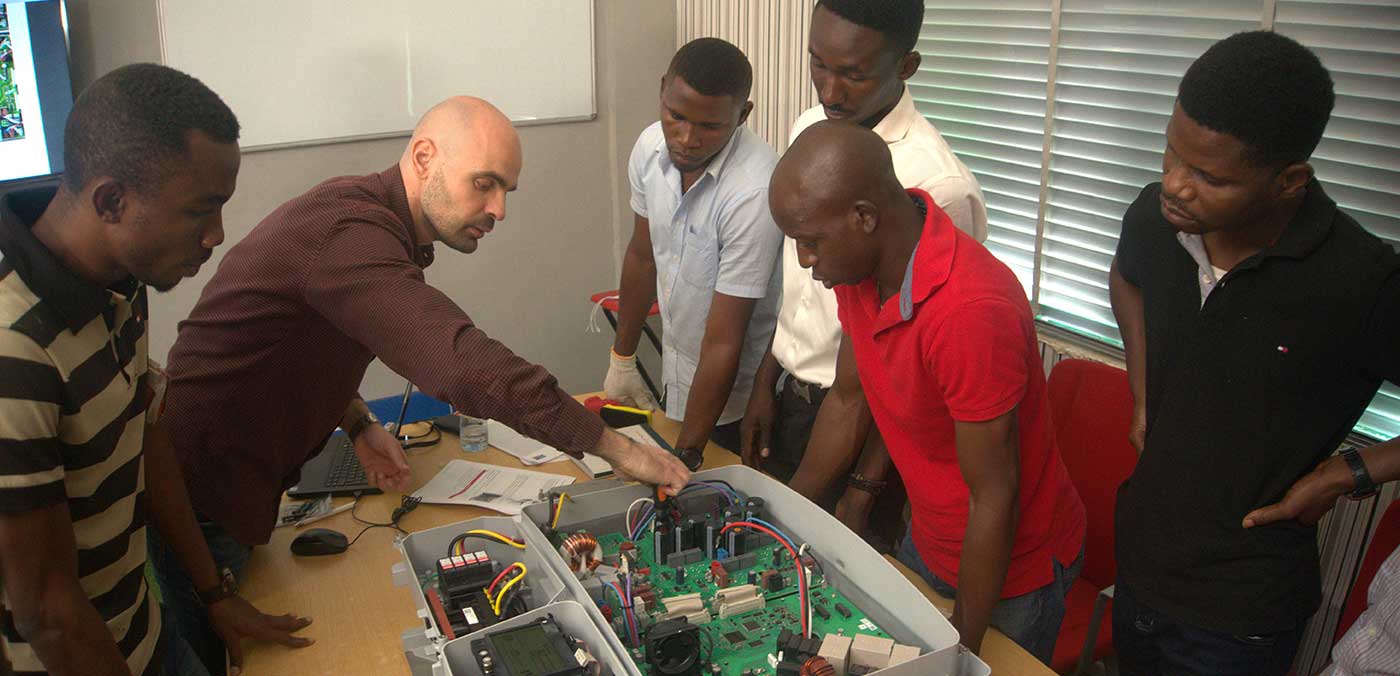 Plenty of oil, but little electricity. Nigeria may be rich in raw materials, however, electricity supply leaves much to be desired. SMA supports the energy transition in Nigeria's commercial and rural energy supply with a range of intelligent solar solutions and local training programs. Solar micro- and stand-alone grids ensure sustainable economic development in this Sunbelt nation.
With a population of around 200 million, Nigeria is the most populous country and the largest national economy on the African continent. Unfortunately, this Central West African state also tops the table when it comes to power outages — that is, if a utility grid connection is available at all. Strong grid fluctuations and long power outages are part of everyday life. The transmission and distribution grids in this developing country are in extremely poor condition and the power plants are inefficient. The current installed electricity generation output is only around 12 GW (in Germany, by comparison, around 200 GW of power plant output went on-grid in Germany in 2017). And to make matters worse, more than half the population currently has no access at all to the utility grid.
The future belongs to micro- and stand-alone grids
Factories and workshops often get by with diesel generators, with all the soot and noise that these entail. Not only is this bad for air quality and the quality of life in Nigeria, but small companies in particular often cannot afford to maintain the generators. A functioning electricity supply is indispensable for Nigeria's economic development.
The World Bank has now promised a loan of $350 million to the Nigerian government for the construction of 3 GW of solar-based micro- and off-grid systems. Located inside the world's Sunbelt region, Nigeria has an almost inexhaustible potential for solar energy.
Regular local training programs
SMA supports the ambitious expansion targets of 30 GW by 2030 by offering solutions for a sustainable energy supply in rural and urban areas. "Rural electrification and commercial self-consumption using a battery-storage system are currently the main priorities here," said Guluma Megersa from SMA Sunbelt. He has just returned from a training program on board exchange, where SMA Service provides local training for selected installers. "If local installers can independently inspect defective inverter assemblies and replace them on-site if needed, this will reduce downtime and service costs," explained SMA Service trainer Giannis Goumas.
Solar Training: Board Exchange (Nigeria)
"Our robust devices are ideally suited to the market because they can withstand the strong fluctuations on the local utility grid and generate clean electricity during the day," said Guluma. "The participants were really excited by the potential." Thanks to the provision of reactive power during the night (Q @ Night), SMA inverters counteract voltage fluctuations at the point of interconnection. In addition, the grid-forming SMA battery inverters enable a stable solar electricity supply in the event of power outages in micro-grids and off-grid regions.
"At the beginning, we had to educate a lot of people on the potential of solar electricity," said Guluma. "After all, many private and institutional decision-makers are aware only of solar street lighting or very small Pico Solar systems with an output of less than 200 W, which, in most cases, are not professionally installed and have to be replaced after a few years."
As part of regular training programs, SMA Sunbelt teaches project developers and local electrification authorities (Rural Electrification Agency, Ministry of Power, etc.) how to design off-grid and hybrid systems.
More specialized training programs — for example, on system monitoring and control — are also provided if necessary. "Know-how transfer and the provision of market-specific training programs for our partners in the Sunbelt region are core elements of our strategy," said Jens Birkholz, Sales Manager at SMA Sunbelt. "The training program offered by our Solar Academy at SMA Headquarters is doing groundbreaking work here. However, for some clients, especially those in developing countries, it can be difficult to obtain visas so that they can attend training programs in Germany. This is why, in collaboration with the Solar Academy, we are bringing these training programs to the target regions themselves. The response to the new board exchange training program has been great, and we have received numerous requests for training programs in other countries. We are currently in the process of arranging these."
Turnkey solar solutions from a single source

SMA Sunbelt Energy GmbH is a 100% subsidiary of SMA Solar Technology AG. It was founded in 2014 with the aim of realising off-grid, hybrid and battery-based PV projects. SMA Sunbelt concentrates on regions in the Earth's sunbelt: Africa, Central America and the Caribbean, the Middle East, Southeast Asia and the Pacific region.

Sunbelt supplies the complete SMA Off-Grid portfolio and offers associated services for the Off-Grid segment. In the PV hybrid and storage segment, SMA Sunbelt is a specialist for international project development and EPCM (Engineering, Procurement, Construction Management; EPCM is an extended form of project management and includes project and construction management in addition to detailed planning, creation and construction). Sunbelt customers benefit from more than 30 years of SMA know-how in the field of PV hybrid solutions. To receive everything from a single source — inverters, batteries, PV modules and accessories — is a major advantage for complex import regulations.
Are you an electrically skilled person or solar technology specialist with local training requirements? If so, please contact: sunbelt@sma.de
Please find the complete offer in the SMA Solar Academy training program.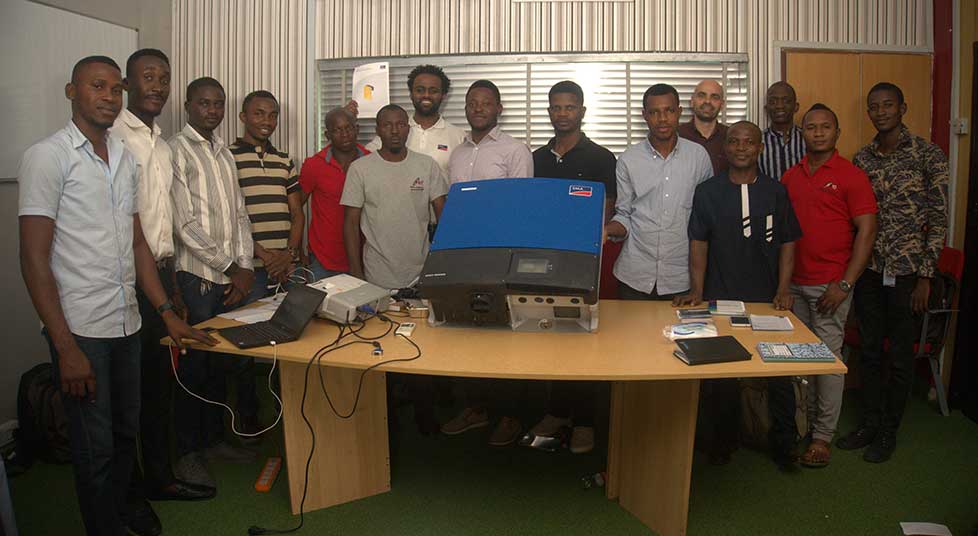 https://www.sma-sunny.com/wp-content/uploads/2019/01/solar-inverter-board-exchange-training-africa.jpg
676
1400
Anke Baars
/wp-content/themes/enfold-child/images/SMA-LOGO-Color_s-1.png
Anke Baars
2019-01-31 12:46:51
2019-10-30 15:18:41
Renewable Electricity Supply for Nigeria