Ready for off-grid supply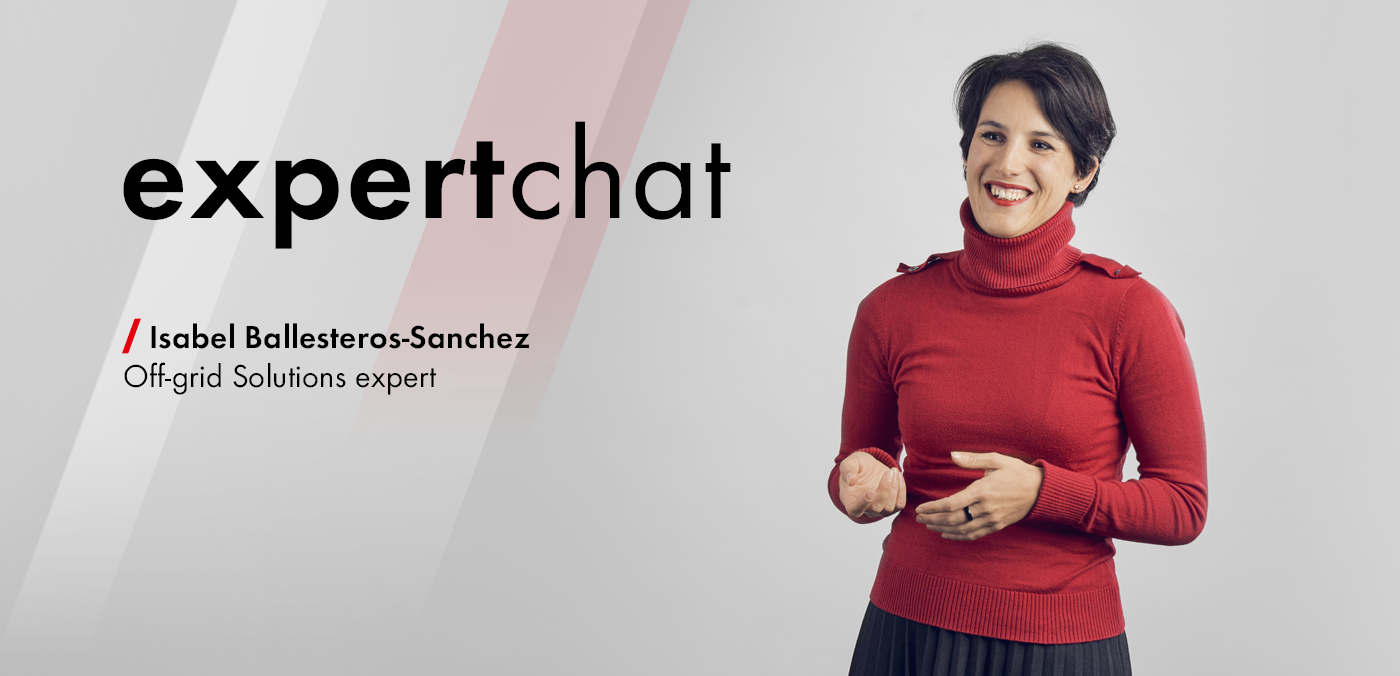 Stand-alone grids can be found all around the world — at the South Pole and in East Asia, deep in the jungle and in idyllic holiday regions. Solar stand-alone grids provide a stable electricity supply far away from utility grids – often even 100% from renewable energy. They form the basis for sustainable economic development. Isabel Ballesteros-Sanchez has already implemented countless off-grid projects for SMA and inspires optimism for a world full of off-grid systems.
Everybody is currently talking about battery-storage systems. What role do they play in stand-alone grids?
Batteries ensure that renewable energy is constantly available. In stand-alone grids, they are essential for a self-sufficient energy supply, because they store renewable energy such as solar and wind power for times when there is neither sun nor wind but energy is still needed. This is useful in developing countries where diesel generators are often used when there is no utility grid. Those are expensive and harmful to the environment and local people's health. However, electricity is often a fundamental requirement for education and thus economic development. Stand-alone grids can provide electricity in a particularly reliable and sustainable way by using solar energy and battery-storage systems. They also promote local value added on-site, for example if the systems are maintained by local service teams.
A stand-alone grid is also a sensible option for a secure electricity supply if a utility grid is available but unreliable. After all, economic factors obviously play a role for industrial or agricultural business. Machinery and equipment need to run reliably. And this can be achieved cost-effectively and sustainably with stand-alone grids based on solar energy. The many different possibilities of stand-alone grids make my job exciting and varied.
In the northern German town of Bordesholm, an experiment at an electric utility company has now shown that it is even possible to supply entire regions with 100% renewable energy using a stand-alone grid. Why can't everyone supply themselves with energy independently like this?
The question is always how many and which renewable energy sources do I have available when, how high is the electricity demand, and how large do the storage systems need to be? The storage systems on the grid work excellently for temporarily bridging power outages. For sustained use, we would have to install renewable energy on a very large scale and develop additional suitable storage technologies. And then we citizens of affluent societies, in particular, also ought to rethink our electricity consumption habits. Without electricity, nothing in our society works anymore. Of course, we only become aware of this when there is a power outage. PV systems on the grid with a storage system consisting of a battery and a Sunny Island or Sunny Boy Storage battery inverter are ideally suited for precisely such cases. With the optional secure power supply or backup function, households can simply continue to temporarily supply themselves with electricity in the event of a power outage. The stand-alone grid then automatically takes over the electricity supply and synchronizes with the utility grid as soon as it becomes available again. Another advantage: With a storage system on the grid, the system operator reduces the electricity purchased from the utility grid and makes the energy supply considerably more renewable.
What is your tip for those planning off-grid systems?
One very important point when planning an off-grid system is the actual energy demand, as this figure forms the basis for the size of the PV system and the battery capacity. This figure is often underestimated. Once the system is up and running, power consumption suddenly increases. If consumption is then higher than originally planned, the designed system soon becomes too small and cannot fulfill its intended purpose adequately.
Another important aspect for calculating the system is its nominal and maximum power. We use these figures to calculate how many Sunny Island inverters are needed to supply all connected loads without any difficulties.
If available, it may also make a lot of sense to connect a combination of both the utility grid and a generator to the off-grid system. Then in the event of a longer-term grid failure where the battery capacity is no longer sufficient to bridge the grid failure after a period of time, you can switch to the generator.
Routers and SMA Data Managers should also be connected with a DC/DC charge controller on the battery side to ensure they are always supplied from the battery.
The Sunny Island just has so many interesting features, it's best to make a separate article.
Which storage system is your personal highlight?
One special system for me is definitely the Princess Elisabeth polar station in Antarctica. I planned it twelve years ago, and last year the installer Guus approached me about expanding the system. This project has always fascinated me due to the extreme climatic conditions, and our devices here have literally withstood ice and snow and shown real staying power.
The same applies to the system on Eigg Island in Scotland, which still is not connected to a utility grid and has been supplying the residents with electricity for 13 years. It was expanded last year. This hybrid system uses hydroelectric power plants, wind power, PV power and diesel generators as backup.
There are so many impressive systems in off-grid regions in Africa and Asia where our systems provide a sustainable electricity supply. Or, for example, on islands on Lake Titicaca in South America, in the Caribbean, or in Polynesia that are far away from utility grids. However, you don't necessarily have to travel so far to find them. Last year while I was on vacation on Cabrera, a small archipelago near Majorca, I happened to come across a maintenance team at a PV system with an SMA Multicluster Box 12. I was able to help adjust the battery parameters there. This is exactly what fascinates me so much ‒ that our systems are used all around the world and makes our energy supply more sustainable.
Where would you most like to live off-grid?
Being from Spain, I would like it on Ibiza ?. There are actually a lot of off-grid systems already, since islands are really ideally suited for them. In addition to sun, there is a lot of wind that can be used as a natural resource.
Want to find out more about stand-alone grids?
For smaller off-grid systems in private homes or mountain hotels, click here.
For commercial off-grid systems including village power supply, click here.
For stand-alone grids in the power plant sector, click here.

https://www.sma-sunny.com/wp-content/uploads/2020/07/2020-06-15-expert-chat-Ballesteros-Sanchez_V2_BLOG.jpg
676
1400
Anke Baars
/wp-content/themes/enfold-child/images/SMA-LOGO-Color_s-1.png
Anke Baars
2020-07-09 09:15:20
2020-07-15 11:19:15
Ready for off-grid supply