Philippines: One of the World's Largest Photovoltaic Plants Including String Inverters Commissioned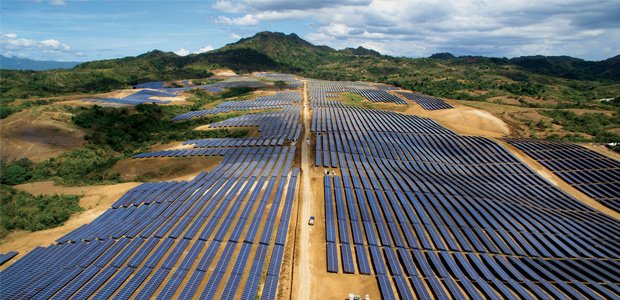 The Catalagan Solar Farm on the Philippine island of Luzon was commissioned in March. At 63 MW, it is one of the world's largest photovoltaic plants including string inverters, supplying solar power to the entire western part of the Batangas province. Spread over approximately 160 hectares (about 400 acres), the solar farm includes more than 200,000 PV modules, along with 830 Sunny Tripower 60 inverters and 23 SMA Inverter Managers.
Updated on June 29, 2016: In China, an even bigger PV power plant with string inverters is currently being launched; in this regard, we have adapted our article slightly
The project was completed entirely by Solar Philippines, a Philippine company whose CEO, Leandro Leviste, is just 23 years old. Considered a rising star in the Philippine economy, Leviste takes Tesla founder Elon Musk as a role model and views the nation's young solar industry as a great opportunity. Solar Philippines is already planning three more solar installations,  generating about 250 MW of solar power in all.
During the construction phase, Solar Philippines employed about 2,500 workers. Approximately 100 employees will remain in place. Thus, even after construction is complete, the region will benefit not only from the solar energy, but also from more jobs.
To support the PV power plant commissioning, Andreas Hoefer and Mathias Zenker from SMA traveled from Niestetal to the site. They describe their experience below.
"The trip to the PV plant was long and tiring. After flying 11,000 kilometers (nearly 7,000 miles), we drove 140 km (86 miles) across the island of Luzon to reach the site. That leg of the journey alone took five hours, an interesting consideration in terms of delivering the inverters. With such an arduous overland journey, it can be a great advantage when a project uses "small" string inverters for decentralized PV systems.
Overall, in our five-day trip we spent 30 hours traveling to and from the site. And at least the first two days at the PV plant were tough—not least because it was so hot (38°C/100°F).
Mutual respect
As we provided support for the PV plant commissioning, we were impressed by how well everyone worked together, with respect on all sides. This was true across all the disciplines represented on-site. There were several teams of AC grid experts, communications specialists, service technicians for the inverters, and even the investor himself.
The whole approach was purposeful and solution-oriented. It was great to see, and it helped us successfully analyze the technical difficulties that arose and suggest ways to resolve them.
Everyone knew just what they had to do, and the team-building was simply first-class. Everyone we met was very friendly and worked hard to make sure that SMA standards were met.
Also, we particularly want to mention the delicious food and friendly staff in the company cafeteria. There was lots of fresh fruit, lots of fish, and everything at a very reasonable price."
Background:

Electricity prices in the Philippines are among the highest in Asia and are one reason for the country's high poverty rate. Although the population's rapidly growing demand for energy is still primarily met by expansion of the coal industry, solar and wind power are on the rise. Drivers include the demand for energy, a high reliance on imports, the sharp drop in cost for photovoltaics and feed-in tariffs under the National Renewable Energy Program. With its interim target of expanding renewable energy capacity to about 15,300 MW by 2030, the NREP has made private investments in solar and wind power more attractive.

High number of planned projects

The number of planned projects in the renewable energies sector rose dramatically in 2015. At the start of 2016, the projects approved and awaiting approval exceeded the electricity generation capacity of all the plants currently installed in the country. However, not every project is implemented promptly, or at all. Implementation depends on energy policy. The nation relies on a system of feed-in tariffs that are guaranteed for a certain capacity.
Thanks to Mathias and Andreas for the insights and nice pictures.
https://www.sma-sunny.com/wp-content/uploads/2016/06/philippines-largest-decentralized-pvplant-SMAsolar-1.jpg
300
620
Dagmar Buth-Parvaresh
/wp-content/themes/enfold-child/images/SMA-LOGO-Color_s-1.png
Dagmar Buth-Parvaresh
2016-06-22 14:49:00
2017-12-13 16:13:54
Philippines: One of the World's Largest Photovoltaic Plants Including String Inverters Commissioned