Off-Grid Avocados Powered by SMA and Tesvolt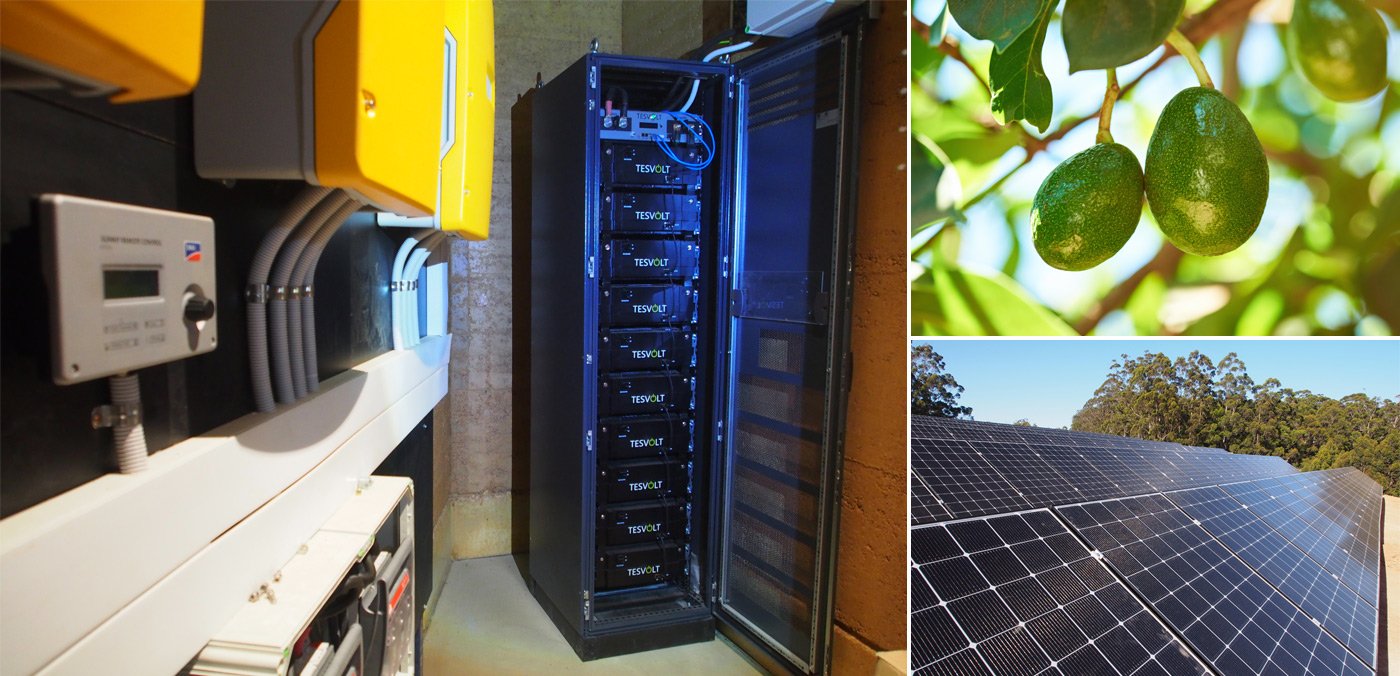 Avocados are more popular than ever as a healthy superfood. The green fruits are demanding when cultivated. The trees, which grow only in hot climates, need a lot of water — but this is often difficult to obtain, especially in warm regions. This plantation in Australia has been completely off-grid for 660 days.
100% self-sufficiency from the utility grid
Southwest of Perth is an avocado farm that provides sufficient irrigation for the trees despite the Australian sun, powered entirely by solar energy. Now the project has won the smarter E-Award in the "Outstanding Projects" category at Intersolar in Munich. The companies awarded were Australian project developer Unlimited Energy Australia and the battery manufacturer Tesvolt from Wittenberg in Saxony-Anhalt that have been collaborating closely with SMA for many years.
For almost two years, the system has been completely self-sufficient thanks to a PV system, large water storage tanks, a battery and saltwater storage tank system. "If the utility grid breaks down tomorrow, we can still produce avocados here," said George Zombori, CEO of Unlimited Energy.
The electricity from the 53 kilowatt (kW) photovoltaic system is fed into a 160 kWh saltwater battery storage system and a 48 kWh lithium-ion battery-storage system. This makes it possible to operate the entire plant with its annual yield of 90 tons of avocados in off-grid mode -- despite demanding weather conditions and thirsty trees.
The water needed by the plants is stored in underground tanks during the rainy winter and pumped up in the summer to irrigate the avocado trees. At the heart of the system are 3 SMA Sunny Tripower inverters each with 15 kW and nine SMA Sunny Island battery inverters, six of them for the saltwater battery and three for the lithium-ion battery-storage system.
Uncompromisingly sustainable cultivation
While the saltwater battery storage system secures the base load, the Tesvolt battery-storage system is responsible for the peak loads, which particularly occur when the hydraulic water pumps start. "Above all, a fast loading and unloading speed of the storage system was important to us, so that the water pumps can start quickly," said Zombori.
Tesvolt uses lithium-based prismatic high-energy and high-performance cells in its batteries. A quick unloading time with up to 4C available in the short-term is possible, which makes the storage system particularly suitable for commercial enterprises.
"People want sustainable and organically grown food. The avocado farm proves that climate-neutral production is possible, even in the Outback," said Daniel Hannemann, commercial director at Tesvolt. "It makes us proud to be part of this project knowing that our technology is making a significant contribution."
Find out more in this video:
TESVOLT + Unlimited Energy Australia / Off-grid Avocado Farm / The smarter E AWARD 2018 Winner
https://www.sma-sunny.com/wp-content/uploads/2018/08/tesvolt-avocado-famr-smasolar-offgrid-solar.jpg
676
1400
Leonie Blume
/wp-content/themes/enfold-child/images/SMA-LOGO-Color_s-1.png
Leonie Blume
2018-08-13 14:09:14
2019-07-18 11:59:05
Off-Grid Avocados Powered by SMA and Tesvolt